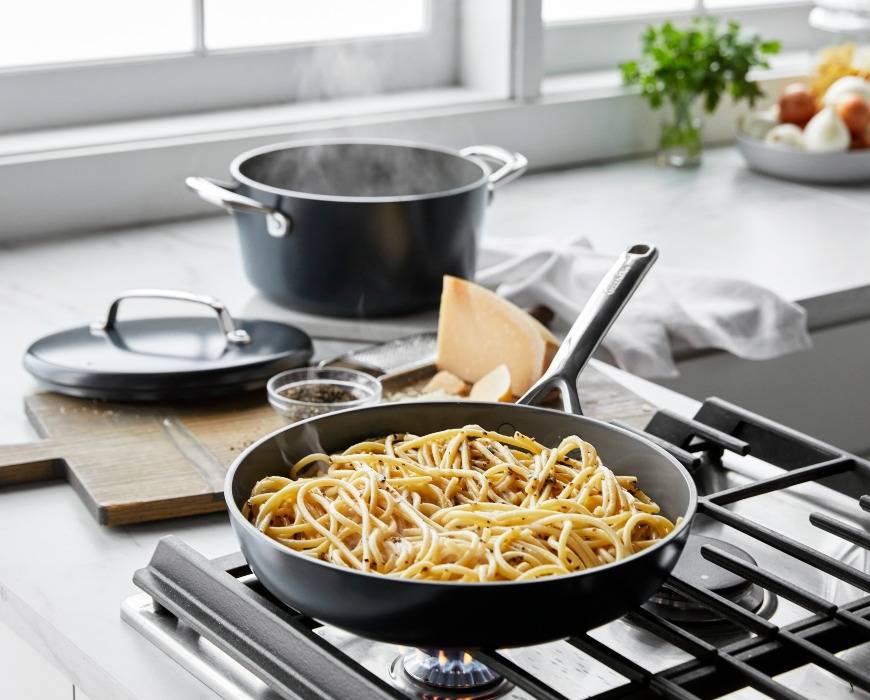 Yields: 2 servings
Time: 5 minutes prep, 15 minutes cooking, 20 minutes total
INGREDIENTS:
6 ounces spaghetti
3 tablespoons butter, cubed, divided
1 teaspoon freshly ground black pepper
3/4 cup finely grated Parmesan, plus more for serving
1/3 cup finely grated Pecorino Romano
PREPARATION INSTRUCTIONS:
Boil the pasta—Bring a large pot of salted water to a boil over high heat. Add pasta and cook until almost al dente, about 2 minutes less than package directions. Reserve about a cup of pasta water and drain.


 Meanwhile, toast the pepper—Place a large skillet over medium heat and add 2 tablespoons of the butter. When butter has melted, add pepper and cook, stirring gently or swirling pan, until fragrant and toasted—1 to 2 minutes.


Start the sauce—Pour about 1/2 cup of the reserved pasta water into the skillet with pepper and bring to a simmer. Add remaining butter and when melted, stir in the cooked pasta.


 Add the Parmesan—Reduce heat to low and add Parmesan, tossing with tongs till melted. Remove skillet from heat.


 Finish the pasta—Stir in the Pecorino Romano, tossing with tongs till cheese melts and sauce coats the pasta. If it seems a bit dry, add a splash or two of pasta water and keep stirring. When pasta is al dente, you're done.


 Garnish and serve—Divide pasta between two bowls, grate a little Parmesan over the top, add a grind or two of black pepper, and dig in!
TIPS:
Micro Managing—Finely grated cheese is essential for creating the creamy texture of classic cacio e pepe. We like using a microplane grater to create a fluffy mound of cheese that melts easily.
Take Flavor to New Depths—Toasting black pepper in butter allows the pepper to "bloom" and create deeper flavor. Plus, we like a little freshly ground black pepper over finished pasta to add complexity.
Featured Product
GP5 Colors Ceramic Nonstick 9.5" and 11" Frypan Set
Our Most Advanced Collection Get all your bases covered with this versatile frypan set from GP5 Colors. Featuring our most advanced coating yet and constructed from hard anodized aluminum, these pans deliver a powerful performance that makes every meal both...