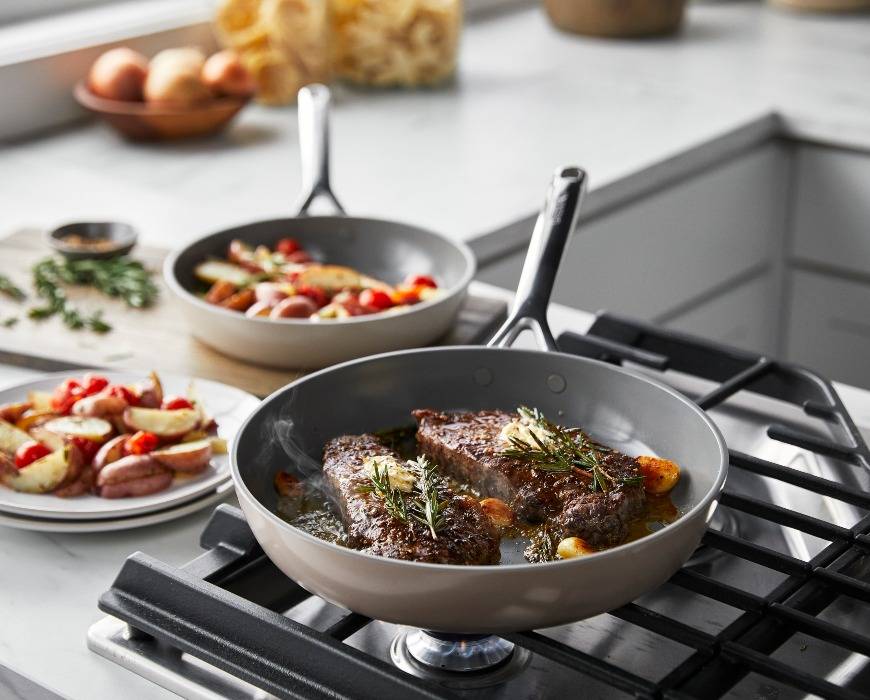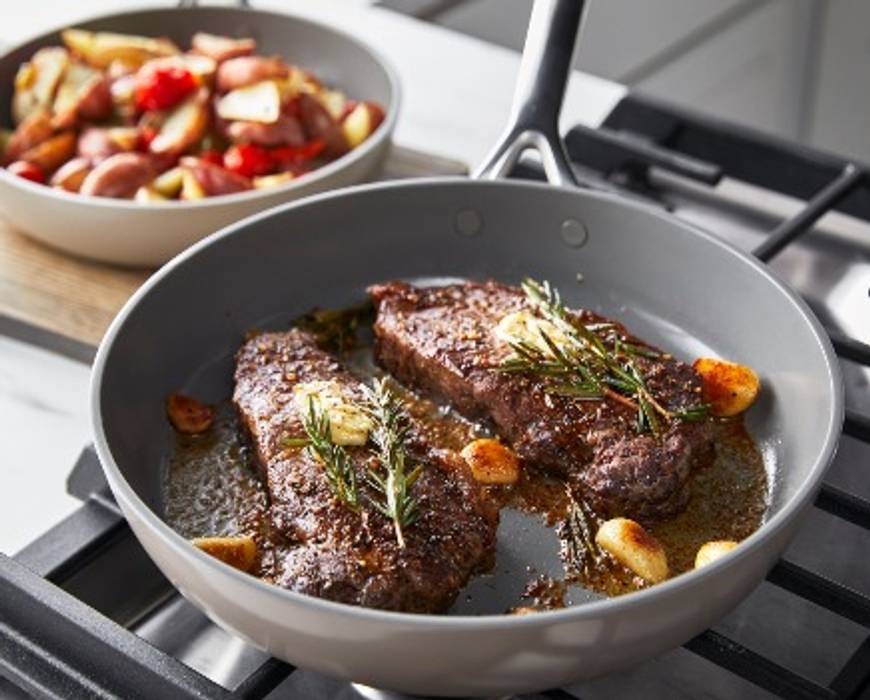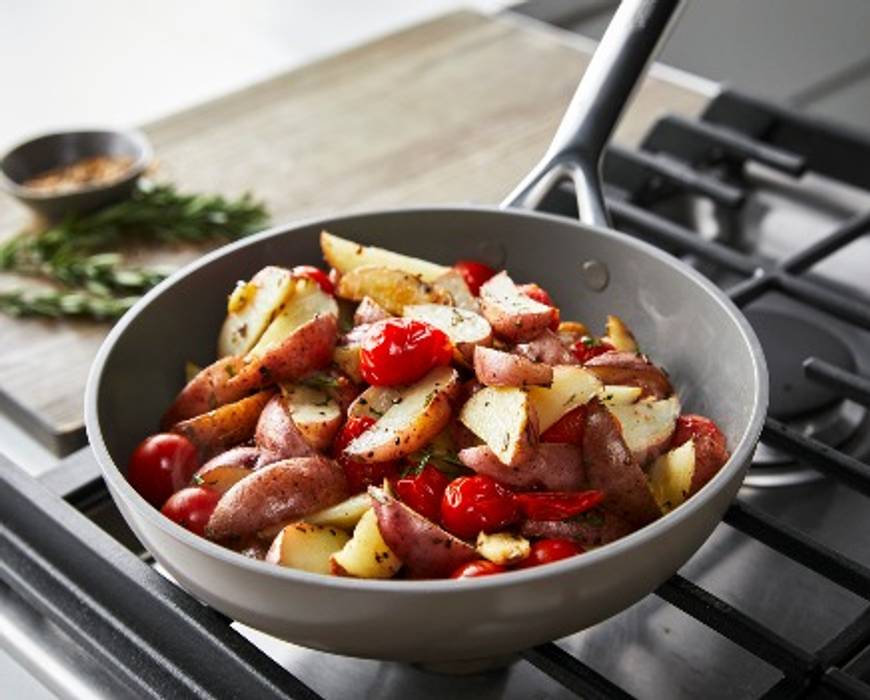 Skillet Steak and Potatoes
Yields: 2 to 4 servings
Time: 15 minutes prep, 30 minutes cooking, 45 minutes total
INGREDIENTS:
For the steak:
2 New York strip steaks, rested at room temperature for 30 minutes
Salt and freshly ground black pepper to taste
2 tablespoons canola or other vegetable oil
3 tablespoons butter
8 garlic cloves, smashed
Fresh rosemary sprigs
For the potatoes and tomatoes:
1 pound large red skinned potatoes, cut into wedges
1/2 pint cherry tomatoes
2 sprigs rosemary
2 smashed garlic cloves
Salt and freshly ground black pepper to taste
PREPARATION INSTRUCTIONS:
Prepare to roast—Preheat oven to 450°F.


 Prep the potatoes—Add potato wedges, cherry tomatoes, rosemary sprigs, and garlic cloves to large, oven-safe nonstick skillet. Drizzle with about 1 tablespoon olive oil and toss to coat evenly. Season generously with salt and freshly ground black pepper.


 Roast the potatoes—Transfer skillet to pre-heated oven and roast till tomatoes are blistered and potatoes are tender when pierced with a fork—about 25 to 30 minutes. Stir every 10 minutes or so to ensure everything cooks evenly.


 Meanwhile, prepare to sear steaks—Add oil to a large nonstick skillet and place over medium high heat. Pat steaks dry with a paper towel and season generously on both sides with salt and freshly ground black pepper.


 Sear the steaks—When oil just begins to smoke, add steaks to skillet and flip every minute or so till a beautiful brown crust forms on both sides—about 4 to 6 minutes.


Baste the steaks—Reduce heat to medium and add butter, rosemary, and garlic to skillet. When butter has melted, tilt pan toward you and use a spoon to pour butter over steaks. Continue basting and flipping steaks till they reach desired doneness. This should take about 8 to 10 minutes total cook time for medium-rare, more or less for other temps.


 Rest the steaks—Transfer steaks to a large plate, along with garlic and rosemary. Drizzle juices from pan over them and let rest for at least 5 minutes.


 Assemble and serve—Transfer steaks to individual plates and add roasted potatoes and tomatoes on the side. If serving more than 2 people, slice steaks on cutting board and serve slices on individual plates.
TIPS:
How to Pick a Great NY Strip—Look for plenty of marbling (the white bits of fat in the meat). As the steak cooks, the fat melts into the meat to deliver incredible flavor.
Flip Out! While some consider it sacrilege to flip steak more than once, we find that it cooks more quickly and evenly by taking multiple turns around the frying pan.
Featured Product
GP5 Colors Ceramic Nonstick 9.5" and 11" Frypan Set
Our Most Advanced Collection Get all your bases covered with this versatile frypan set from GP5 Colors. Featuring our most advanced coating yet and constructed from hard anodized aluminum, these pans deliver a powerful performance that makes every meal both...