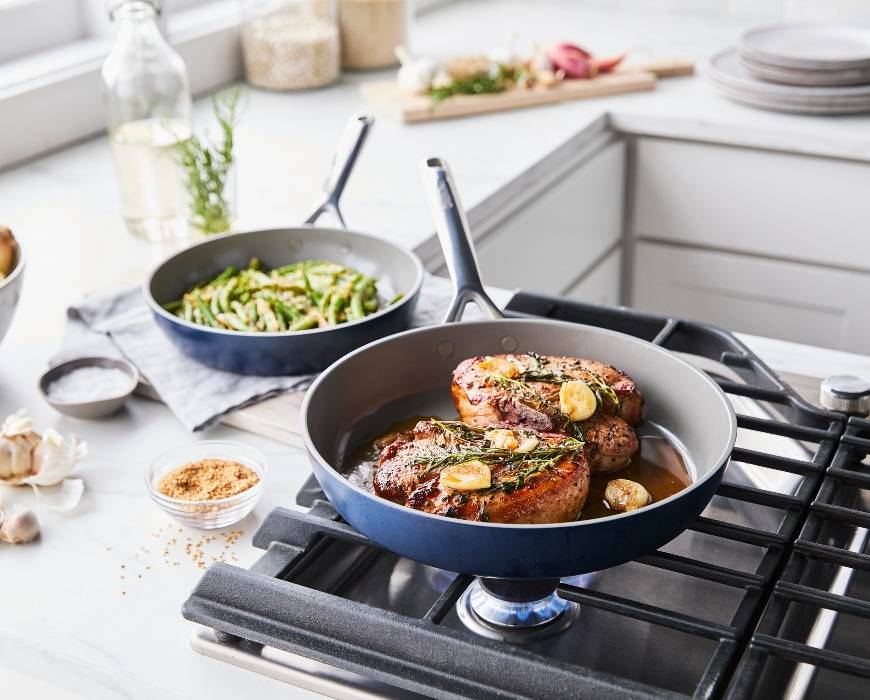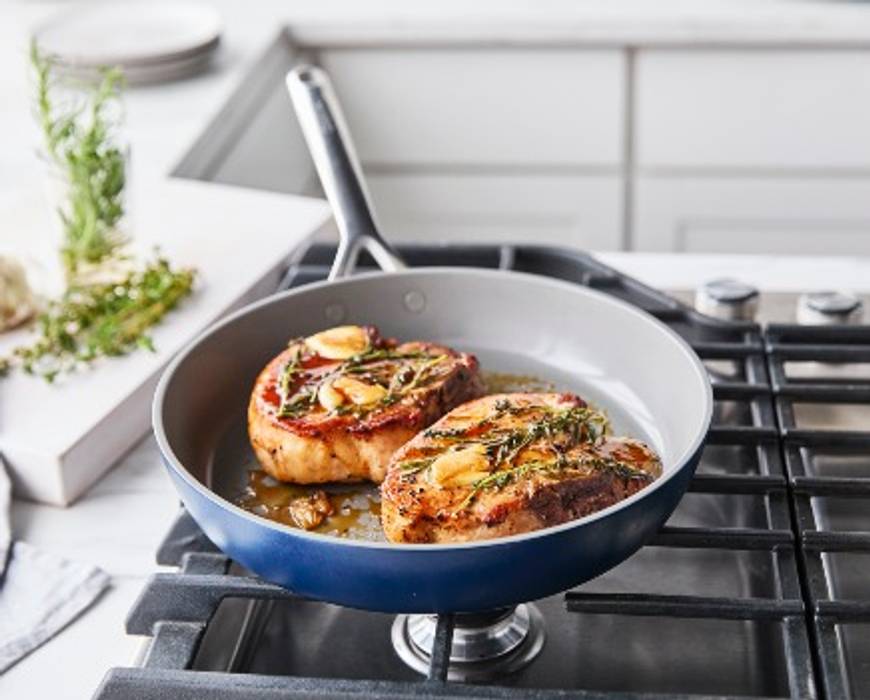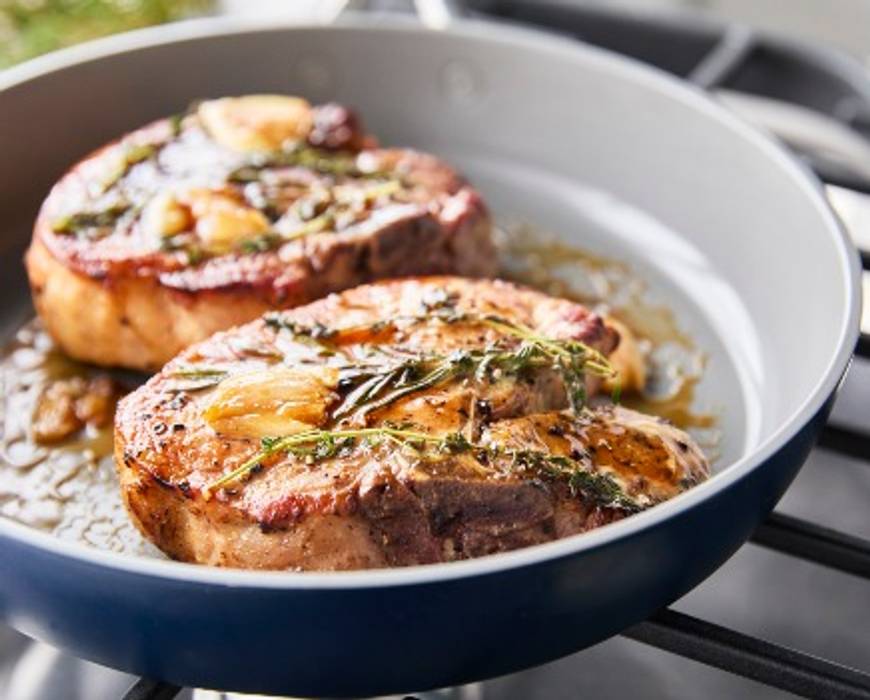 Pan-Seared Pork Chops and Sesame Green Beans
Yields: 2 servings
Time: 10 minutes prep, 30 minutes cooking, 40 minutes total
INGREDIENTS:
For the pork chops:
2 bone-in pork chops (about 9 ounces each), rested at room temperature for 20 to 30 minutes
Salt and freshly ground black pepper to taste
Canola or other vegetable oil
2 tablespoons butter
2 large cloves garlic, lightly crushed with skin left on
2 large cloves garlic, minced
1/4 cup honey
1 1/2 tablespoons apple cider vinegar
1 tablespoon low-sodium soy sauce
2 sprigs fresh thyme
2 sprigs fresh rosemary
For the sesame green beans:
2 tablespoons sesame seeds
2 tablespoons sesame or olive oil
2 large garlic cloves, minced
1/2 pound green beans, washed and trimmed
2 tablespoons water
Salt and pepper to taste
1 tablespoon fresh lemon juice
PREPARATION INSTRUCTIONS:
Prep the pork chops—Pat pork chops dry using paper towels, then generously season both sides with salt and freshly ground pepper. Use fingers to rub seasoning into chops as if giving them a gentle massage.


 Prep the pan—Add a drizzle of oil to a large nonstick skillet and heat on high till oil begins to smoke, about 5 minutes.


 Meanwhile, toast the sesame seeds—In a medium nonstick skillet over medium heat, add sesame seeds and toast for two minutes or until they begin to brown. Remove from pan and set aside. Reserve pan for cooking green beans.


 Sear the chops—Carefully place pork chops in pan, laying the meat away from you to avoid oil splatters. Let chops sear undisturbed for 3 or 4 minutes till they develop a deep brown color on the underside. Flip and continue cooking for another couple of minutes.


 While chops sear, start the green beans—Heat oil in the medium skillet over medium heat till shimmering. Add green beans and stir to coat evenly with oil. Continue cooking, stirring occasionally, until beans are tender but still crisp—about 8 to 10 minutes. Add garlic and sauté for 1 to 2 minutes, stirring constantly to ensure garlic doesn't burn.


 Baste the chops—Reduce heat to medium-high and add butter, thyme, rosemary, and the 2 crushed garlic cloves to the large skillet. Baste chops with melted butter for a minute or two.


 Sear the sides—Use tongs to place rosemary, thyme, and garlic cloves on one of the pork chops. Place the other chop on top so that both fat strips are facing the same way. Pick up both chops with tongs and flip to the side to render down the fat. You're looking for the fat to caramelize a bit and turn a deep golden color. Transfer chops to plate and set aside to rest. Reserve pan to make sauce.


 Make the sauce—Remove any charred bits from large skillet, then return to stove over medium-low heat. Add minced garlic and sauté for about a minute. Pour in the honey, vinegar, and soy sauce and stir to combine. Bring sauce to a simmer, stirring frequently, till sauce is thick enough to coat the back of a spoon. Return chops to pan and baste with sauce. Place herbs and garlic on top of chops and serve immediately.


 Meanwhile, finish the green beans—When green beans are crisp-tender, add salt and freshly ground black pepper to taste. Sprinkle with lemon juice and toasted sesame seeds. Serve hot.
TIPS:
Keep it Straight—If the strip of fat on your chops seems thick, slice diagonal slits in it to prevent chops from curling as they cook.
It's a Snap—Try swapping green beans for sugar snap peas or snow peas. They'll cook more quickly, so test for doneness after 5 minutes.
Featured Product
GP5 Colors Ceramic Nonstick 9.5" and 11" Frypan Set
Our Most Advanced Collection Get all your bases covered with this versatile frypan set from GP5 Colors. Featuring our most advanced coating yet and constructed from hard anodized aluminum, these pans deliver a powerful performance that makes every meal both...