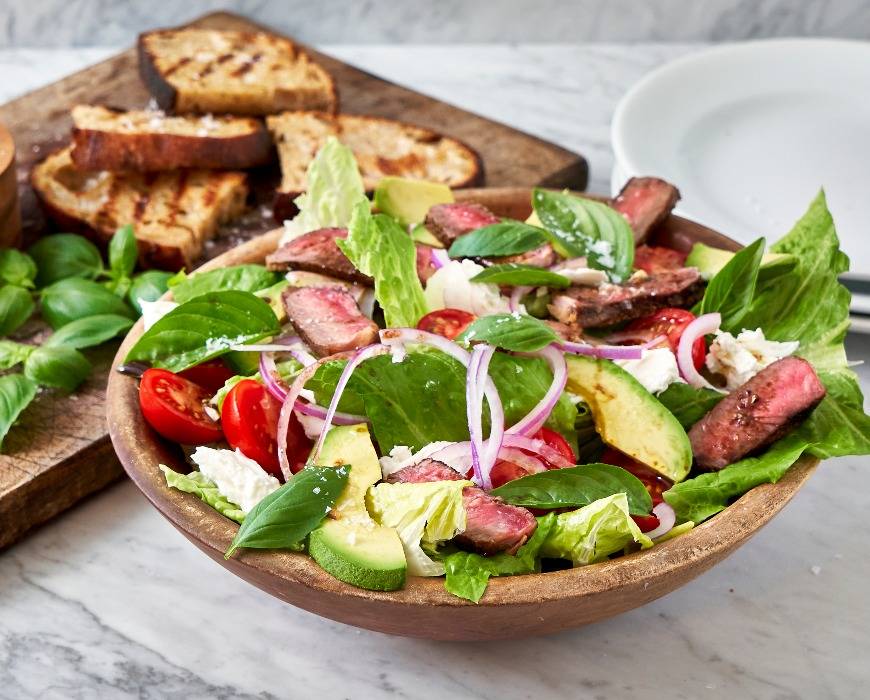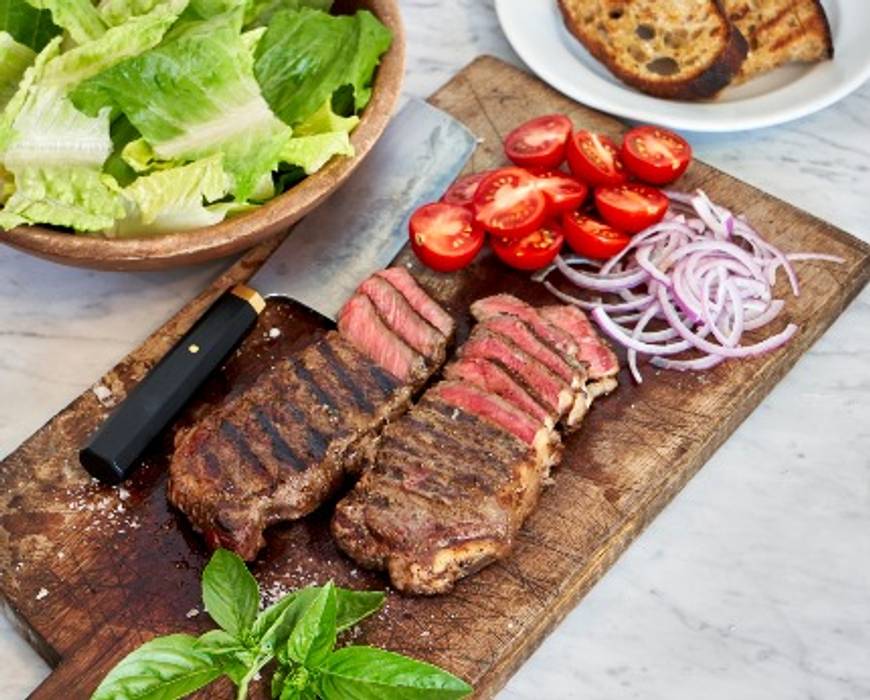 Caprese Salad with Grilled Steak
Yields: 4 servings
Time: 20 minutes prep, 30 minutes marinating, 10 minutes cooking, 1 hour total
INGREDIENTS:
For the marinated steak
1 pound Force of Nature Regenerative Beef NY Strip Steak (or go fancy with tenderloin)
1/2 cup organic balsamic vinegar
1/2 cup organic olive oil
1 teaspoon organic mustard
3 cloves organic garlic, minced
1 1/2 teaspoons salt
1/2 teaspoon pepper
1 tablespoon organic olive oil, for grilling
For the salad
Organic mixed greens or chopped romaine—about 6 to 8 cups (3/4 of a 5-ounce container or 1 head romaine)
1 pint organic cherry tomatoes, halved
6 ounces pasture/grass-fed dairy milk fresh mozzarella, torn into bite-size pieces (or use mozzarella balls)
1 organic avocado, seeded and sliced
1/2 organic red onion, sliced
1/4 cup fresh, organic chopped basil leaves
PREPARATION INSTRUCTIONS:
Make the marinade—In a Large Zip Top Cup, whisk together balsamic vinegar, olive oil, mustard, garlic, salt, and pepper. Taste and adjust salt and pepper as desired. Pour about half the marinade in a Medium Zip Top Cup to use as salad dressing and stash this in the fridge.
Marinate the steak—Add steak and remaining marinade to a Zip Top Large Dish. Shake a bit, if needed, to distribute marinade evenly. Transfer to refrigerator and marinate, turning occasionally, for at least 30 minutes. We like to let steak marinate for a couple of hours, but if you're pressed for time, carry on.
Grill the steak—Place grill pan over medium high heat and brush grates with olive oil. When oil is shimmering, add steak to pan and sear for about 3 to 5 minutes per side, depending on your preference for doneness. Insert a meat thermometer to check doneness level: aim for 135° to 140° for medium, 140° to 150° for medium well, or 155°+ for well done (if you must…). Remove steak from heat, tent with foil, and let rest for at least 5 minutes so juices can redistribute.
Assemble the salad—Place mixed greens on the bottom of a large salad bowl and top them with tomatoes, mozzarella, avocado, onion, and fresh basil. Add a generous sprinkling of salt and pepper. Slice the steak thinly and add to salad. Drizzle with the reserved dressing (AKA marinade). Pass the salad tongs and dig in!
TIPS:
Planet-Friendly Meat—Yep, it exists! Force of Nature delivers palate-pleasing meat that's produced in collaboration with nature. We're impressed with their earth-healing mission and amazed at their selection—from bison to beef, venison to elk, and every kind of ground meat you can imagine (hello, wild boar).
Stop Searching for Lids! Zip Top reusable silicone containers make it easy to kick the disposable bag habit and corral the chaos of your storage container drawer. Plus, we love the endless versatility—heat them, eat from them, stash them in the fridge or freezer, take food on the go, and so much more.
Featured Product
Valencia Pro Ceramic Nonstick 11" Round Grill Pan
Bring the grill indoors with this 11" pan. Perfect for searing fish, grilling veggies, or whipping up restaurant-worthy burgers without worrying about the weather, it's built for healthy meal making any time of day.