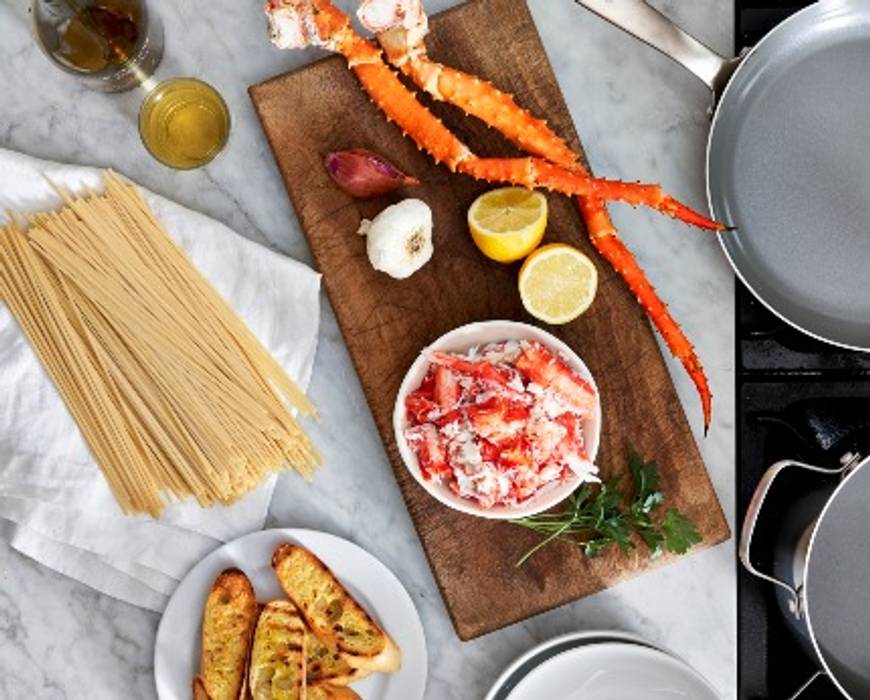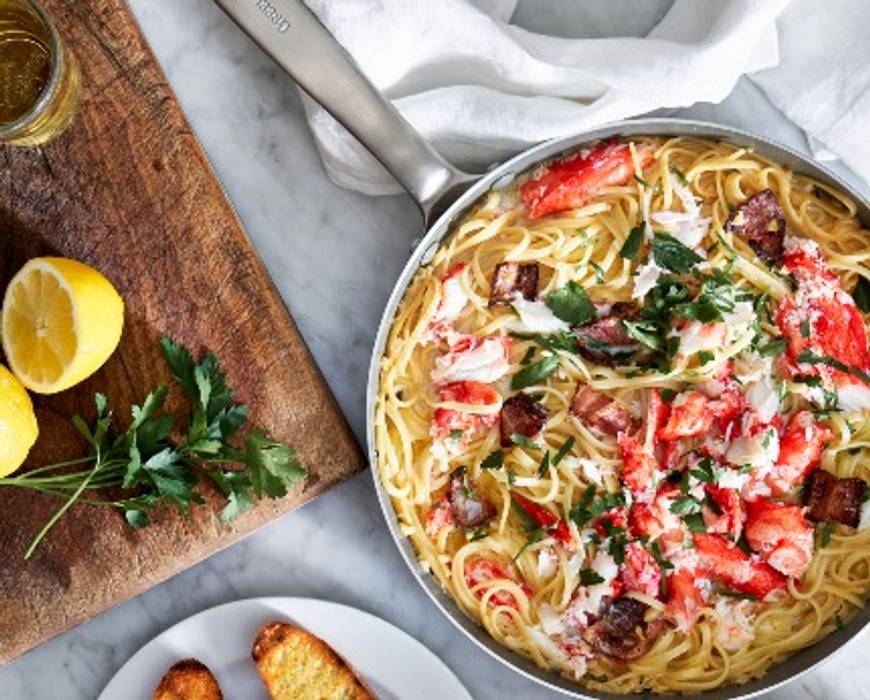 Creamy Crab & Bacon Linguine
Yields: 6 servings
Time: 25 minutes prep, 25 minutes cooking, 50 minutes total
INGREDIENTS:
3 pounds Alaskan King Crab Co. Giant Golden King Crab Legs, thawed
12 ounces uncooked linguine
4 ounces thick-cut bacon, coarsely chopped
1 shallot, minced
2 garlic cloves, minced
1/2 cup dry white wine
1 cup heavy cream
1/4 cup chopped parsley
2 tablespoons butter
1 tablespoon fresh lemon juice
1 teaspoon salt
PREPARATION INSTRUCTIONS:
Prepare to cook—Bring a large pot of well-salted water to a boil over high heat for cooking pasta. Cut crab legs open and remove meat. Set aside.
Boil the pasta—Cook linguine to al dente according to package directions. Reserve about 1/2 cup of cooking water, then drain pasta and set aside.
Crisp the bacon—While pasta is boiling, add bacon to a large nonstick skillet. Cook over medium heat, stirring frequently, until starting to brown and crisp, about 6 to 8 minutes. Add shallot and sauté, stirring often, until softened—about 4 minutes. Add garlic and continue sautéing, stirring constantly to avoid burning garlic, for 1 minute.
Start the sauce—Pour white wine into skillet with bacon and cook, stirring occasionally to incorporate browned bits, until reduced by half—5 minutes or so. Then pour in cream and continue cooking, stirring occasionally, until mixture thickens slightly, about 5 minutes more.
Stir in pasta—Add linguine along with about 1/4 cup of the reserved cooking water and stir to coat pasta evenly. If sauce seems a bit too thick, stir in a little more cooking water. Add crabmeat to skillet along with parsley, butter, lemon juice, and salt. Cook for another couple of minutes until butter is melted and crab is heated through, tossing gently to distribute ingredients evenly. Serve hot.
TIPS:
Forget to Thaw Crab Legs? Don't despair—simply fill a large pot with cool (not hot!) water and let them sit for an hour or so. Or for an even quicker thaw, place in a colander under cold running water.
Why We Love Alaskan King Crab Co.—Wild caught and shipped from the dock overnight, it's the freshest, most flavorful seafood you'll ever taste (unless you catch it yourself!).
Featured Product
Chatham Stainless 12-Piece Cookware Set
This metal utensil safe set features a diamond-enhanced ceramic nonstick coating that delivers ultra-fast performance and effortless nonstick release. And it has everything you need to make everything from elegant experiments to tried-and-true classics.