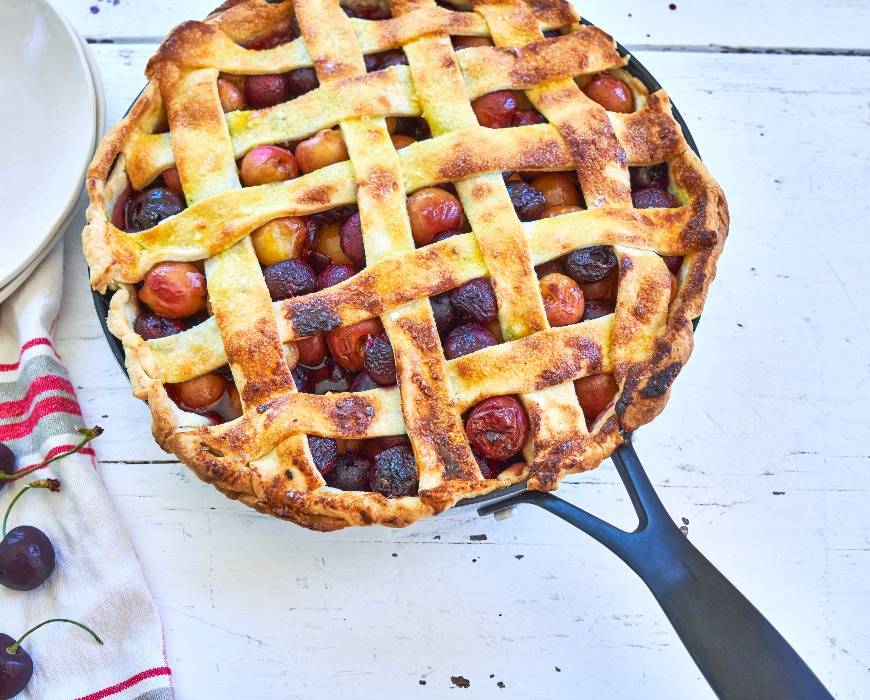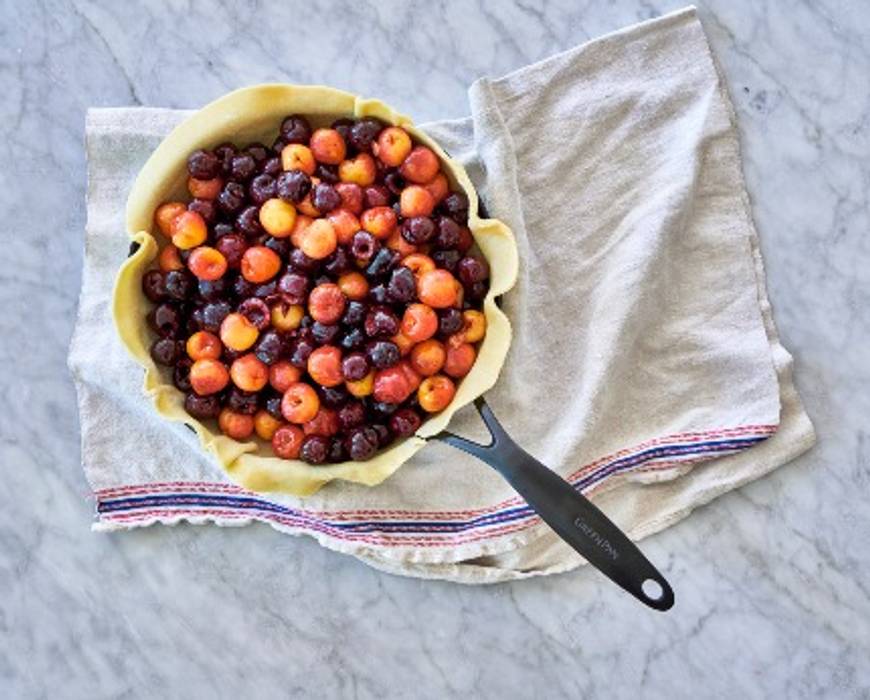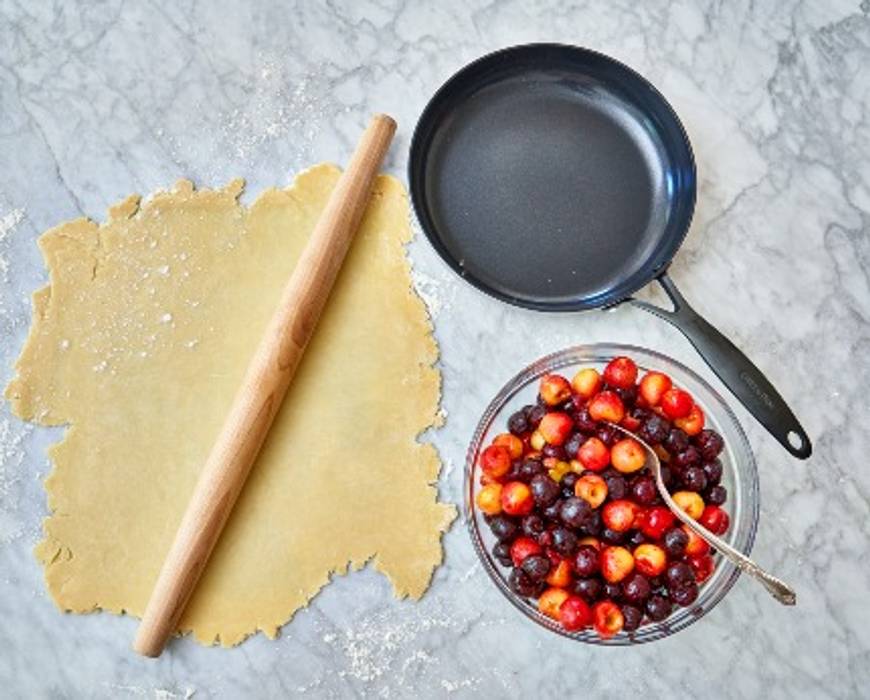 Skillet Sweet & Sour Cherry Pie
Yields: 8 servings
Time: 20 minutes prep, 50 minutes cooking, 1hr 10 minutes total
INGREDIENTS:
3 cups sweet cherries (Bing or Rainier)
3 cups sour cherries
 1 cup granulated sugar
 3 tablespoons cornstarch
 2 tablespoons fresh lemon juice
 1 teaspoon vanilla extract
 1/2 teaspoon almond extract
 1/2 teaspoon ground cinnamon or pumpkin pie spice
 2 tablespoons butter, cut into pieces
2 pie crusts (homemade or the refrigerated rolled kind)
1 egg yolk
1 tablespoon milk
Coarse sugar, for sprinkling 
PREPARATION INSTRUCTIONS:
Prepare to bake—Preheat oven to 400°F.
Prep the filling—Pit cherries and place in a large bowl with sugar, cornstarch, lemon juice, vanilla extract, almond extract, and cinnamon. Mix to coat cherries evenly and set aside.
Assemble the pie—Place one pie crust in bottom of skillet. Pour in cherry mixture, then dot the top with pieces of butter. Cut second pie crust into strips to create a lattice top, if you're feeling fancy. Or simply top pie with second crust and crimp edges. Beat egg yolk and milk in a small bowl and brush over top crust. Sprinkle generously with coarse sugar. If not using lattice top, make a few slits in top crust for steam to escape.
Bake the pie—Bake in preheated oven for 20 minutes. Reduce temperature to 350°F and continue baking for 30 to 40 minutes or until filling is bubbly and crust is golden brown. Let pie cool completely before serving to allow filling to set.
TIPS:
No cherry pitter? No problem! Try using the thick end of a chopstick or the small end of a piping tip to push out the pit.
Avoid a sticky situation—bake pie on a rimmed nonstick baking sheet to catch any drips.
Featured Product
Venice Pro Noir Ceramic Nonstick 11" Frypan
Built for everyday performance, this 11" pan is crafted from 3-ply stainless steel and finished with a cutting-edge diamond-infused coating built to create remarkable meals over and over again.