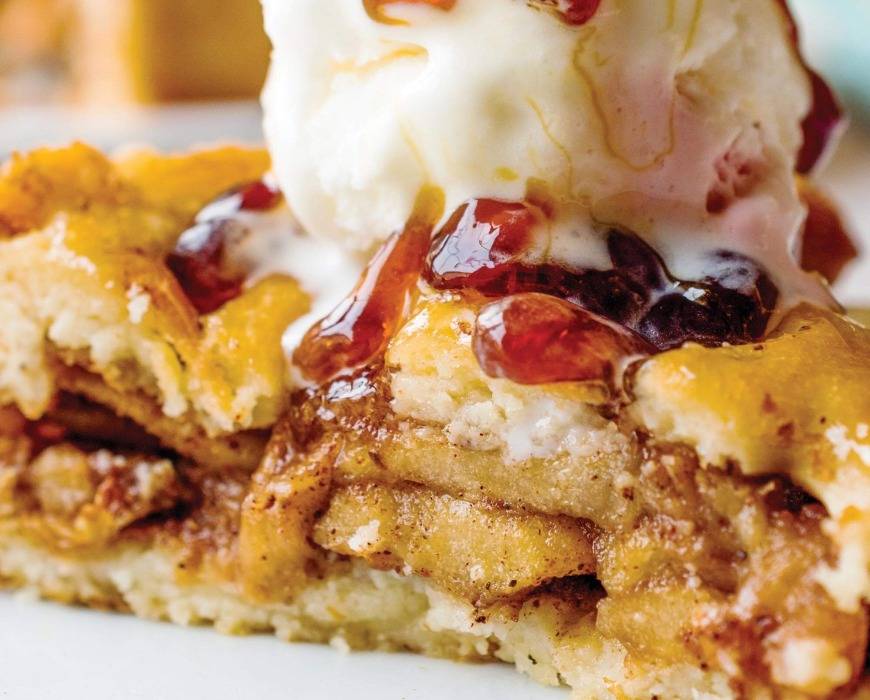 Yields: 8 servings
Time: 15 minutes prep, 45 minutes cooking, 30 minutes cooling, 1 hour 30 minutes total
INGREDIENTS:
1/2 stick butter
1/2 cup brown sugar
6 medium apples—peeled, cored, and thinly sliced
1 cup granulated sugar
2 teaspoons ground cinnamon or apple pie spice
2 9-inch pie crusts, homemade or the refrigerated pre-rolled kind
1/4 cup granulated sugar
Whipped cream or vanilla ice cream for serving
PREPARATION INSTRUCTIONS:
Prepare to bake—Preheat oven to 350 degrees F.
Mix the filling—In a large bowl, stir together apples, sugar, and cinnamon. Set aside.
Make the caramel—Place butter in a 9-inch skillet and melt over medium-high heat. When butter is melted, stir in brown sugar and cook, stirring frequently, until brown sugar is melted. Remove from heat.
Assemble the pie—PLay one of the pie crusts over the brown sugar mixture—use caution since the skillet will be hot. Add apples to skillet and top with second crust. Brush top crust with butter, sprinkle with sugar, and cut slits in top to allow steam to escape.
Bake the pie—Bake in preheated oven until apples are fork tender and crust is beautifully golden, about 45 minutes. Allow pie to cool in skillet for about 30 minutes before serving—if you can wait that long. Top slices with a dollop of whipped cream or scoop of vanilla ice cream.
TIPS:
Pick the Best Apples—Some swear by Granny Smiths, while others prefer Pink Lady or Honeycrisp. We like to add a mix of two or three varieties for a tasty blend of sweet and tart, firm and tender.
Make It Easier—Our GreenPan Diamond Ceramic Nonstick Frypans effortlessly release sticky apple pie, and the extra nonstick coating makes cleanup incredibly quick and simple.