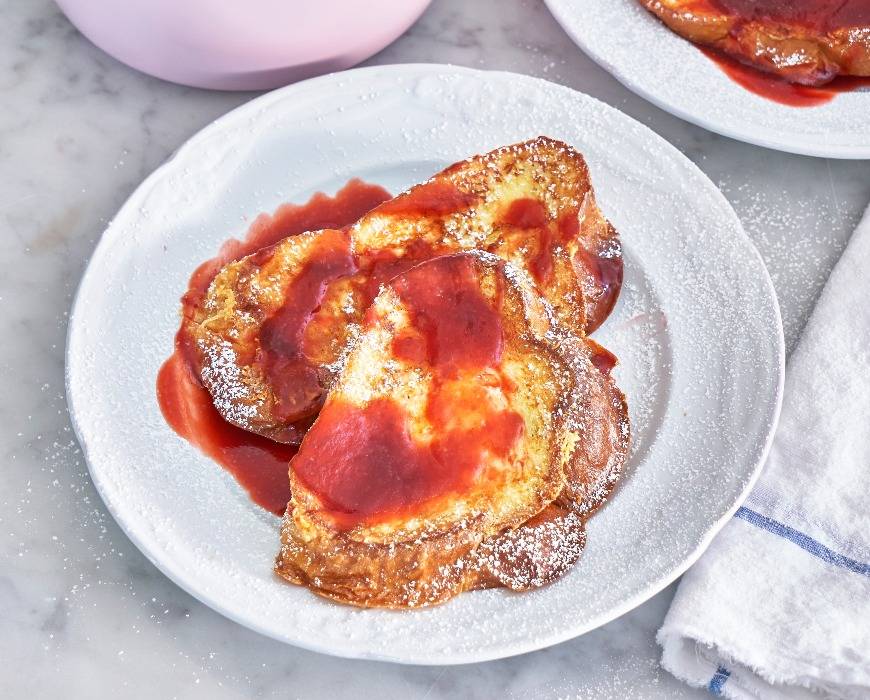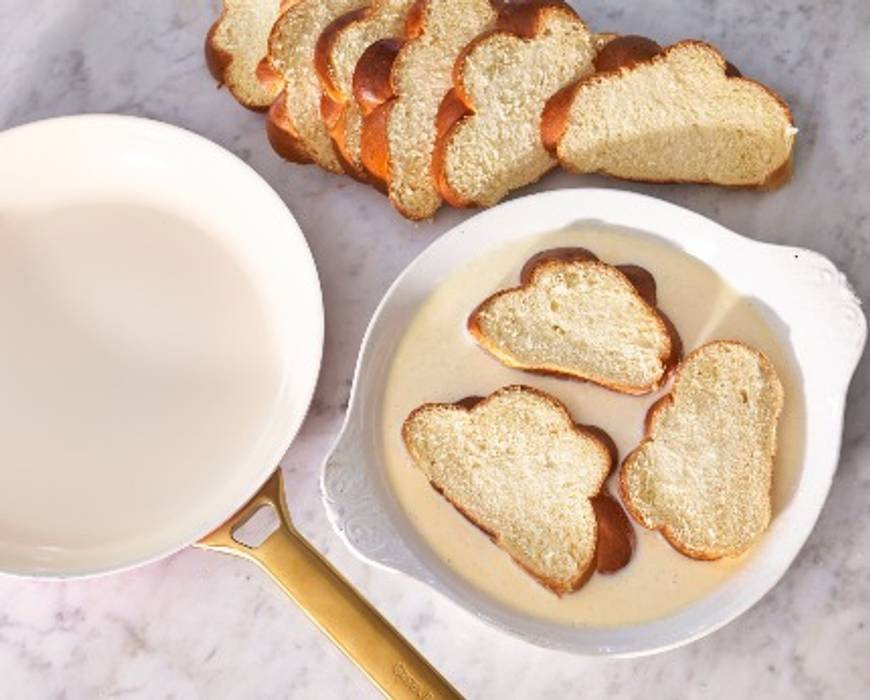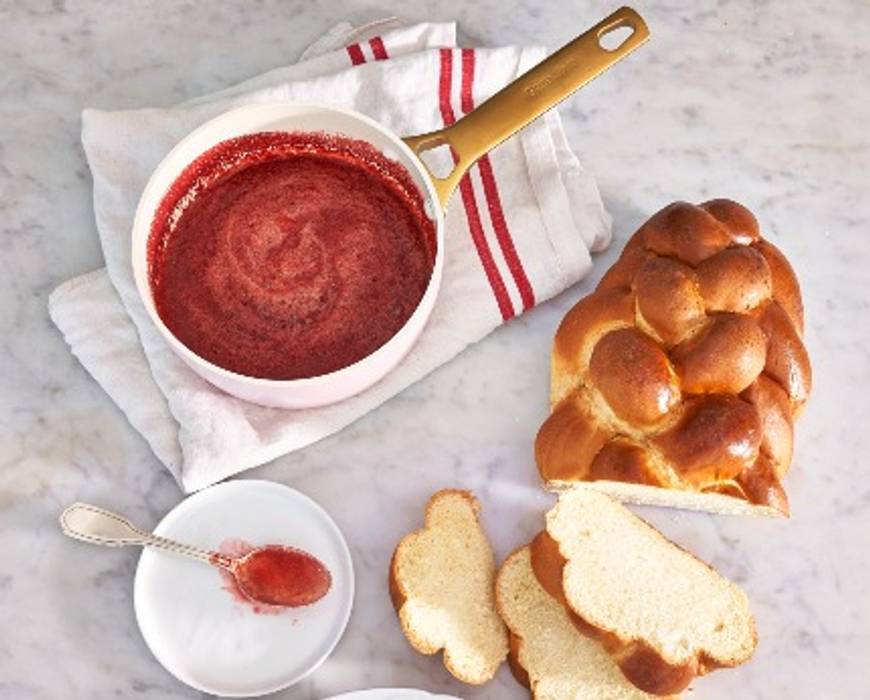 French Toast with Beet Maple Syrup
Yields: 4
Time: 15 minutes prep, 40 minutes cooking
INGREDIENTS:
For the Beet Maple Syrup:
1 8.8oz package Love Beets Ready-to-Eat Organic Cooked Beets
2 cups water
1/3 cup maple syrup
1 teaspoon vanilla
1/8 teaspoon kosher salt, more to taste
For the French Toast:
2 whole eggs
2 egg yolks
1 1/2 cups whole milk
1/2 cup heavy cream
1 teaspoon cinnamon
1/2 teaspoon ground cardamom
1 teaspoon pure vanilla extract
Pinch of kosher salt
4 to 6 tablespoons unsalted butter, for cooking
Eight 3/4 -inch-thick slices of Challah, Brioche or other white bread of choice
Confectioners' sugar, for dusting
PREPARATION INSTRUCTIONS:
For the beet maple syrup combine the Love Beets Ready-to-Eat Organic Cooked Beets along with their liquid and 2 cups of water in the carafe of a blender and blend on high for at least a minute, or until very smooth. Pour into a medium GreenPan saucepan and place on the stovetop over medium heat and bring to a simmer.  Reduce, stirring occasionally, until about 1 cup of beet syrup remains – this will take 25 to 30 minutes.  Stir in the vanilla and maple syrup and keep warm for serving.  (If you'd like it a bit more sweet, use 1/2 cup maple syrup instead.)
To make the French Toast, preheat the oven to 325 F. In a medium mixing bowl, combine the eggs, egg yolks, milk, cream, cinnamon, cardamom, vanilla and salt, whisking until completely smooth and no strings of egg whites are left. 
Pour the mixture into a large casserole or baking dish large enough to hold all 8 pieces of bread. Place the bread in the egg mixture and allow it to soak for about one minute, then flip and let the other side soak for one minute.   
Place a large GreenPan skillet on the stovetop over medium heat. Add 1 tablespoon of butter to the skillet and allow it to melt.  Lift the slices out of the baking dish one at a time to allow them to drain of any extra egg mixture and place them in the skillet.  Only cook as many at one time as will comfortably fit without overcrowding – this will ensure they brown nicely. 
Cook for 3 minutes on the first side, or until each piece is nicely golden brown. Flip, adding more butter if needed, and cook on the other side another 3 minutes.  Once browned on both sides, transfer the French Toast to a sheet tray and place in the oven to keep warm.  Repeat with all the remaining pieces of bread.    
Once all the French Toast is cooked, serve warm with the Beet Maple Syrup and a light dusting of confectioners' sugar.
TIPS:
Any leftover Beet Maple Syrup can be kept in an airtight container in the refrigerator for up to two weeks. 
Feel free to make it fancy by adding blueberries, blackberries, or sliced strawberries!  Toasted walnuts or pistachios would be delicious too!
Perfectly cooked French Toast shouldn't be soggy in the middle, but instead spring back slightly when pressed in the center with your finger.  If your French Toast needs more cooking time, turn the temperature on the skillet down to low and cook another minute or two on each side, or lay them out in one layer on a baking sheet and allow them to finish cooking in a 325 F oven for about 5 minutes.   
Featured Product
Reserve Ceramic Nonstick 10-Piece Cookware Set | Blush with Gold-Tone Handles
World-class performance meets eye-catching contrast in GreenPan Reserve. But it's more than good looks: the duoforged hard anodized construction makes this set extra tough. This set makes it simple to find your style at home.