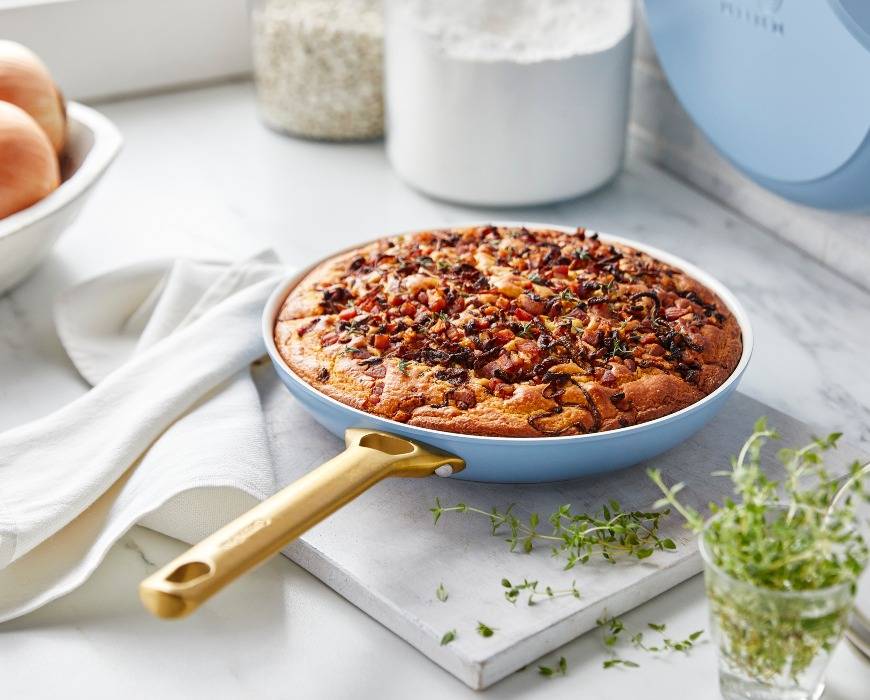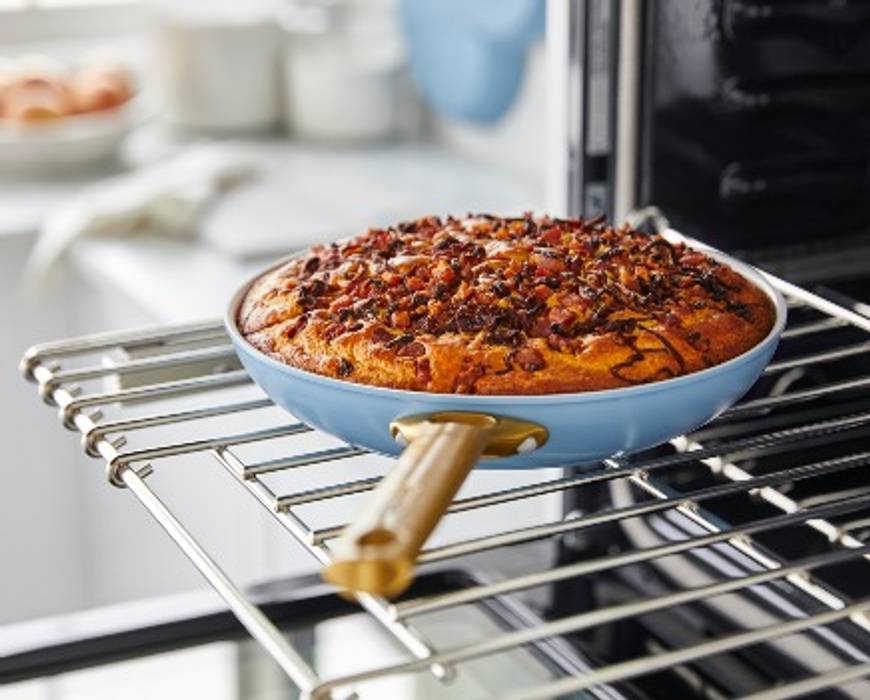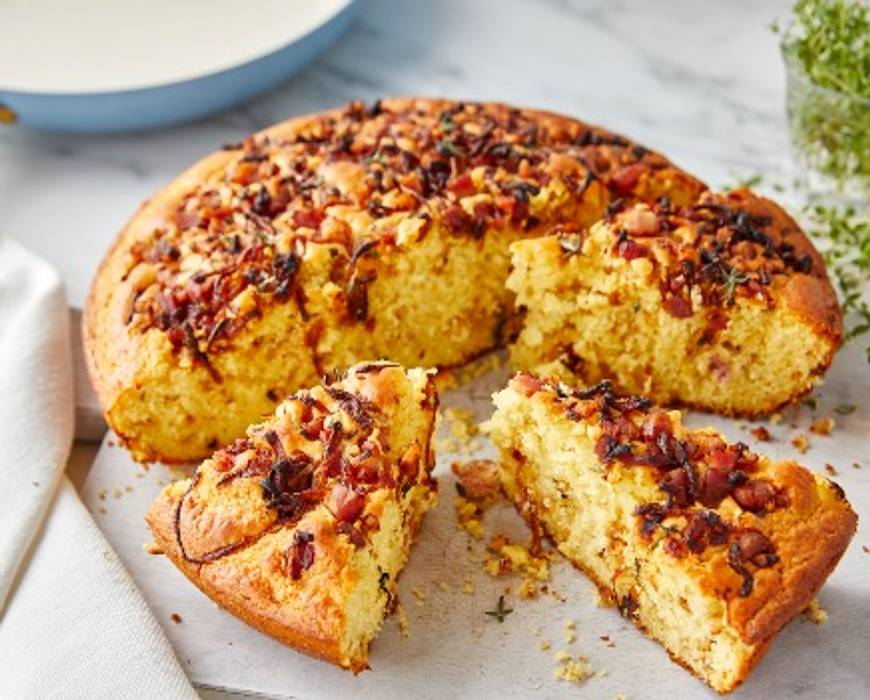 Caramelized Onion and Bacon Crumble Cornbread
Yields: 8 servings
Time: 15 minutes prep, 55 minutes cooking, 1 hour 10 minutes total
INGREDIENTS:
1 yellow onion, peeled and sliced thin
1 tablespoon olive oil
1/4 teaspoon salt
3 to 4 slices bacon
1 1/4 cups coarsely ground cornmeal
3/4 cup all-purpose flour
2 tablespoons granulated sugar, more or less to taste
1 teaspoon salt
1 teaspoons baking powder
1/2 teaspoon baking soda
1/3 cup milk
1 cup buttermilk
2 eggs, lightly beaten
8 tablespoons melted butter
Fresh thyme leaves or chopped rosemary for garnish
PREPARATION INSTRUCTIONS:

Prepare to bake—Preheat oven to 375°F.


Caramelize the onion—Heat oil in a medium nonstick skillet over medium heat. Add onion and sprinkle with 1/4 teaspoon salt. Cook, stirring occasionally, until softened—about 8 minutes. Reduce heat to medium low and continue cooking, stirring occasionally, until deep golden brown. This will take about 30 to 40 minutes, but it's totally worth it! Remove from heat and set aside.


Meanwhile, fry the bacon—Add bacon strips to a medium nonstick skillet over medium-low heat. Cook, turning occasionally, until bacon is beautifully browned and slightly crispy. Err on the side of undercooking as bacon will be baked. Drain on paper towels to cool, then crumble and set aside.


Mix the batter—Add cornmeal, flour, sugar, salt, baking powder, and baking soda to a large bowl and whisk to combine. Add milk, buttermilk, and eggs and whisk until everything's evenly mixed. Add in all but about 1 tablespoon of the melted butter (save this for skillet) and whisk to combine.


Assemble the cornbread—Add remaining tablespoon melted butter to a 9- to 10-inch oven-safe nonstick skillet and swirl to coat bottom and sides. Pour in batter. Evenly distribute caramelized onions over the top of batter. Sprinkle evenly with chopped bacon.


Bake the cornbread—Transfer cornbread to preheated oven and bake until a toothpick inserted in the center comes out clean—about 25 minutes. Sprinkle with thyme leaves or chopped rosemary and let cornbread cool in pan for about 10 minutes before slicing and serving.

TIPS:
Read the Room—Southerners prefer cornbread sans sugar, while everyone else expects at least a little. Leave it out or add extra according to taste.
DIY Buttermilk—Add a tablespoon of white vinegar or lemon juice to a measuring cup, then pour in milk to equal 1 cup. Stir together and let sit for about 10 minutes before using in recipe.
Featured Product
Reserve Ceramic Nonstick 8", 10" and 12" Frypan Set | Sky Blue with Gold-Tone Handles
Featuring a deep, captivating finish, this frypan trio is more than good looks: the duoforged hard anodized construction makes it extra tough and scratch-resistant. The meal possibilities are endless—flavorful frittatas, seared salmon, and so much more.