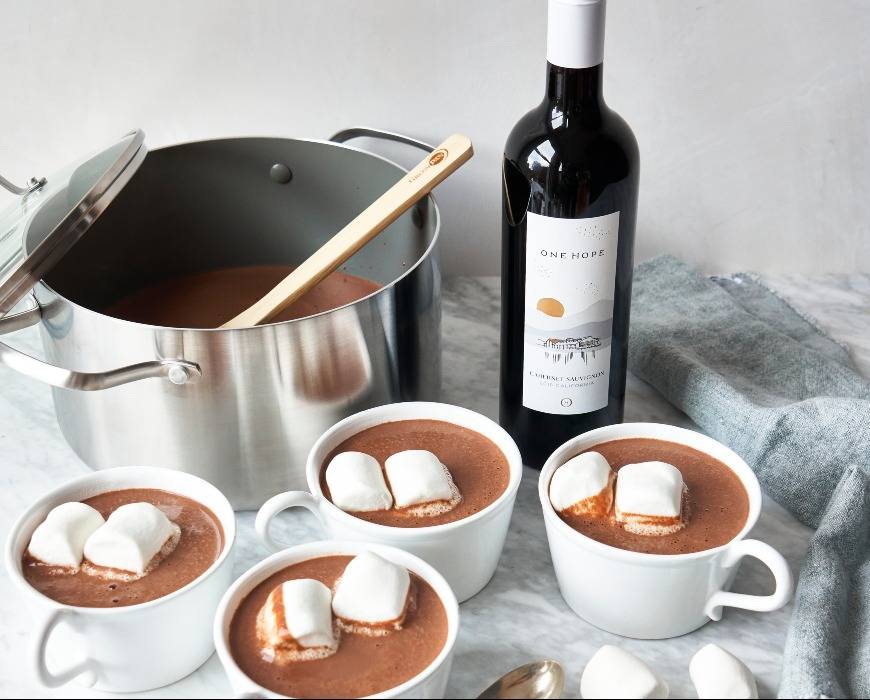 Yields: 16 to 20 servings
Time: 5 minutes prep, 10 minutes cooking, 15 minutes total
INGREDIENTS:
8 cups whole milk (1/2 gallon)
1 1/2 cups half and half
12 ounces dark chocolate chips
1/2 cup unsweetened cocoa powder
3 cups ONE HOPE Vintner Collection Cabernet Sauvignon
40 large marshmallows
PREPARATION INSTRUCTIONS:
Make the hot chocolate—In a stockpot or Dutch oven, add the milk, half and half, chocolate chips, and cocoa powder and cook over low heat, stirring occasionally with a whisk.
Add the wine—When hot chocolate begins to foam, add the wine and slowly whisk over low heat for another 1 to 2 minutes.
Serve and enjoy—Ladle hot chocolate into mugs and garnish each with 2 marshmallows.
TIPS:
Come to the Dark Side—Be sure to use dark chocolate chips and unsweetened cocoa, as they pair best with red wine.
Wine Selection—Featuring notes of dark berries and toffee with an echo of vanilla, ONE HOPE Vintner Collection Cabernet Sauvignon pairs beautifully with our decadent hot chocolate.
Featured Product
Chatham Stainless 12-Piece Cookware Set
This metal utensil safe set features a diamond-enhanced ceramic nonstick coating that delivers ultra-fast performance and effortless nonstick release. And it has everything you need to make everything from elegant experiments to tried-and-true classics.