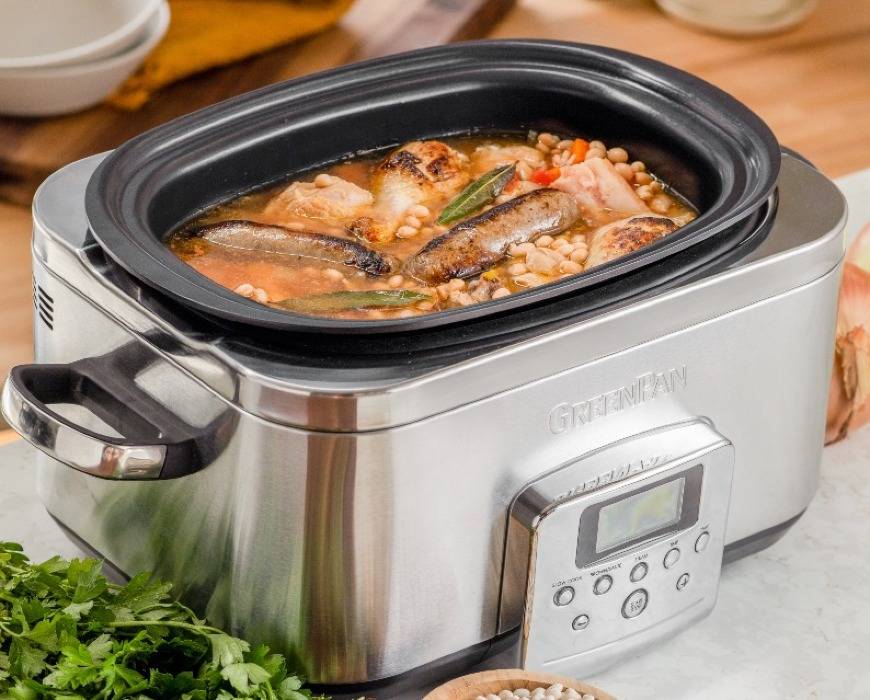 Yields: 4 to 6 servings
Time: 30 minutes prep, 6 hours cooking, 6hr 30 minutes total
INGREDIENTS:
2 tablespoons olive oil
2 tablespoons kosher salt
1 tablespoon freshly ground black pepper
3 chicken legs, cut into thighs and drums
3 sweet Italian sausages
1/2-pound dried navy beans
4 cloves garlic, peeled and crushed
1 yellow onion, small dice
2 carrots, peeled, quartered lengthwise and cut into 1/2-inch pieces
1 can (13.5 ounce) chopped tomatoes, with the juice
4 sprigs fresh thyme
2 bay leaves
4 cups low-sodium chicken stock
2 tablespoons red wine vinegar
1 piece salt pork, about 6 ounces, left whole
1-pound boneless pork shoulder, skin and excess fat removed, cut into 2-inch pieces
1/2 cup fresh parsley, roughly chopped
PREPARATION INSTRUCTIONS:
Select the Brown/Sauté mode on the Premiere Slow Cooker, set the temperature to 400 F and the time to 20 minutes. Pour in the oil and allow it to come to temperature, until it's lightly shimmering. Pat the chicken thighs and drums with paper towel to dry them, then season them with salt and pepper and sear until golden brown on all sides. Remove the chicken to a large plate and set aside. Sear the Italian sausages on all sides and transfer them to the plate with the chicken.


Select the High Temperature Slow Cook Mode on the Premiere Slow Cooker and set the timer to 6 hours.


Combine the beans, garlic, onion, carrots, tomatoes, thyme, bay leaves, chicken stock and red wine vinegar in the Premiere Slow Cooker, stirring with a wooden spoon until evenly combined. Return the seared chicken and sausages to the pan, along with the salt pork and pork shoulder, evenly distributing the ingredients and ensuring everything is fully submerged. If necessary, add enough water to make sure everything is covered by at least 1 inch.


Cover and cook for 6 hours or until the beans are fully cooked as well as the chicken and pork being very tender. Once done, remove the cover and taste the cooking liquid, adjusting with salt and pepper as necessary. Garnish with the freshly chopped parsley just before serving.
TIPS:
Make It Ahead - Like fine wine, cassoulet gets better with age. After a day (or two!) in the fridge, beans and meat meld into a dish of incredibly rich, complex flavor.
Skip the Soak - Many recipes call for soaking beans overnight, but our slow-cooked cassoulet delivers tender beans without the extra prep.
Featured Product
Elite 6-Quart Slow Cooker | Premiere Stainless Steel
With our advanced slow cooker, you can sear meat and veggies in the pot, then go low and slow to finish the job. Take your time while cooking, then clean up quickly with Thermolon™ Volt, a healthy, PFAS-free ceramic nonstick...