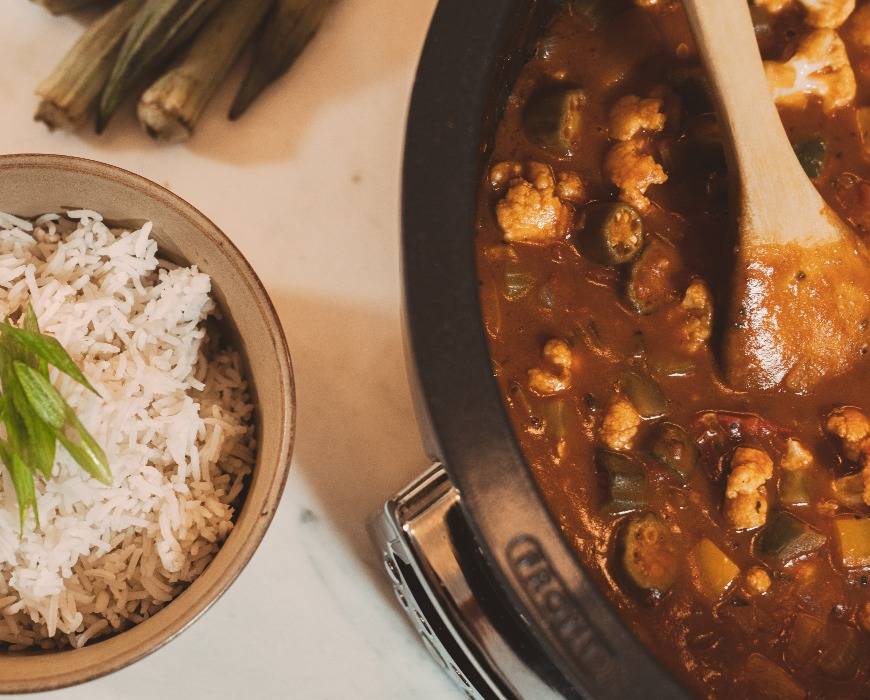 Yields: 4 servings
Time: 20 minutes prep, 50 minutes cooking, 1hr 10 minutes total
INGREDIENTS:
For the roux:
1/4 cup vegetable oil or butter
1/3 cup all-purpose flour

For the gumbo:
2 green bell peppers, cored, cut in 1/4-inch dice
2 celery stalks, sliced lengthwise, cut in 1/4-inch dice
1 onion, small diced
1 cup okra, cut in 1/4 slices (you can use frozen if needed)
4 cloves garlic, minced
1 1/2 tablespoon paprika
1/2 teaspoon cayenne
1 teaspoon dried oregano
2 teaspoon dried thyme
2 teaspoon salt
1 teaspoon black pepper
1 teaspoon Tabasco
1 teaspoon Worcestershire sauce
3 cups low-sodium vegetable or chicken stock
1 (14.5 ounce) can crushed tomatoes
4 cups cauliflower florets
2 bay leaves

To serve:
4 cups of cooked rice (such as the Scallion and Bay Leaf white rice)
PREPARATION INSTRUCTIONS:
Select the Sauce mode on the Essential Smart Skillet, set the temperature to 300°F and the timer for 50 minutes.


Make the roux by coming the oil/butter and flour in the pan, mixing until there are no lumps left. Continue cooking the roux, stirring constantly, for 15 to 20 minutes. The roux should become a deep caramel or almost chocolate color. Keep a close eye on it, and stir as often as necessary, to ensure it's cooking evenly and that it doesn't burn.


After the roux is the caramel to chocolate color, add in the bell pepper, celery, onion, okra and garlic. Stir to coat the vegetables with the roux, and cook until the vegetables have softened, about 4 to 5 minutes. If you start smelling any burnt aromas from the roux, turn the heat on the Essential Smart Skillet down during this process.


Adjust the temperature of the Essential Smart Skillet to 350°F and stir in the paprika, cayenne, oregano, thyme, salt and pepper. Cook for 1 to 2 minutes until the aroma of the spices intensifies.


Stir in the Tabasco, Worcestershire, stock and tomatoes. Mix until evenly combined, then stir in the cauliflower and bay leaves.


Allow the gumbo to simmer for another 20 to 25 minutes, or until the cauliflower is just cooked through—taking care not to over cook it so that it still has a bit of texture and bite.


Serve the gumbo with the Scallion and Bay Leaf white rice from page 20.
TIPS:
Mess-Free Prep – After removing leaves and stem, flip cauliflower on its head to cut away florets without covering your kitchen in cauliflower "snow."
Take It Slow – It takes time and patience to create a deep, dark roux, but the incredible depth of flavor is worth every minute.
Featured Product
Elite 6-Quart Essential Smart Skillet | Premiere Stainless Steel
Whether you're searing a steak, perfecting a complex stew, or simply making rice, this family-sized 6-quart skillet gives you room for any meal. The high sides eliminate splatter and make it easy to toss your ingredients without worry.