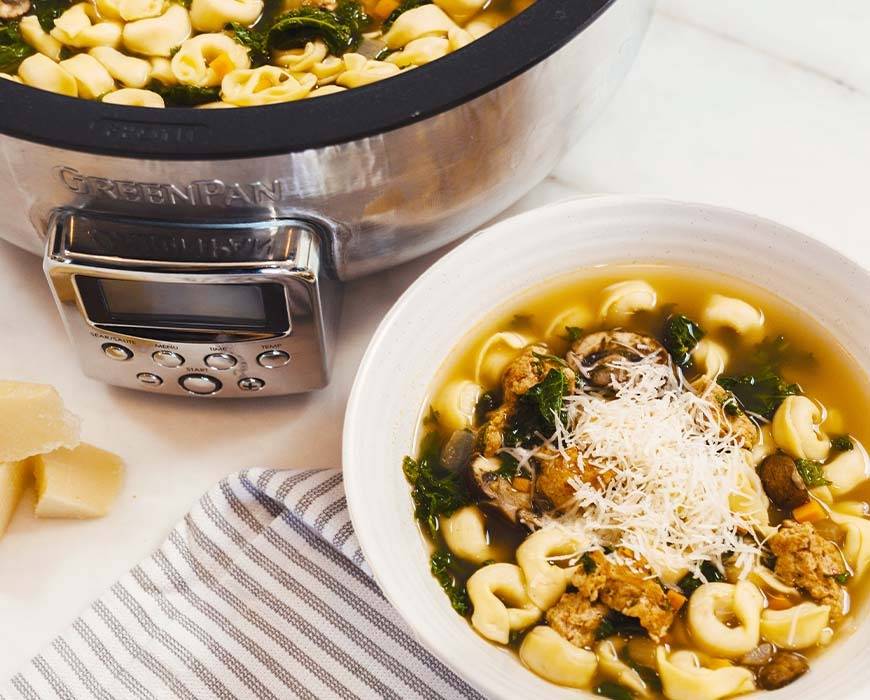 Italian Sausage, Kale, and Tortellini Soup
Yields: 4 to 6 servings
Time: 20 minutes prep, 35 minutes cooking, 55 minutes total
INGREDIENTS:
1 tablespoon olive oil
1 pound mild Italian sausage (or hot if preferred), removed from casings
1 onion, small dice
3 cloves garlic, minced
2 medium carrots, peeled, quartered lengthwise, cut in 1/4-inch pieces
4 ounces cremini mushrooms, cleaned and sliced in 1/4-inch pieces
2 teaspoons kosher salt
1 teaspoon black pepper
8 cups low-sodium chicken stock
2 teaspoons red wine vinegar
1 package (9 oz) refrigerated fresh cheese tortellini
1 bunch curly kale, destemmed and roughly chopped
4 to 6 ounces fresh grated Parmesan cheese for garnish
PREPARATION INSTRUCTIONS:
Select the Sear/Sauté mode on the Essential Smart Skillet, set the temperature to 400°F and the timer for 10 minutes.


Pour the olive oil into the pan let it heat until it shimmers, then add in the sausage, breaking it into small one-inch pieces as you do. Allow the sausage to cook on one side, 2 to 3 minutes, until a seared to a dark brown color, then stir and flip the piece to repeat the browning on the other side. Continue cooking, stirring occasionally, until cooked through, then use a slotted spoon to transfer the sausage to a medium sized bowl.


Select the Soup mode on the Essential Smart Skillet, set the temperature to 220°F and the timer to 25 minutes.


Add the onion, garlic, carrots and mushrooms and cook, stirring regularly for 10 to 12 minutes, until the carrots and mushrooms have softened and the vegetables are very aromatic. Then return the cooked sausage to the pan along with the salt and pepper.


Pour in the chicken stock and vinegar, and allow them 2 to 3 minutes to come to temperature. Stir in the tortellini and kale, cover, and cook for 8-10 minutes until the tortellini are tender and the kale has wilted. Taste the soup one last time and adjust the seasoning with salt and pepper as desired.


To serve, divide the soup among deep serving bowls and garnish with a large pinch of the Parmesan cheese.
TIPS:
Grate Idea – Buy a wedge of Parmesan and shred just as much as you need. Wrapped well, it'll stay fresh much longer than those pre-grated tubs.
How to Prep Kale – Fold leaf in half and hold leaves down with the stem exposed. Use a chef's knife to slice off the stem. Pro tip—an herb stripper saves tons of time.
Featured Product
Premiere 6-Quart Essential Smart Skillet
Whether you're searing a steak, perfecting a complex stew, or simply making rice, this family-sized 6-quart skillet gives you room for any meal. The high sides eliminate splatter and make it easy to toss your ingredients without worry.