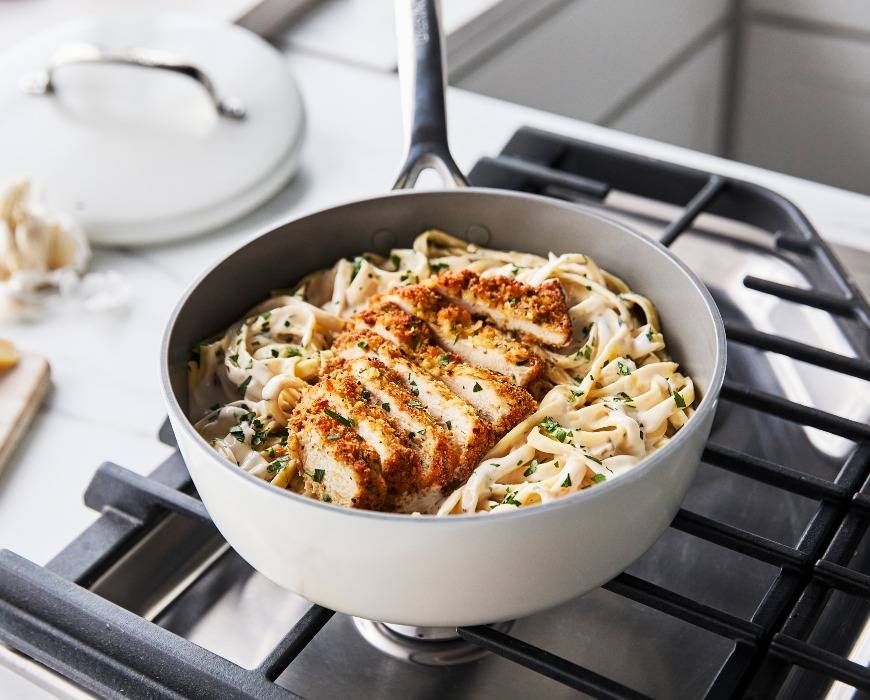 Chicken Fettuccine Alfredo
Yields: 4 servings
Time: 10 minutes prep, 20 minutes cooking, 30 minutes total
INGREDIENTS:
For the pasta:
12 ounces fettuccine
Water
Salt
Olive oil
For the chicken:
2 large boneless, skinless chicken breasts (about 1 pound total)
Salt and freshly ground black pepper
2 tablespoons butter
For the Alfredo sauce:
1 stick butter, cut into about 8 pieces
3 cloves garlic, minced
2 cloves garlic, smashed
2 cups heavy cream
Salt, pepper, and freshly grated nutmeg to taste
1 1/2 cups freshly grated Parmesan cheese
For garnish:
Parmesan cheese
Chopped fresh herbs
PREPARATION INSTRUCTIONS:
Cook the pasta—Bring a large pot of well-salted water to a boil over high heat. Add fettuccine and cook to al dente according to package directions. Drain, reserving about 1/2 cup of pasta water, then drizzle pasta with a little olive oil and toss to keep it from sticking together. Set aside.
Meanwhile, prep the chicken—Pat chicken dry with paper towels and slice into 1/4-inch-thick strips. Season generously with salt and pepper.
Prep the pan—Place a large skillet over medium heat and add butter. As butter melts, swirl to coat pan evenly.
Cook the chicken—Once butter is melted but not browned, add chicken to skillet in a single layer and increase heat to medium high. Cook, without disturbing, until undersides have browned—about 2 minutes. Flip strips and continue cooking till both sides are browned and chicken is cooked through—another 2 to 3 minutes. Transfer chicken to a plate or bowl and reserve skillet for sauce.
Start the Alfredo sauce—Reduce heat to medium and add the butter. As butter melts, stir to release any browned bits in skillet. When most of the butter has melted, add garlic and sauté for about a minute. Pour in cream and whisk to combine. Add a few pinches of freshly grated nutmeg, more or less to taste. Bring to a simmer, stirring frequently, then cook for about 2 minutes. Be careful not to bring sauce to a boil or it will curdle.
Finish the Alfredo sauce—Reduce heat to low and whisk in the Parmesan cheese about 1/2 cup at a time. Once all the cheese has melted, taste sauce and adjust seasonings as needed.
Assemble the fettuccine Alfredo—Add noodles in 3 batches, stirring well to ensure that sauce coats pasta. Stir in sliced chicken until everything's evenly incorporated. If sauce seems too thick, add a bit of pasta water and stir to combine.
Garnish and serve—Divide fettuccine between individual bowls and sprinkle with Parmesan and fresh herbs. Serve immediately.
TIPS:
Grate Expectations—Freshly grated Parmesan delivers the smooth, creamy texture you expect, so steer clear of the pre-shredded or pre-grated variety, which tends to clump up.
Featured Product
GP5 Colors Ceramic Nonstick 11-Piece Cookware Set
Our Most Advanced Collection This do-it-all set brings a sleek style to any kitchen with no compromise in performance. Each piece is constructed from heavy-gauge aluminum and coated in our Infinite8 ceramic nonstick. Plus, the induction ready design delivers quick and even...