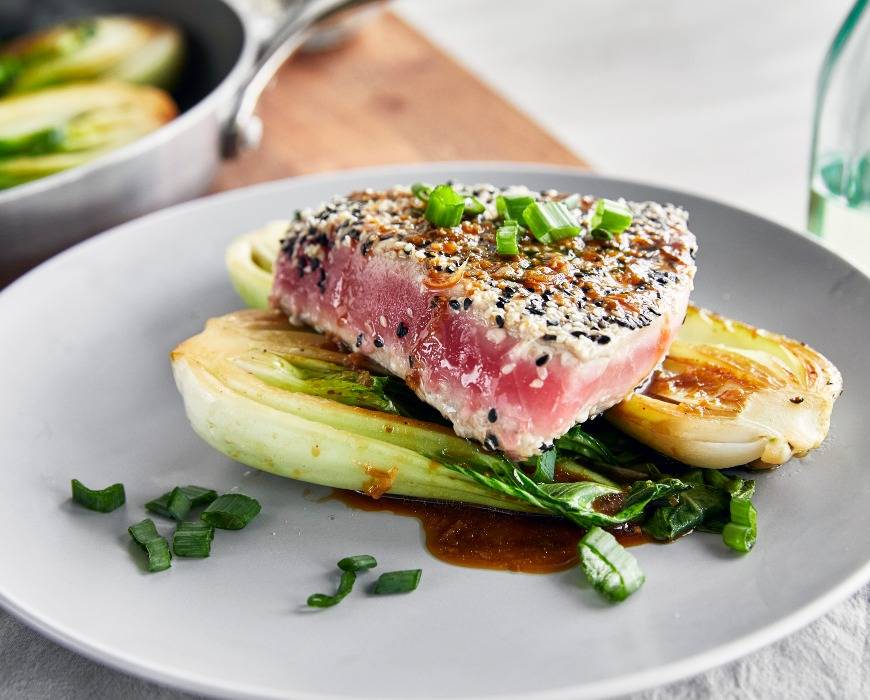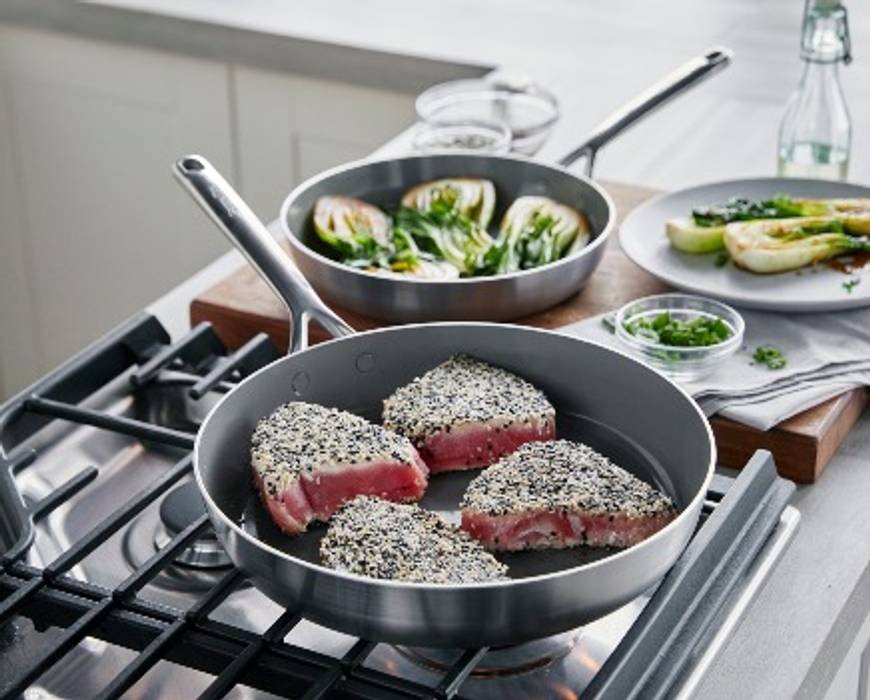 Seared Ahi Tuna Steak with Bok Choy
Yields: 4 servings
Time: 10 minutes prep, 15 minutes marinating, 15 minutes cooking, 40 minutes total
INGREDIENTS:
For the marinade:
1/3 cup low-sodium soy sauce
2 tablespoons honey
2 tablespoons garlic chili paste
2 tablespoons toasted sesame oil
2 teaspoons oyster sauce
Zest and juice of 2 to 3 limes
2-inch knob of ginger, grated
For the ahi tuna:
4 ahi tuna steaks (6 to 8 ounces each)
Salt to taste
1/2 cup white sesame seeds
1/2 cup black sesame seeds
1 to 2 tablespoons canola oil
Chopped scallions or chives for serving
For the bok choy:
1 tablespoon olive oil
1 to 2 cloves garlic, minced
4 bok choy, halved lengthwise
2 tablespoons low-sodium soy sauce
PREPARATION INSTRUCTIONS:
Make the marinade—Whisk together the marinade ingredients in a medium bowl till well combined. Set aside.


 Prep the tuna—Season tuna on both sides with salt. Place tuna in a zip-top plastic bag and add about half the marinade. Seal bag and let tuna marinate in the fridge for 15 to 20 minutes.


Prep the sesame seeds—Add white and black sesame seeds to a shallow dish and mix together. Set aside.


 Coat the tuna—Remove tuna from marinade and pat dry with paper towels. Carefully press tuna into the dish to coat with sesame seeds on all sides. Set tuna aside.


 Sear the bok choy—Heat olive oil in a large skillet over medium-high heat till shimmering. Add garlic and sauté, stirring constantly, for about 30 seconds. Place bok choy in skillet cut side down and cook for about 2 to 3 minutes or until it's evenly seared. While searing bok choy, keep stirring the garlic around to keep it from burning.


 Finish the bok choy—Add 2 tablespoons soy sauce to skillet along with 2 tablespoons of reserved marinade and 2 to 3 tablespoons water. Stir to combine sauce, then turn off heat and cover skillet.


 Sear the tuna—Add a generous drizzle of canola oil to a large, nonstick skillet over medium-high heat. When oil is shimmering, add tuna steaks and cook for 1 to 2 minutes per side.


 Assemble and serve—Place 2 bok choy halves, seared sides up on each plate. Top with seared ahi, drizzle with the rest of the reserved marinade, and sprinkle with chopped scallions. Serve warm.
TIPS:
Don't Overdo It—Ahi tuna tastes best when rare (or medium-rare at the most), so don't walk away from the stove. After a minute or two on each side, you're good to go.
The Slice is Right—Use a sharp knife to avoid tearing tuna and cut against the grain into 1/2-inch slices.
Featured Product
GP5 Stainless Steel 10" and 12" Frypan Set | Mirror Handles
These two versatile sizes deliver everything from braised chicken thighs to simple morning eggs. The 5-ply stainless steel bodies and the Infinite8 ceramic nonstick coating (our best ever) deliver remarkable performance.