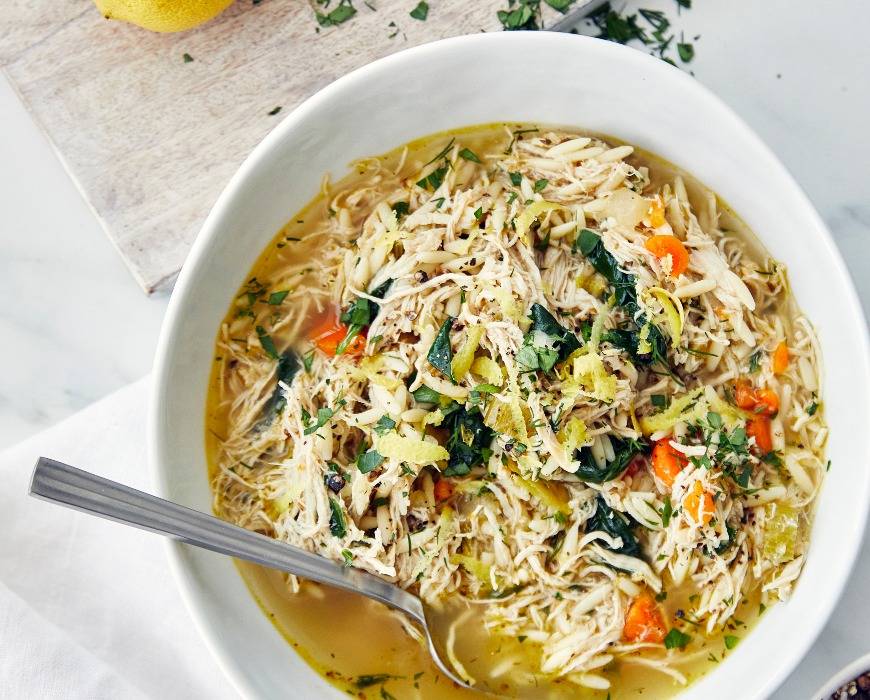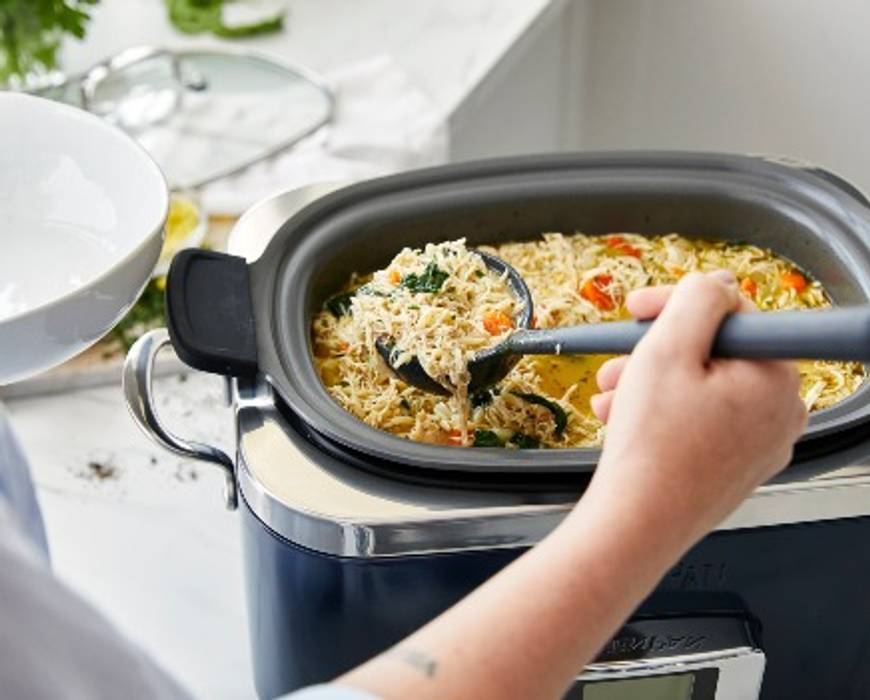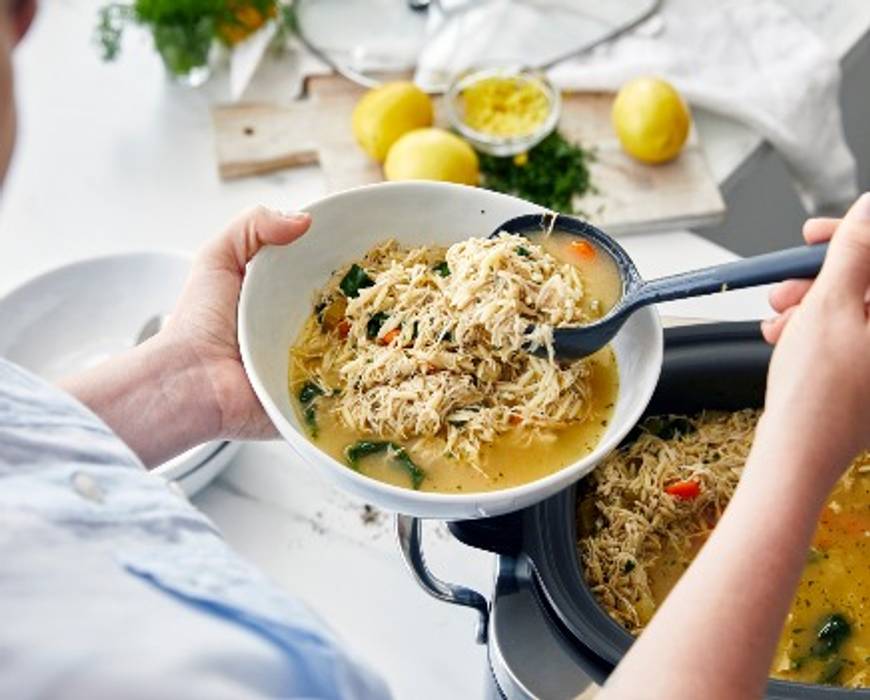 Yields: 8 servings
Time: 20 minutes prep, 4 hours cooking
INGREDIENTS:
2 tablespoons olive oil
1 1/2 pounds boneless skinless chicken breasts
1 teaspoon kosher salt, more to taste 
1/2 teaspoon freshly ground black pepper, more to taste
3 medium carrots, peeled cut in 1/4" rounds
2 celery stalks, cut in 1/4" dice
1 large yellow onion, peeled, cut in 1/4" dice
1 small fennel bulb, cored, cut in 1/4" dice (about 1 cup)
3 garlic cloves, peeled and minced 
6 cups low sodium chicken stock
2 teaspoons dried oregano
1 large bay leaf, fresh preferred 
¾ cup orzo pasta 
2 cups baby kale or spinach, roughly chopped 
3 tablespoons fresh lemon juice 
2 teaspoons fresh lemon zest 
1 tablespoon fresh parsley, destemmed and finely chopped 
1 tablespoon fresh dill, destemmed and finely chopped 
PREPARATION INSTRUCTIONS
Select the Brown/sauté mode on the Slow Cooker, set the temperature to 350°F and the timer to 15 minutes.  Pour in the oil and allow it to come to temperature. Season the chicken with salt and pepper and sear, 4 to 5 minutes per side, until nicely golden brown. Transfer to a large plate and set aside.  


Add the carrots, celery, onion, fennel and garlic to the slow cooker and cook 4 to 5 minutes, stirring occasionally, until softened slightly. If the vegetables begin to brown, reduce the heat to 300°F.


Select the High Temperature Slow Cook Mode on the Slow cooker and set the timer for 4 hours.  Stir in the chicken stock, oregano and bay leaf then return the chicken and any accumulated juices back to slow cooker. Cover and cook until the chicken is tender enough to be shredded into bite sized pieces, about 3 hours to 3 hours 30 minutes. Remove the chicken from the slow cook and place in a medium mixing bowl. Using two forks (or hands once the chicken has cooled enough) shred the chicken.


Return the shredded chicken and any liquid back to the slow cooker along with the orzo and stir to combine.  Taste and adjust as desired with salt and pepper. Cover and cook 20 minutes more, or until the pasta is just cooked through.  


Remove the bay leaf from the slow cooker and stir in the kale, lemon juice and zest.  Cook until the greens have slightly wilted, then stir in the herbs. Taste and adjust as desired with lemon, salt and pepper and serve warm.    
TIPS:
We also love this soup with some hearty grains in place of the orzo. Try farro, rice, quinoa or even bulgar wheat!  
If your fennel comes with the fronds attached, save them as they are absolutely delicious! Add them into the soup along with the parsley and dill, or as a garnish over the soup when its served. 
Featured Product
Elite 6-Quart Slow Cooker | Oxford Blue
With our advanced slow cooker, you can sear meat and veggies in the pot, then go low and slow to finish the job. Take your time while cooking, then clean up quickly with Thermolon™ Volt, a healthy, PFAS-free ceramic nonstick...