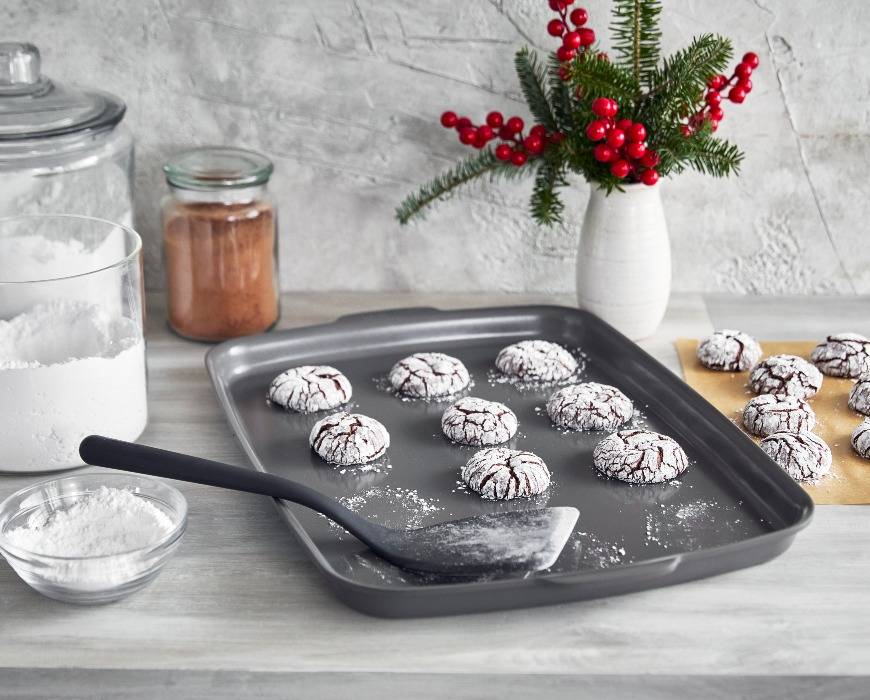 Chocolate Crinkle Cookies
Yields: ~2 dozen
Time: 20 minutes prep, 12 minutes baking, 32 minutes total
INGREDIENTS:
6 tablespoons unsalted butter, melted
3/4 cup cocoa powder
1 1/2 cups all-purpose flour
1 1/2 cups sugar
1 1/2 teaspoons baking powder
3/4 teaspoons salt
3 large eggs, room temperature
1 teaspoon vanilla extract
3/4 cup powdered sugar
PREPARATION INSTRUCTIONS:
Prepare to bake—Preheat oven to 350°F.


Make the chocolate mix—In a medium bowl, stir together melted butter and cocoa powder till you have a smooth mixture with no dry bits. Set aside to cool.


Mix the dry ingredients—Add flour, sugar, baking powder, and salt to a large bowl and whisk till everything's evenly combined.


Mix the wet ingredients—Once the chocolate mix cools to lukewarm, add eggs and vanilla and stir well to combine.


Make the cookie dough—Add wet ingredients to the dry ingredients and mix until the dough resembles thick brownie batter with no dry bits of flour. At first you'll think there's too much flour, but be persistent with your stirring, and it will come together.


Shape and coat the cookies—Place powdered sugar in a shallow bowl. Scoop up about 1 tablespoon of dough and roll it into a ball (a cookie scoop makes this easier, but use a tablespoon in a pinch). Roll the dough in the powdered sugar until it's well coated. Place on a nonstick baking sheet. Repeat with the rest of the dough, placing cookies about 2 inches apart.


Bake the cookies—Transfer cookies to preheated oven and bake for about 12 to 14 minutes. For crunchier cookies, let them go a few minutes more. Remove cookies from oven and let them sit on the pan for about 5 minutes to firm up before transferring to a wire rack to cool.
TIPS:
Go Nuts!
If you're in the mood for mix-ins, add 1/2 cup of chopped, toasted pecans or walnuts. And if too much chocolate is never enough, stir in about 1/2 cup of chocolate chips.
Lay it on Thick
Go for the maximum amount of powdered sugar you can get on the dough balls. Don't be stingy—make sure they're positively coated with the stuff or the lacy tops will seem a bit lackluster.
Featured Product
Premiere Ovenware Ceramic Nonstick 18" x 13" Half Sheet Pan
A true workhorse, this pan is one of the most versatile pieces of cookware you can own. The solid, one-piece design eliminates food traps and the spacious surface makes it perfect for family meals.