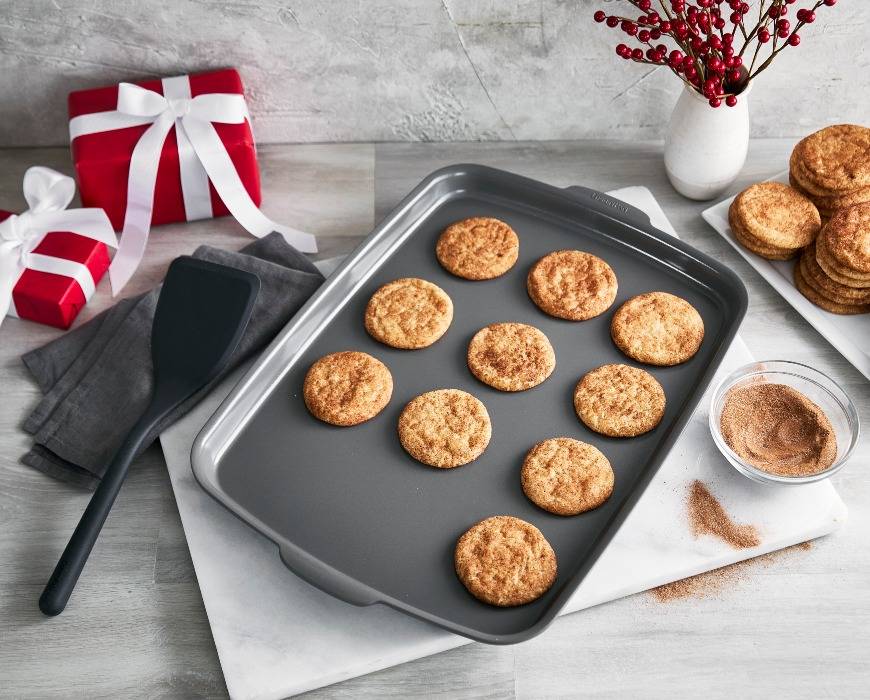 Yields: ~3 dozen cookies
Time: 15 minutes prep, 10 minutes cooking, 25 minutes total
INGREDIENTS:
For the cookie dough
1 cup unsalted butter, softened (but not mushy)
1 1/2 cups granulated sugar
2 3/4 cups all-purpose flour
2 teaspoons cream of tartar
1 teaspoon baking soda
1/2 teaspoon salt
2 eggs, room temperature
1 teaspoon vanilla extract
For the coating
3 tablespoons granulated sugar
2 tablespoons cinnamon
PREPARATION INSTRUCTIONS:
Prepare to bake—Preheat oven to 350°F.


Cream the butter and sugar—In the bowl of a stand mixer, add butter and sugar and beat at medium speed till light and fluffy, about 3 to 5 minutes.


Meanwhile, mix the dry ingredients—Place flour, cream of tartar, baking soda and salt in a medium bowl and whisk till everything's evenly combined.


Mix the dough—Add eggs and vanilla to creamed butter and beat until thoroughly mixed. Pour in the flour mixture and beat on low till all the flour is incorporated. Scrape down the sides and bottom of bowl to be sure there are no stray pockets of dry flour. They hide, so be ruthless.


Mix the coating—In a small bowl, stir together the granulated sugar and cinnamon.


Shape the cookies—Scoop up about two teaspoons of dough with a small cookie scoop or spoon. Roll dough into a ball and then roll the ball around in the cinnamon sugar mixture a few times. You want it fully coated with cinnamon sugar goodness. Place dough on a nonstick cookie sheet.
Repeat with remaining dough, spacing dough balls about 2 inches apart.


Bake the cookies—Transfer cookie sheet to preheated oven and bake till cookies are golden brown and just set, about 8 minutes. Let cookies sit on the pan for a few minutes to firm up before transferring to a wire rack to cool.
TIPS:
Accept No Substitutes
Cream of tartar is the key to this cookie's unique soft, chewy texture and slight tang. If you leave it out, you'll still have a delicious cinnamon-spiced cookie, but it won't be a snickerdoodle.
Get the Scoop
Cookies bake evenly when they're all the same size, but it's hard to achieve this through the age-old eyeball-it method. If you're making cookies on the regular, a cookie scoop will be your BFF.