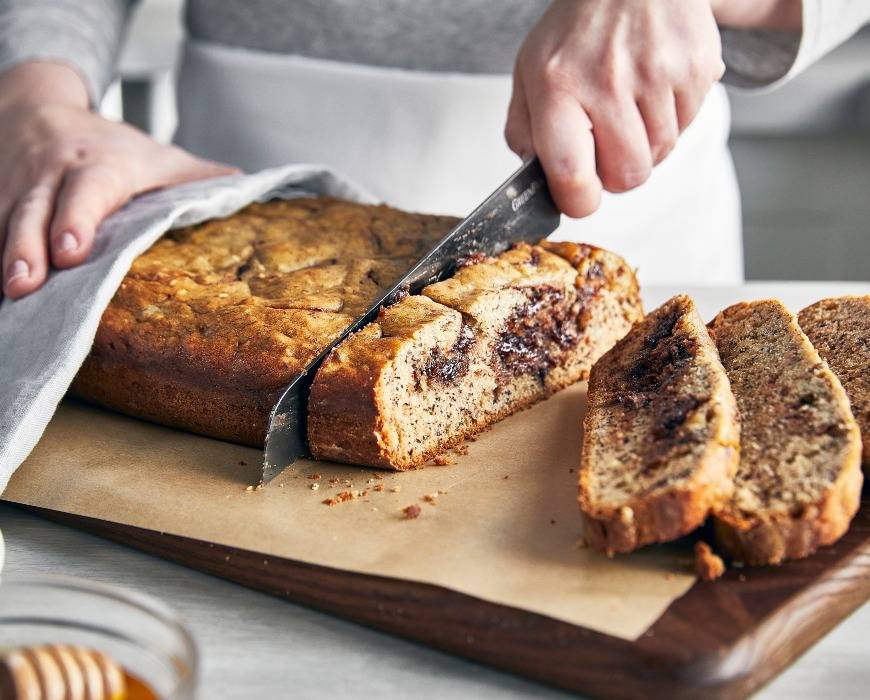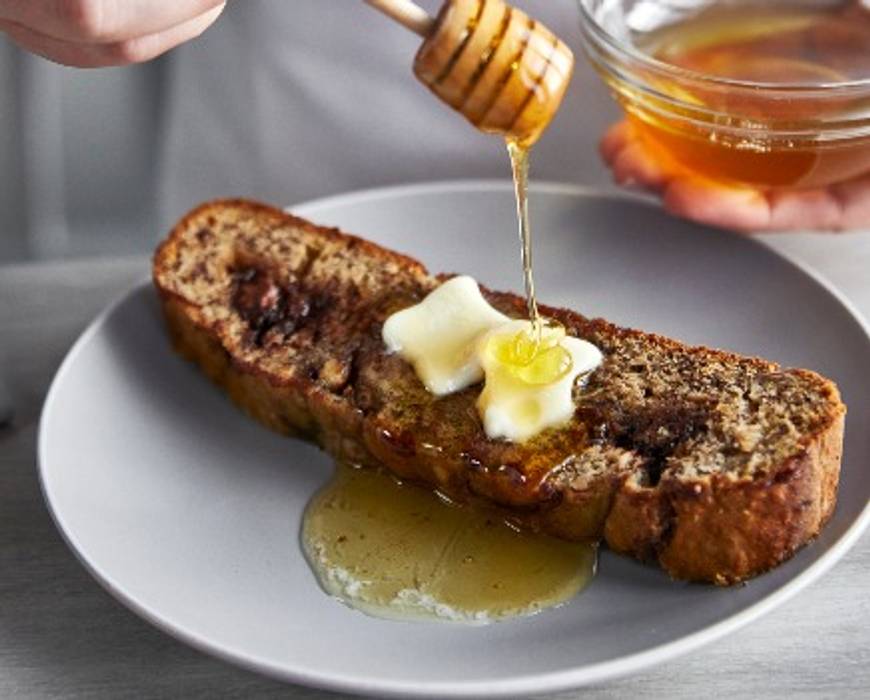 Chocolate Hazelnut Banana Bread
Yield: 10 to 12 servings
Time: 15 minutes prep, 2 hours cooking
INGREDIENTS:
2 cups all-purpose flour, plus more for preparing insert
1 teaspoon baking soda
1 teaspoon kosher salt
1/2 cup hazelnuts, toasted and finely chopped
1/2 cup unsalted butter, softened, plus more for preparing insert 
1 cup granulated sugar
2 large eggs
3 tablespoons milk
1 teaspoon pure vanilla extract
3 medium bananas, very ripe, mashed
1/4 cup store bought chocolate hazelnut spread
PREPARATION INSTRUCTIONS:
Select the High Temperature Slow Cook Mode on the Slow Cooker and set the timer for 2 hours. Grease the interior of the insert with a thin coat of unsalted butter and lightly dust with flour, ensuring the entire surface has flour so the banana bread can be easily removed once baked. Set the insert aside while preparing the bread batter.    


In a medium mixing bowl, whisk together the flour, baking soda and salt until thoroughly combined, then stir in the hazelnuts. 


In the bowl of a stand mixer with paddle attachment, or a large mixing bowl using a hand mixer, cream together the butter and sugar until lightened in texture and color, stopping to scrape down the bowl with a silicone spatula as needed. Add in the eggs one at a time, ensure the first egg is fully incorporated into the butter and sugar before adding the next.  Mix in the milk, vanilla and bananas until thoroughly combined. Add the dry ingredients and mix gently until just incorporate, if you mix too much it will create tougher banana bread.  


Transfer the batter to the prepared insert and smooth to level the top.  Place spoonful dallops of the chocolate hazelnut spread across the top of the batter and use a wooden skewer or tip of a knife to swirl decoratively throughout the batter. Place the insert into the slow cooker and cover.  Bake for up to two hours, beginning to check for doneness after 90 minutes.  (The riper the bananas are, the more moisture they'll provide, making for a longer bake time).  When a toothpick comes out of the center of the banana bread cleanly, remove the insert from the slow cooker and transfer to a wire rack to cool.  


Remove the banana bread from the insert once cooled (if needed, use a silicone spatula to carefully release the sides and bottom) and slice to serve.  
TIPS:
This banana bread is absolutely delicious served with a bit of softened butter and drizzle of honey! 
For some extra flavor and warming spice, try adding a ¼ teaspoon each of cinnamon and nutmeg into the batter!  
Featured Product
Elite 6-Quart Slow Cooker | Cloud Cream
With our advanced slow cooker, you can sear meat and veggies in the pot, then go low and slow to finish the job. Take your time while cooking, then clean up quickly with Thermolon™ Volt, a healthy, PFAS-free ceramic nonstick...