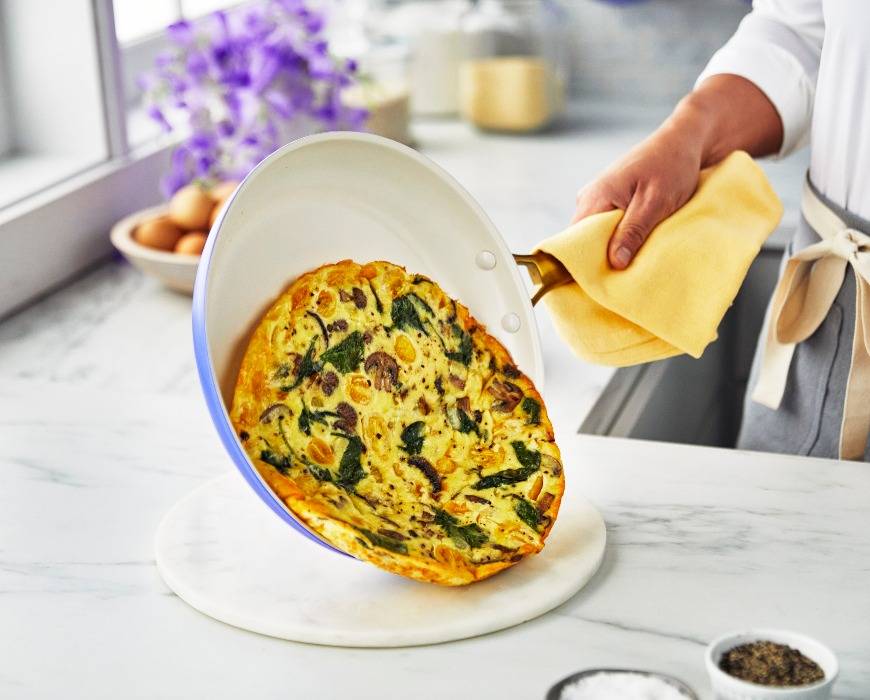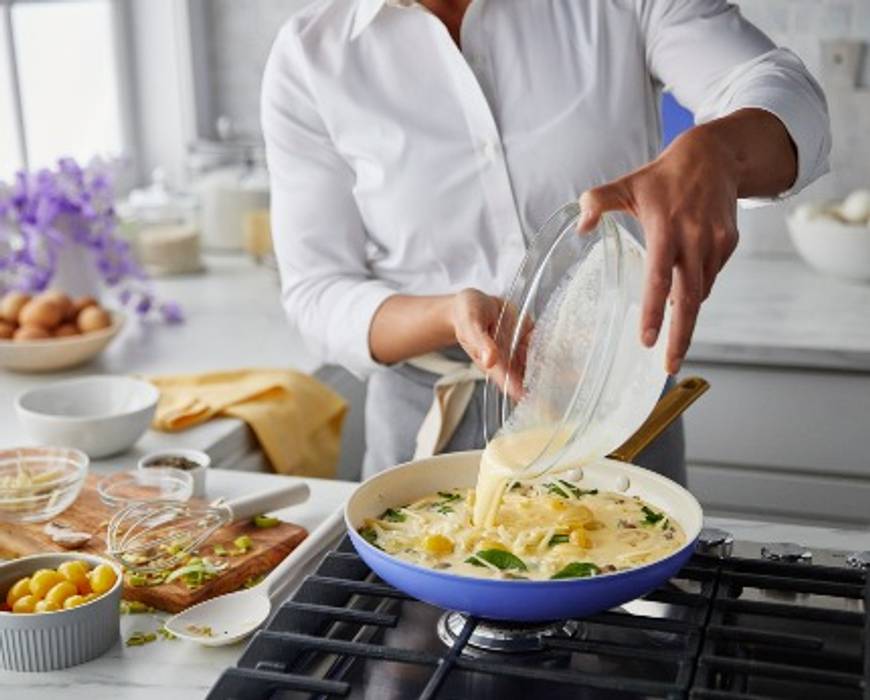 Yields: 6 to 8 servings
Time: 15 minutes prep, 45 minutes resting, 1 hour total
 
INGREDIENTS:
5 eggs
1 cup whole milk, half and half, or cream
1/4 teaspoon salt
1 to 2 tablespoons olive oil
8 ounces crimini or button mushrooms, sliced
1 leek, cleaned well and thinly sliced—white and light green parts only
2 cups fresh spinach
10 mini tomatoes, halved
1 cup shredded cheese
Freshly ground black pepper to taste

PREPARATION INSTRUCTIONS:
Prepare to bake—Preheat oven to 375 degrees F.
Make the custard—In a medium bowl, vigorously whisk together eggs, milk, and salt. Set aside.
Sauté the veggies—Heat olive oil in an 11-inch oven-safe nonstick skillet over medium-high until oil is shimmering but not smoking. Add in the mushrooms and leeks and sauté till leeks are slightly softened, about 3 to 5 minutes. Add spinach and stir to combine evenly.
Assemble the quiche— Sprinkle top of veggies with shredded cheese and sliced tomatoes. Give the custard a final vigorous whisking and pour over quiche ingredients. Grind black pepper evenly over the top of quiche.
Bake the quiche—Transfer skillet to preheated oven and bake until set in center, about 45 minutes. Serve hot.
TIPS:
Shredding—Not Just for Guitarists
Ever noticed how the cheese in some dishes is perfectly melty while in others it just sits there looking sad? Pre-shredded cheeses contain additives that inhibit the melting process. So if you want it done right, you've got to DIY.
Clean Out Your Crisper Drawer
Our quiche can be the perfect blank slate for any veggies that are starting to look tired. From asparagus to arugula, bell peppers to broccoli to zucchini—it's all good!
Featured Product
Reserve Ceramic Nonstick 10-Piece Cookware Set | Wisteria with Gold-Tone Handles
World-class performance meets eye-catching contrast in GreenPan Reserve. But it's more than good looks: the duoforged hard anodized construction makes this set extra tough. This set makes it simple to find your style at home.