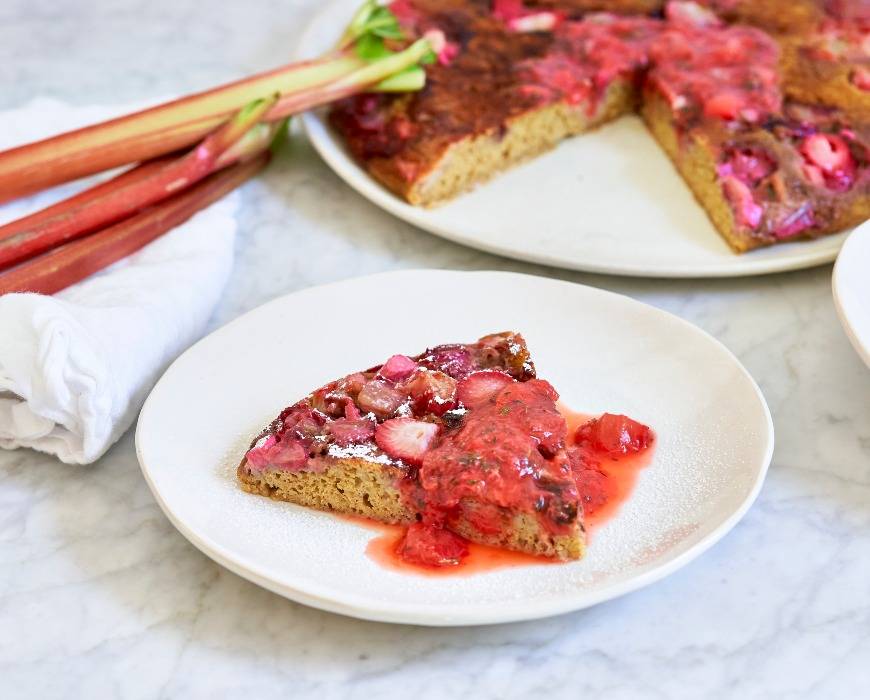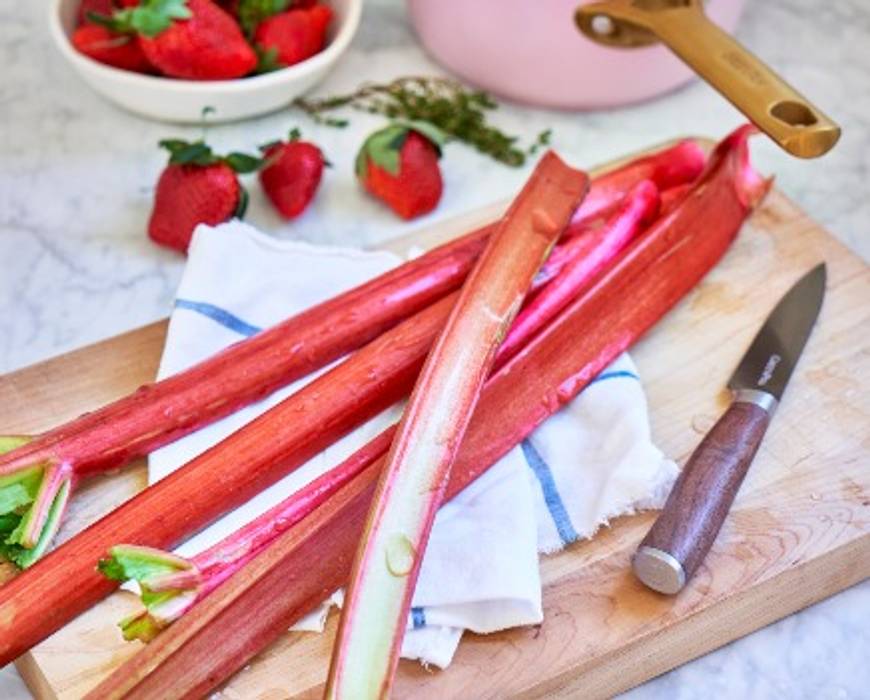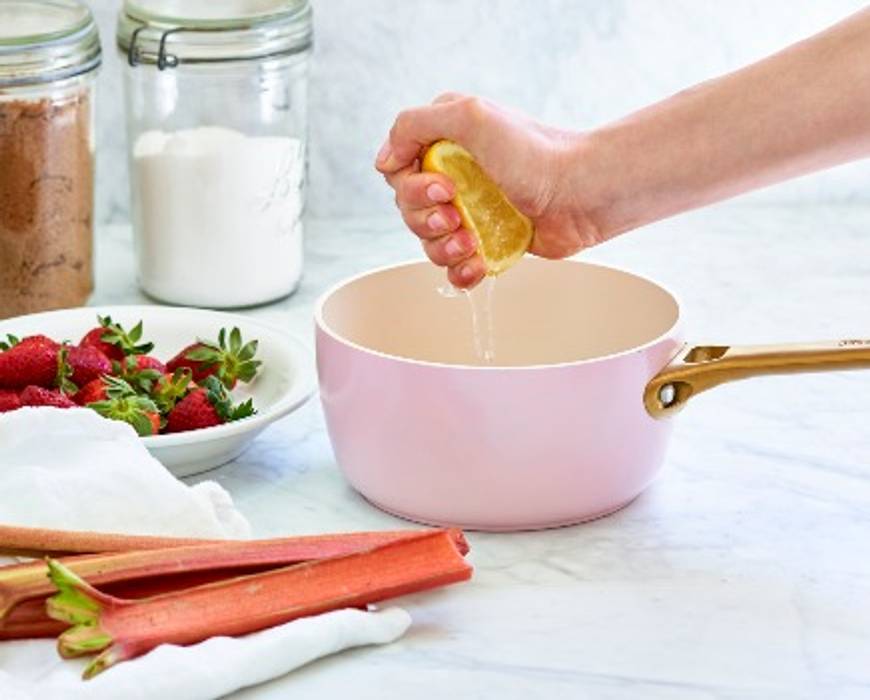 Rye Strawberry Rhubarb Skillet Pancake
Yields: 6 to 8 servings
Time: 15 minutes prep, 25 minutes cooking
INGREDIENTS:
For the Arrowhead Mills Organic Rye skillet pancake:
1 cup Arrowhead Mills Organic All-Purpose Flour
1/2 cup Arrowhead Mills Organic Rye Flour
2 teaspoons baking powder
1 teaspoon baking soda
1 teaspoon kosher salt
1/2 teaspoon ground cardamom
2 large eggs
1 1/2 cups milk, whole preferred
1/4 cup plus 1 tablespoon unsalted butter, melted, divided
1/4 cup plus 1 tablespoon light brown sugar, divided
3/4 cup fresh rhubarb, ½" dice
3/4 cup fresh strawberries, ½" dice
Pure maple syrup, warmed, for serving:
Cold butter, for serving
Confectioners' sugar, for serving
Fresh Strawberries, for serving
For the strawberry rhubarb compote:
3/4 cup fresh rhubarb, ½" dice
3/4 cup fresh strawberries, ½" dice
3 tablespoon honey
2 tablespoons water
1 tablespoon fresh lemon juice
2 teaspoons fresh lemon zest
2 teaspoons fresh thyme leaves, finely chopped
½ teaspoon kosher salt
PREPARATION INSTRUCTIONS:
Preheat an oven to 375° F. In a large mixing bowl whisk both flours, baking powder, baking soda, cardamom and salt until evenly combined.   In a separate medium mixing bowl whisk together the eggs, milk, 1/4 cup melted butter and 1/4 cup light brown sugar until the mixture is very smooth and the sugar has mostly dissolved.  Pour the wet ingredients into the dry ingredients and stir until just barely combined – it's ok if there are a few small lumps.  Set the batter aside for 5 minutes while preparing the skillet. 
Place a 12" GreenPan skillet over medium high heat and pour in the remaining tablespoon of butter. Once the butter has begin to foam, add in the remaining tablespoon of light brown sugar along with ¾ cup each of rhubarb and strawberries.  Cook, stirring occasionally, for a minute or two until the sugar melts and the rhubarb and strawberries just begin to soften – then spread them in an even layer on the bottom of the skillet.  Working quickly pour the batter into the pan, ensuring it spreads out to the edges evenly and that the rhubarb and strawberries are as evenly dispersed on the bottom of the skillet as possible (this will make for a better presentation when it's flipped out for serving).  
Reduce the heat to medium and cook the pancake for 4 to 5 minutes, until about an inch of it is set around the sides of the skillet and you just begin seeing the edges start to brown.  Transfer to the oven and bake for 12 to 14 minutes, or until a toothpick or small knife will come cleanly out from the center of the pancake with no crumbs attached.  Allow the pancake to cool in the pan for a few minutes, then quickly flip it out onto a cutting board or large plate for serving. 
While the pancake is baking, place a small GreenPan saucepan on the stovetop over medium heat. Place in all of the compote ingredients and stir to combine.  Cook, stirring regularly, for 3 to 4 minutes until the rhubarb and strawberries begin to break down and release their juices.  Adjust the temperature so that the mixture is at a very light simmer and cook 8 to 10 minutes more, stirring regularly, until it reaches to the consistency of a loose jam (but with pieces of rhubarb and strawberry still noticeable).  If needed, add a bit more water to loosen the consistency.  Taste the compote and adjust as desired with honey, lemon and salt.  Transfer to a small bowl to serve. 
Slice and serve the Arrowhead Mills Rye Pancake while warm, with a large spoonful or two of the compote, plus maple syrup, cold butter and confectioners' sugar as desired.
TIPS:
The compote is delicious on toast or even as dessert over ice cream, so feel free to make a double batch and save it in an airtight container in the refrigerator for up to 5 days!
Arrowhead Mills Organic Rye Flour pairs well with all kinds of warming spices - so instead of cardamom, try this recipe with cinnamon, nutmeg or even ginger!
Featured Product
Reserve Ceramic Nonstick 10-Piece Cookware Set | Blush with Gold-Tone Handles
World-class performance meets eye-catching contrast in GreenPan Reserve. But it's more than good looks: the duoforged hard anodized construction makes this set extra tough. This set makes it simple to find your style at home.