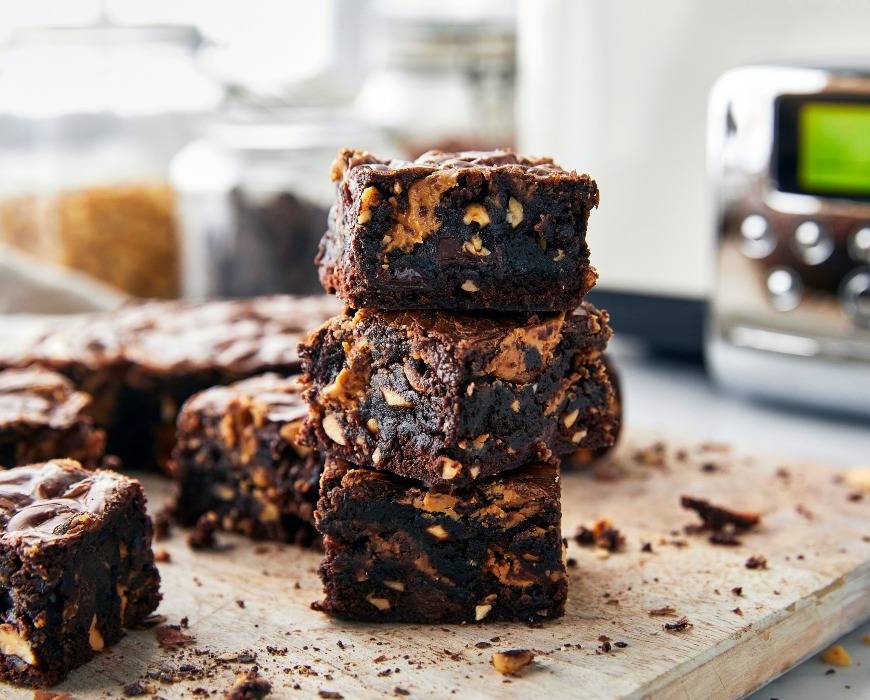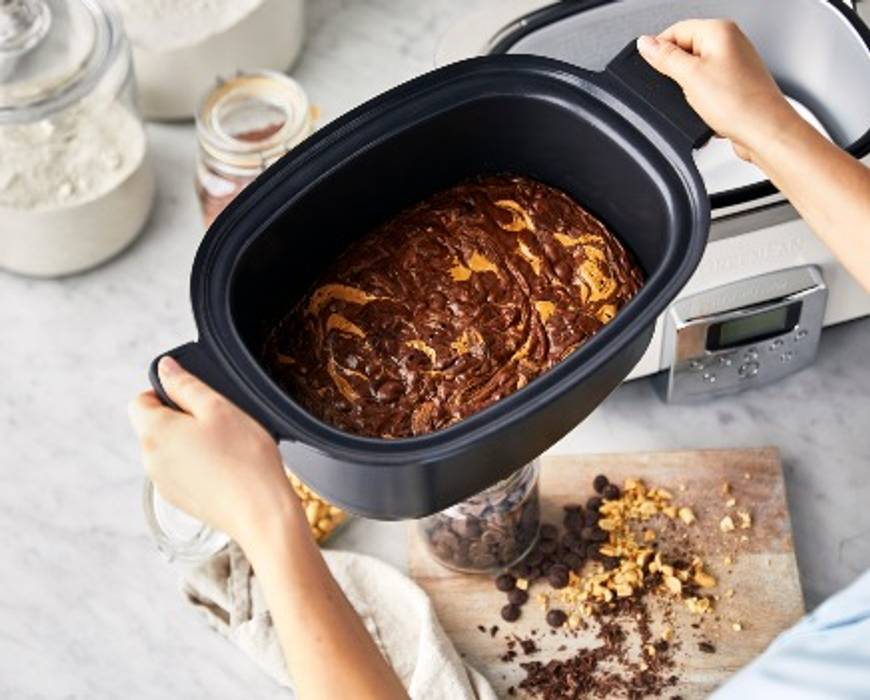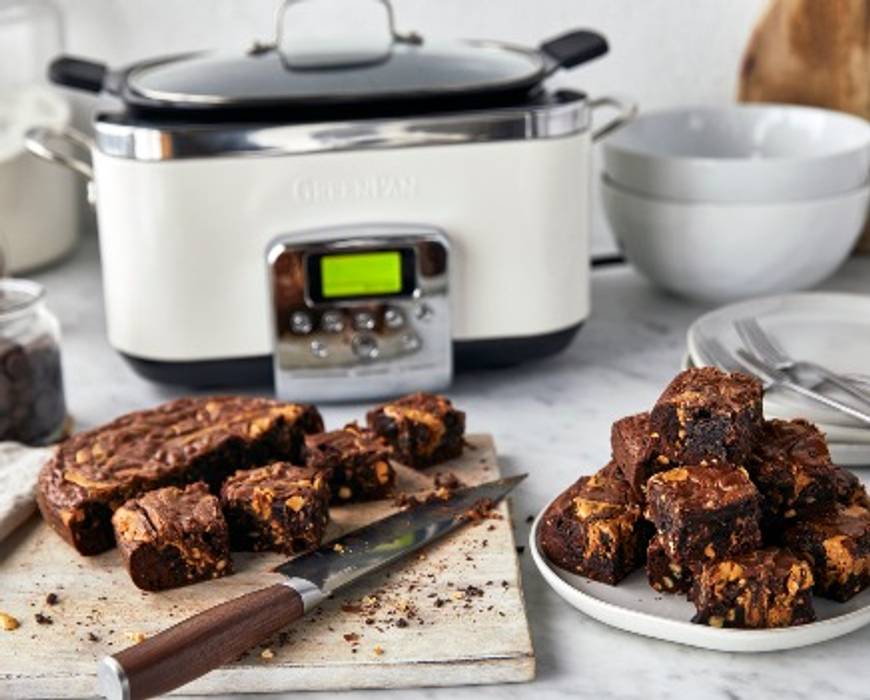 Chocolate Rye Peanut Butter Swirl Brownie
Yields: 10 to 12 servings
Time: 10 minutes prep, 3 hours 30 minutes cooking
INGREDIENTS:
3/4 cups all-purpose flour
1/2 cup rye flour
1/4 cup cocoa powder
1 teaspoon baking powder
1/2 teaspoon kosher salt 
8 tablespoons unsalted butter, cut in 1/2" cubes, plus more for prepping insert
7 ounces bittersweet chocolate, finely chopped
1 cup granulated sugar
3 large eggs, whisked
1/2 cup peanuts, toasted, roughly chopped
1/2 cup chocolate chips, semisweet or bittersweet
1/2 cup peanut butter
PREPARATION INSTRUCTIONS:
In a medium mixing bowl whisk together the flour, cocoa powder, baking powder and salt until evenly combined.  


In a small saucepan over medium heat (or in a small heat proof bowl in the microwave), very gently melt the butter and chocolate and stir until evenly combined and smooth. Transfer the chocolate and butter mixture to a large mixing bowl and whisk in the sugar until evenly combined, followed by the eggs.   


Add the dry ingredients into the wet ingredients and gently stir to combine. Take care to stir enough to incorporate all the dry ingredients, but no more than that as over mixing will create tough brownies. Gently fold in the peanuts and chocolate chips.  


Lightly grease the insert of the Slow Cooker with butter.


Select the Low Temperature Slow Cook Mode on the Slow Cooker and set the timer for 3 hours.  Transfer the brownie batter to the slow cooker and smooth the top with a silicone spatula. Spoon 8 to 10 piles of peanut butter across the top of the batter and use the silicone spatula to swirl and marble the peanut butter throughout, leaving distinct areas of batter and of peanut butter. Cover and cook for 3 hours or until the edges of the brownie are fully set, and a toothpick comes out of the center mostly dry.  


Uncover and remove the insert from the slow cooker, allowing the brownie to cool fully in the insert. Once cool, gently loosen the sides of the brownie with your hands or silicone spatula. Place the included steaming rack (upside down) against the top of the brownie. Holding the steaming rack firmly in place, quickly flip the slow cooker insert upside down and gently remove the brownie. Transfer it to a cutting board or serving platter and cut the brownies into slices to serve.  
TIPS:
Rye flour brings tenderness and a nutty flavor to this brownie, but feel free to make it with whole wheat flour in place of the rye, or entirely with all-purpose flour if you prefer! 
While the peanut butter is delicious, try making this recipe with almond butter, tahini, or even chocolate hazelnut spread! 
Featured Product
Elite 6-Quart Slow Cooker | Cloud Cream
With our advanced slow cooker, you can sear meat and veggies in the pot, then go low and slow to finish the job. Take your time while cooking, then clean up quickly with Thermolon™ Volt, a healthy, PFAS-free ceramic nonstick...