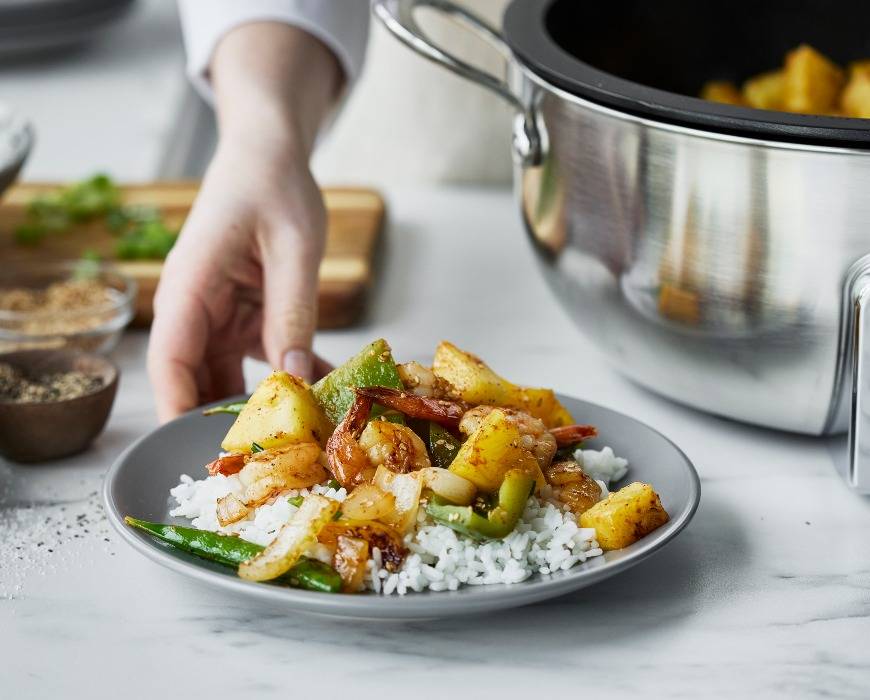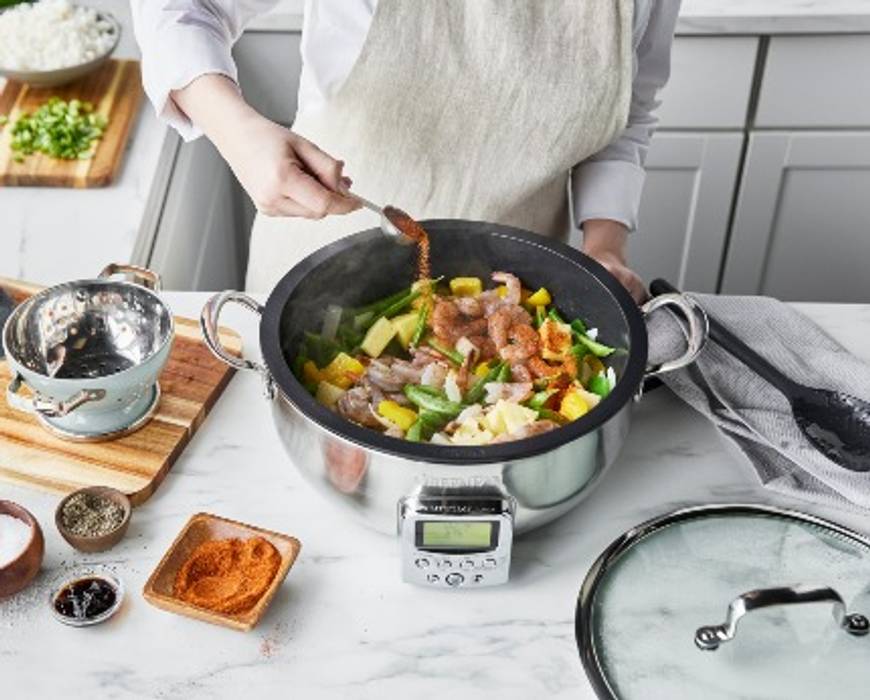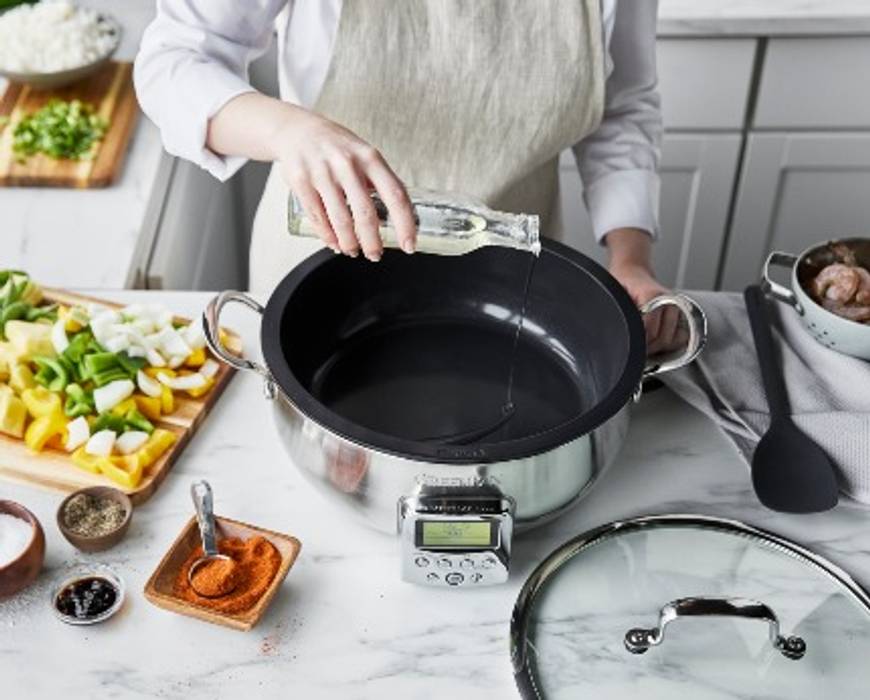 Summer Shrimp & Veggie Stir Fry
Yields: 4 servings
Time: 10 minutes prep, 15 minutes cooking, 25 minutes total
INGREDIENTS:
For the tamarind sauce:
2 teaspoons tamarind paste
1/3 cup vegetable stock or water
2 tablespoons fish or oyster sauce
2 tablespoons brown sugar
1 teaspoon salt
1 teaspoon pepper
For the stir fry:
2 tablespoons canola or other neutral oil, divided
1 1/2 pounds large shrimp, peeled and deveined
1 green bell pepper, cut into 1-inch pieces
1/2 yellow or red bell pepper, cut into 1-inch pieces
1 white onion, cut into 1-inch pieces
Handful green beans, trimmed
Fresh pineapple, cut into 1-inch pieces, about 1 cup
2 cloves garlic, minced
Chili powder to taste
For serving:
Steamed rice
3 scallions, thinly sliced (green part only)
Sesame seeds
PREPARATION INSTRUCTIONS:
Make the sauce—In a small bowl, stir together tamarind paste, vegetable stock, fish sauce, brown sugar, salt, and pepper. Set aside.
Prepare to cook—Select the Stir Fry mode on the Essential Smart Skillet, set the temperature to 450°F and the timer to 15 minutes. Heat 1 tablespoon canola oil in skillet until it shimmers and begins to smoke.
Cook the shrimp—Add shrimp to skillet and cook until just seared and beginning to turn opaque—about 1 to 2 minutes per side. Remove from skillet and set aside.
Stir fry the veggies—Heat the second tablespoon canola oil in skillet till shimmering and add bell peppers, onion, green beans, and pineapple. Cook, stirring frequently, until veggies begin to soften, about 3 to 4 minutes. Add in garlic and sauté, stirring constantly, for about 1 minute.
Finish the stir fry—Return shrimp to skillet and add tamarind sauce. Stir to combine everything evenly. Sprinkle with chili powder to taste. Cook, stirring frequently, until shrimp is heated through, about 2 minutes. Don't overdo it or shrimp may become rubbery.
Garnish and serve—Divide steamed rice between 4 individual bowls and top with stir fry. Sprinkle with sliced scallions and sesame seeds. Serve piping hot.
TIPS:
Need to Thaw Shrimp Fast? Submerge them in a large bowl of cold water for about 15 minutes, then pat dry with paper towels.
Clean Out the Crisper—Our recipe works great with asparagus, zucchini and everything in between (think carrots, cauliflower, celery, summer squash, mushrooms, and more). 
Spice it Up—Take our stir fry from slightly spicy to 5 stars by adding crushed red pepper flakes to the sauce. We like 1/2 a teaspoon, but go for more or less depending on your heat preference.
Featured Product
Elite 6-Quart Essential Smart Skillet | Premiere Stainless Steel
Whether you're searing a steak, perfecting a complex stew, or simply making rice, this family-sized 6-quart skillet gives you room for any meal. The high sides eliminate splatter and make it easy to toss your ingredients without worry.