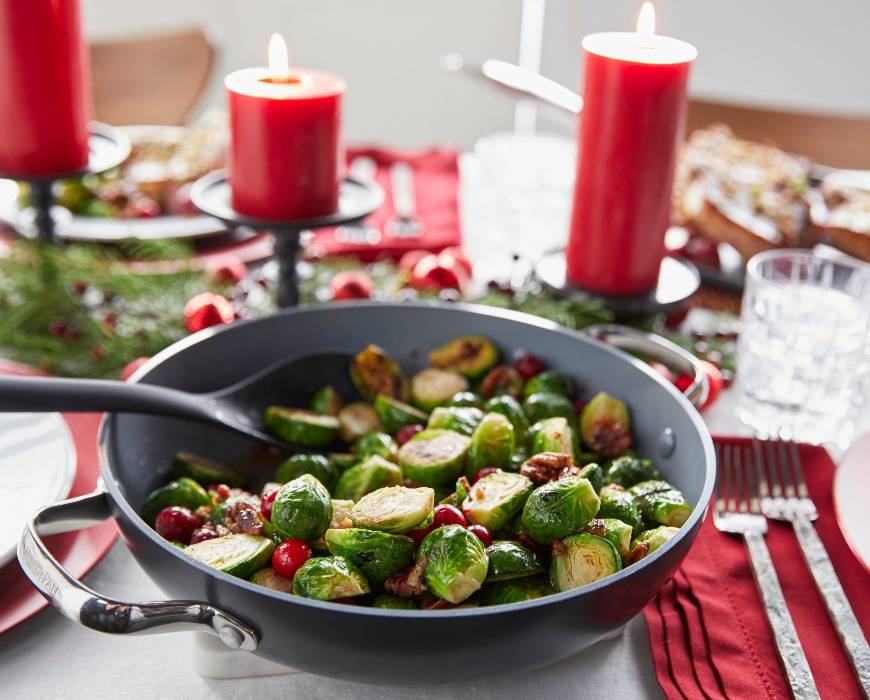 Roasted Brussels Sprouts with Pecans and Fresh Cranberries
Yields: 4 servings
Time: 10 minutes prep, 30 minutes cooking, 40 minutes total
INGREDIENTS:
4 cups Brussels sprouts, trimmed and halved lengthwise
4 tablespoons olive oil, divided
Salt and pepper to taste
1/2 cup pecans, more or less to taste
1 cup fresh cranberries
1 tablespoon balsamic vinegar
1 tablespoon maple syrup
PREPARATION INSTRUCTIONS:
Prepare to cook—Preheat oven to 425°F.


Prep the Brussels sprouts—Add sprouts to a rimmed nonstick baking sheet and drizzle with about 2 tablespoons olive oil. Toss with hands to coat evenly. Arrange sprouts in an even layer, cut side down, and sprinkle with salt and pepper.


 Roast the Brussels sprouts—Place pan in oven and cook for about 20 minutes. Sprouts should be slightly tender but not charred. Remove from oven and set aside.


 Meanwhile, toast the pecans—When the sprouts have been cooking for 15 minutes, place a large sauté pan over medium heat and add the pecans. Cook, stirring often with a wooden spoon, until nuts are golden brown and smell amazing. Transfer pecans to a small bowl and set aside.


 Finish the Brussels sprouts—Pour 2 tablespoons oil into the large sauté pan and place over medium heat. Add roasted Brussels sprouts and cranberries and stir to combine. Cook, stirring occasionally, for about 4 minutes then stir in balsamic vinegar. Continue cooking for a few minutes then add maple syrup and toasted pecans. Give it a good stir to make sure everything's evenly coated with balsamic and syrup then remove from heat. Serve hot.
TIPS:
How to Trim Brussels Sprouts
Trim off the brown edges of stems and pull off any leaves that look less than appetizing. Cut in half through the stem (to hold the leaves together), and you're good to go.
Become a Stalk-er
If you spot Brussels sprouts on the stalk, snap them up! They'll stay fresher much longer than loose sprouts. No room in the fridge? Stash them in a cold space (basement, perhaps?) or leave them on the countertop at room temp.
Featured Product
Valencia Pro Ceramic Nonstick 10" Frypan
This 10" frypan is ready for searing steaks, sautéing veggies, whipping up omelettes, and so much more. Extra tough and endlessly versatile, this pan is crafted from hard anodized aluminum for maximum strength and scratch resistance.