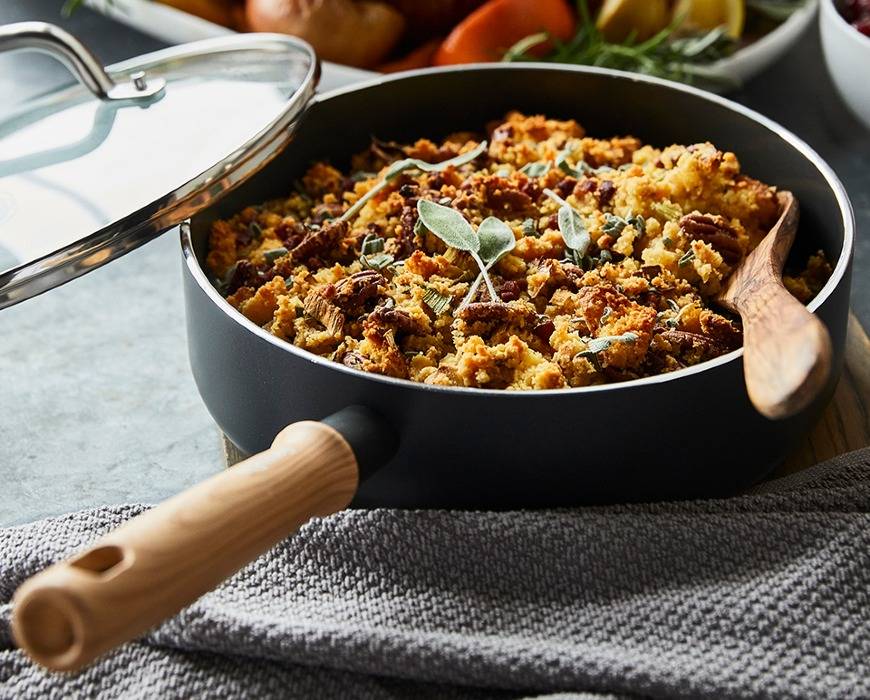 Cornbread Stuffing with Pecans and Pancetta
Yields: 12 servings
Time: 25 minutes prep, 45 minutes cooking, 1 hour 10 minutes total 
INGREDIENTS:
2 cornbreads (8-inch rounds or squares), broken into 2-inch pieces 
2 cups pecans, toasted and coarsely chopped 
3 tablespoons butter, cut into small pieces, plus more for greasing pan
8 ounces pancetta, diced
4 leeks, rinsed and chopped into 1/2-inch pieces (white and pale green parts only)
4 celery stalks, chopped into 1/2-inch pieces
1 tablespoon chopped fresh sage, plus more for garnish
1 1/2 teaspoons salt
Freshly ground black pepper to taste
2 1/2 cups homemade or low-sodium chicken stock
4 large eggs, lightly beaten
PREPARATION INSTRUCTIONS:
Prepare to bake—Preheat oven to 350 degrees F.
Start the sauté—In a large, high-sided skillet over medium-high heat, cook pancetta until almost crisp. Add leeks and celery, reduce heat to medium and sauté, stirring occasionally, until vegetables are tender, about 10 minutes. Stir in sage, adding salt and seasoning with pepper. Transfer to a large bowl and set aside. 
Simmer the stock—Add stock to skillet and return to medium-high heat. Bring to a simmer, stirring constantly, while scraping up brown bits from pan. Transfer to bowl with pancetta-vegetable mixture. Stir in eggs. Add cornbread and pecans and gently stir till evenly distributed, avoid over-mixing.
Bake the stuffing—Return mixture to skillet or transfer to a 9 x 13-inch greased baking dish. Dot top of stuffing with butter and bake for about 35 minutes or until golden brown. Garnish with fresh sage and serve piping hot.
TIPS:
Get Toasty—Toasting nuts releases essential oils, making them extra fragrant and flavorful. Easily toast nuts in a skillet over medium-high heat, stirring frequently, until they are golden brown and incredibly aromatic. Remove from pan immediately so they don't burn from residual heat.