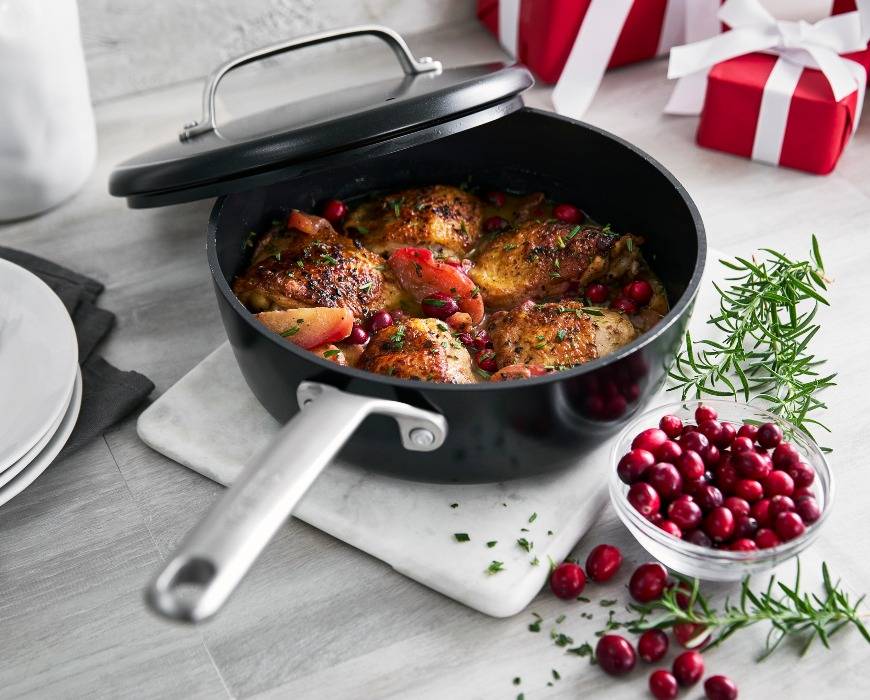 Apple Cranberry Pan-Roasted Chicken Thighs
Yields: 4 servings
Time: 15 minutes prep, 30 minutes cooking, 45 minutes total
INGREDIENTS:
4 to 6 skin-on, bone-in chicken thighs
3 tablespoons olive oil, divided
1 teaspoon chopped fresh rosemary
2 garlic cloves, minced
Salt and freshly ground black pepper
1/2 cup chicken stock
1/2 cup apple cider
1 cup fresh cranberries (or frozen and thawed)
1 apple, cored and cut into 1/4-inch slices
2 tablespoons light brown sugar
1 tablespoon whole grain mustard
PREPARATION INSTRUCTIONS:
Prepare to cook—Preheat oven to 400°F.


Prep the chicken—In a small bowl, add 1 tablespoon olive oil and stir in rosemary and garlic. Pat chicken thighs dry with paper towels and brush on both sides with the olive oil mixture. Season thighs generously on both sides with salt and freshly ground black pepper.


Prep the pan—Heat the other 2 teaspoons of olive oil in a large, nonstick sauté pan over medium-high heat. When oil is shimmering, you're good to go.


Sear the chicken—Carefully place thighs skin side down in the sauté pan and let cook for 5 minutes without disturbing. Flip and let the chicken cook for another 5 minutes. Remove pan from heat, then transfer chicken to a plate and set aside. Don't wash the pan yet!


Meanwhile, prep the fruit—While chicken cooks, place cranberries and apples in a medium bowl. Add brown sugar and mustard and toss to coat evenly.


Deglaze the pan—Return pan to stove top over medium heat. Pour chicken stock and cider in pan and scrape up any brown bits. Remove pan from heat and set aside.


Assemble the dish—Return seared chicken to the pan, skin side up. Add apple cranberry mixture, spooning evenly around the chicken.


Bake the chicken—Transfer sauté pan to preheated oven and bake until chicken is beautifully browned and apples have softened, about 20 to 25 minutes. Remove from oven and let chicken rest about 5 minutes. Serve hot.
TIPS:
Pick the Best Apple
We love Honeycrisp's complex sweetness in this dish, but you can't go wrong with any sweet apple that won't turn to mush when cooked. Think Jonagold, Braeburn, or Gala.
No Leg to Stand On?
If you're fresh out of chicken thighs, our recipe works great with chicken breasts, too! Just add a few minutes more cook time on each side when pan searing.