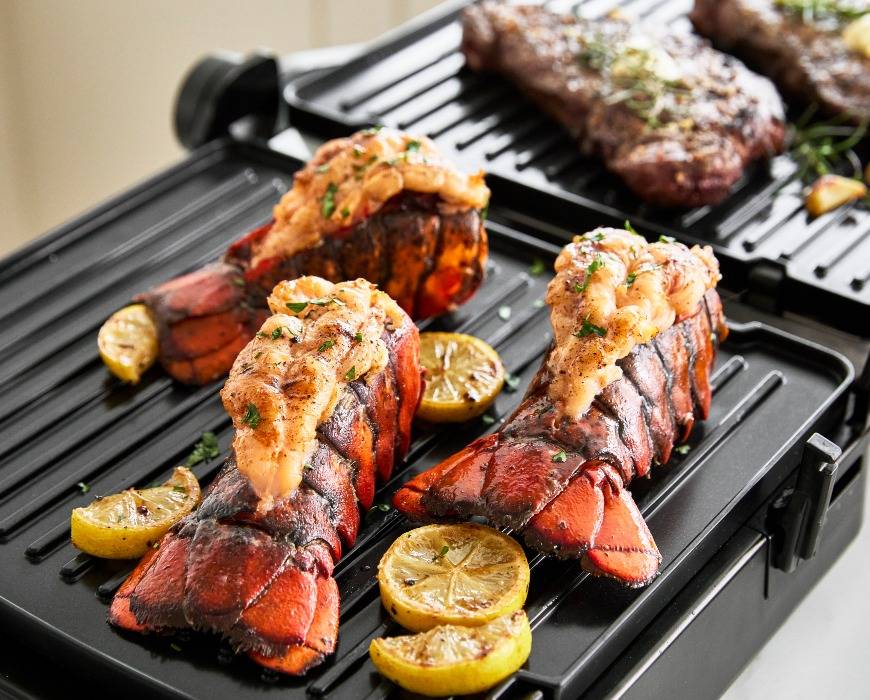 Yields: 3 lobster tails
Time: 25 minutes prep, 10 minutes cooking, 35 minutes total
INGREDIENTS:
3 lobster tails, thawed
2 teaspoons olive oil
Salt and freshly ground black pepper
3 tablespoons butter, melted
1 to 2 cloves garlic, minced
2 teaspoons lemon juice
1/2 teaspoon paprika
1 lemon, sliced into rounds
1 teaspoon minced fresh parsley or chives
PREPARATION INSTRUCTIONS:
Prepare to grill—Fit your GreenPan Multi Grill, Griddle & Waffle Maker with grill plates in the flat position. Turn dial to "Both" and preheat to 400°F.
Prep the lobster—Cut down the center of the lobster shells with kitchen shears—go lengthwise, starting at the wider end till you reach the top of the tail. Flip the tails over and use a sharp knife to cut a vertical line through the meat at the center—you want to go about halfway through the meat, not all the way down to the shell. Insert a skewer lengthwise through each lobster so it won't curl up while cooking.
Season the lobster—Brush lobsters all over with olive oil and season with salt and pepper.
Grill the lobster—Place lobsters on the grill, flesh side down. Grill without moving for about 6 minutes. When underside is browned and looks almost cooked through, flip lobsters.
Meanwhile, make the butter sauce—Place melted butter, garlic, lemon juice, and paprika in a small bowl. Whisk till everything's evenly combined. Set aside.
Finish and serve—Add lemons to grill and cook for about 2 minutes on each side. Brush about half the butter mixture over the lobster meat. Cook for another 2 to 4 minutes till lobster meat looks opaque. Sprinkle with fresh herbs. Transfer to individual plates and drizzle with remaining butter sauce.
TIPS:
How to Thaw Lobster Tails—Place them in the fridge overnight (be sure to keep them in a dish or airtight container to control leakage). In a hurry? Submerge tails in a pot of cold water for about 30 minutes.
How to Tell When Lobster's Done—The shells will turn bright orange and the meat will be opaque (despite the char marks). Don't overdo it or lobster will turn out dry and tough.
Featured Product
Elite Multi Grill, Griddle & Waffle Maker | Premiere Stainless Steel
Discover a world of flavor on your counter with the Multi Grill, Griddle & Waffle Maker. The three plate options offer an endless array of possibilities—from classic paninis to perfect Belgian waffles, so you'll always have the right plate ready.