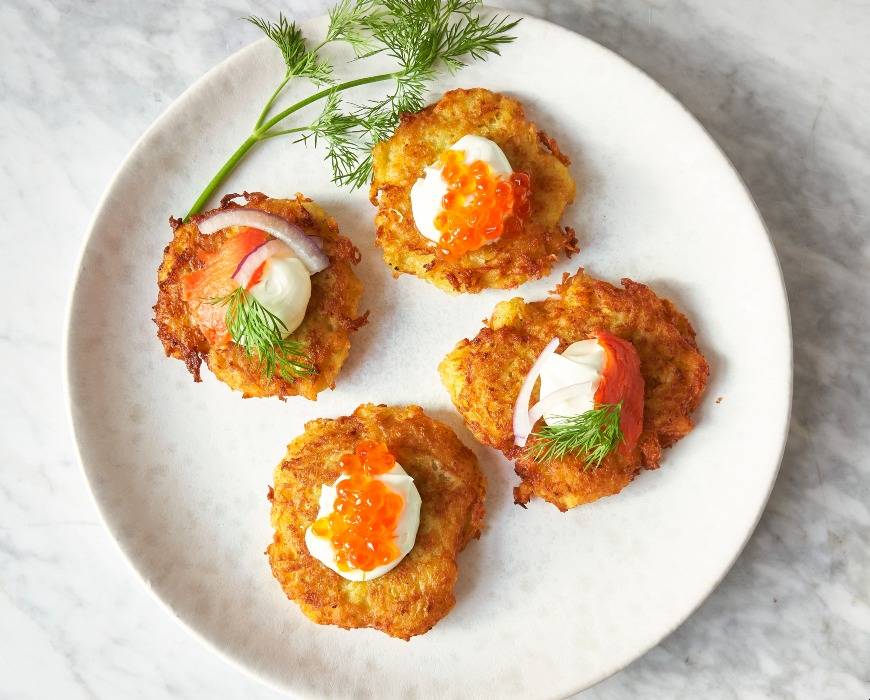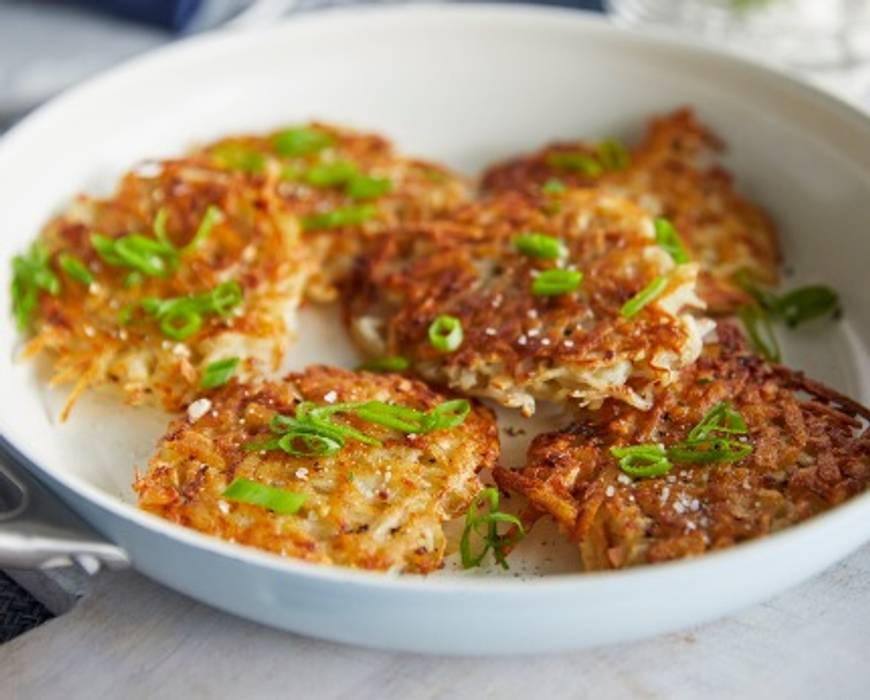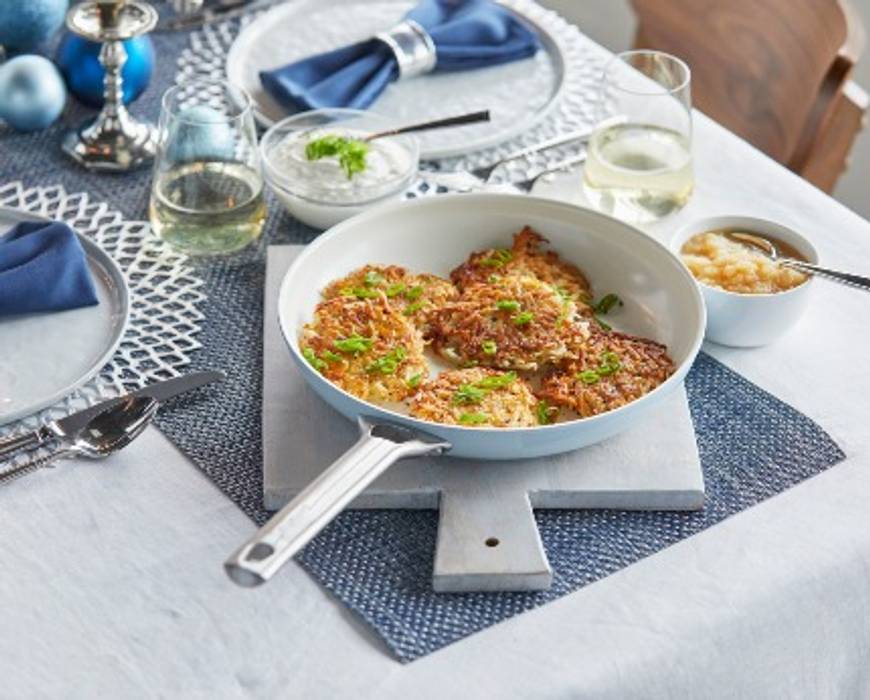 Yields: 5 servings
Time: 5 minutes prep, 10 minutes cooking, 15 minutes total
INGREDIENTS:
2 1/2 pounds russet potatoes, peeled and grated
1 medium onion, grated
2 large eggs, beaten
1/4 cup matzo meal, cornmeal, or flour
3 tablespoons butter, melted and slightly cooled
2 teaspoons kosher salt
1/2 teaspoon black pepper
1/2 teaspoon baking powder
Vegetable oil for frying
Topping Ideas
 Classic Caviar
Add a dollop of crème fraîche or sour cream, spoon on caviar, and sprinkle with chives.
 Smoked Salmon
Top latkes with sour cream and salmon, then sprinkle with capers or fresh dill.
 Avocado
Smear with mashed avocado, sprinkle with fresh herbs and sea salt, and add a splash of sriracha or lemon juice.
 Yogurt
Whisk Greek yogurt with a little honey. Spread on latkes and top with pomegranate seeds.
 Applesauce
Stir a pinch of ground cinnamon into applesauce and spread on latkes.
PREPARATION INSTRUCTIONS:
Prep the potatoes—Mix potatoes and onion in a colander set over a large bowl. Squeeze dry and let drain for 3 minutes. Discard liquid from bowl, but keep the starchy paste.
Mix the latkes—Transfer potato mix to the bowl along with eggs, matzo meal, butter, salt, pepper, and baking powder. Mix until evenly combined.
Prep the skillet—Add an 1/8-inch layer of oil to a large skillet over medium high heat. When oil starts shimmering, it's good to go.
Fry the latkes—Spoon 1/4-cup portions of latke batter about 2 inches apart in skillet. Press with spatula to flatten slightly. Fry until edges are brown and crispy, about 5 minutes. Flip and cook until the second side is beautifully browned, another 5 minutes or so. Transfer latkes to a paper towel-lined plate to drain. Repeat with remaining batter, adding more oil as necessary.
Garnish and serve—Add your choice of toppings and serve piping hot.
TIPS:
Make ahead—fry latkes in advance and reheat on baking sheet in a 350°F oven until crispy.
Less moisture, more crispy—remove the maximum amount of liquid by wringing out potatoes in a cheesecloth or tea towel.
Featured Product
Padova Light Blue Ceramic Nonstick 10-Piece Cookware Set
Finished in a gorgeous blue inspired by the northern Italian sky, the Padova collection celebrates the freedom that comes from healthy cooking. The duoforged hard anodized aluminum construction makes each of these pans extra tough and scratch-resistant.