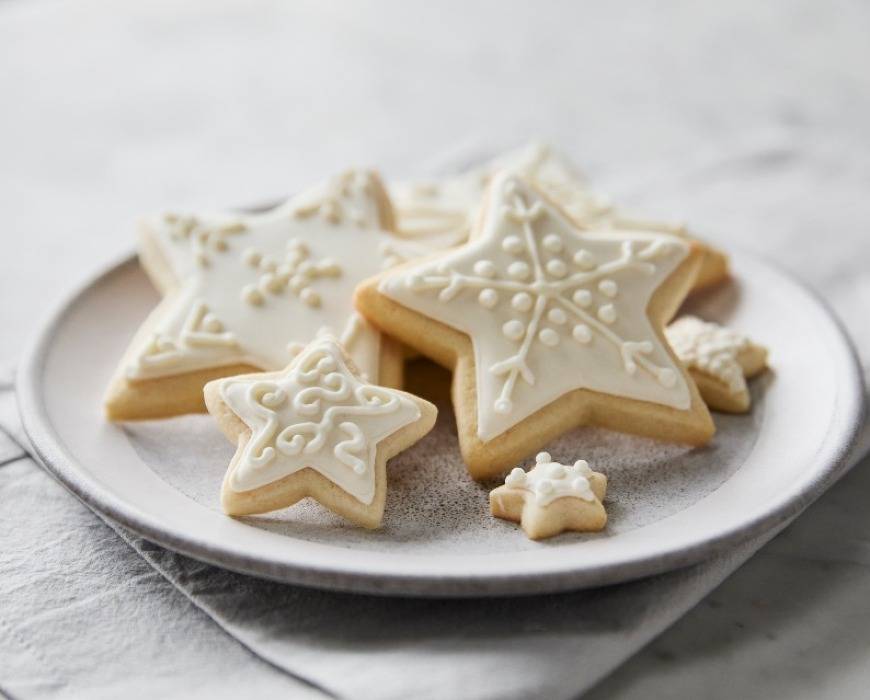 Prep Time
Total Time
Cooking Time
Servings
INGREDIENTS:
For the cookies 
1 cup unsalted butter, softened

 

1 cup granulated sugar

 

1 large egg

 

2 teaspoons vanilla extract 

 

2 1/2 cups all-purpose flour

 

1/2 teaspoon baking powder

 

1/4 teaspoon salt

 

For the royal icing 
4 cups powdered sugar

 

2 1/2 tablespoons meringue powder

 

6 tablespoons water

 

1 teaspoon vanilla extract

 
PREPARATION INSTRUCTIONS:
Mix the dough—Cream butter and sugar in a large bowl using a stand or electric hand mixer until light and fluffy. Add egg and vanilla extract and beat until fully incorporated. In a separate bowl, whisk together the flour, baking powder, and salt. Add dry ingredients to wet and mix on low until fully incorporated.
Chill the dough—Divide dough in half and wrap each in plastic wrap, then shape into discs. Refrigerate for at least 2 hours or overnight. 
Shape the cookies—Once dough has chilled, preheat oven to 350°F. Unwrap one dough disc and place on a clean surface generously dusted with flour. Lightly sprinkle the top of dough with flour and roll out to 1/4- (crispier) to 1/2-inch (softer) thickness. (As you work, continue to add flour as needed to ensure that dough doesn't stick.) Cut out shapes with cookie cutters and transfer to nonstick baking sheets. Re-roll scraps and cut out additional cookies. Then while the first batch is baking, repeat steps with second dough disk.
Bake the cookies—Bake in preheated oven for 7 to 10 minutes. Thicker cookies may need a few extra minutes. Cookies may look underdone, but try to remove them before you see any brown around the edges. Allow cookies to cool on baking sheet before removing.
Make the royal icing —Combine sugar, meringue powder, and water in the bowl of a stand mixer fitted with whisk attachment (or use a large bowl with electric hand mixer). Beat on low speed until combined, then add vanilla extract. Gradually increase speed to high and continue beating for about 5 minutes or until icing forms stiff peaks. Divide icing into bowls and tint with gel coloring as desired (a little color goes a long way!). To create thinner icing for flooding cookies, add a teaspoon of water at a time to achieve desired consistency.
Get creative!—Fill piping bags with thick icing to outline or decorate cookies. Then flood cookies with the thinner icing. Allow cookies to dry completely before packaging or transporting.
TIPS:
Skip a Step—If you're doing simple piped decorations, no need to use power tools. Just beat together icing ingredients till they reach a thick consistency. 
Oh Christmas Tree! Create edible art by decorating star shaped cookies in a variety of sizes and "glueing" them together with royal icing to form a tree shape. 
Featured Product
GreenLife Ceramic Nonstick 12-Piece Bakeware Set
Made of heavy-duty steel for quick and even heating, each pan features our healthy ceramic nonstick coating to tackle the stickiest foods and hold up for years of use. The icing on the cake (or cookie)? The bright colors make...