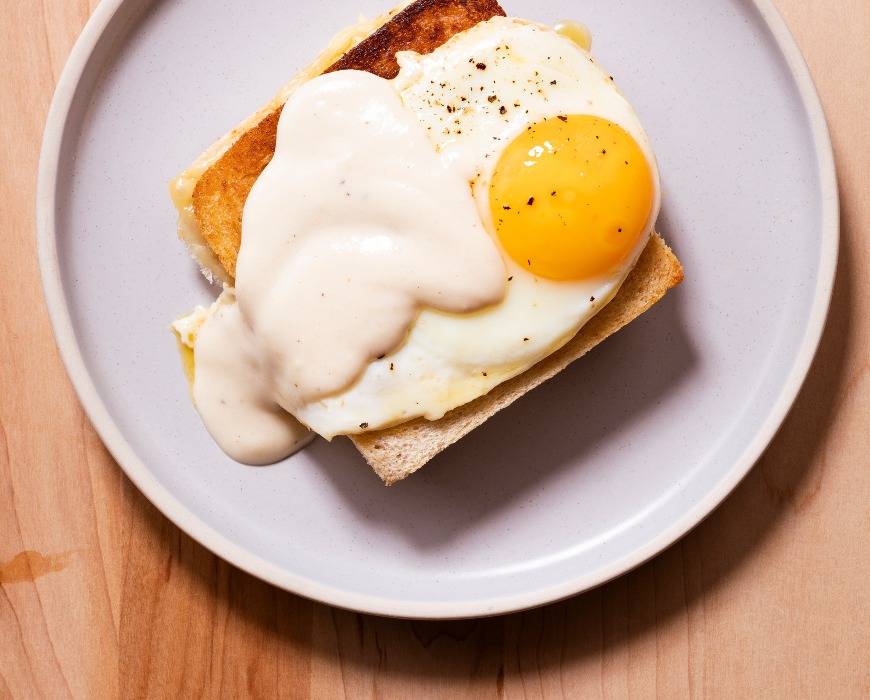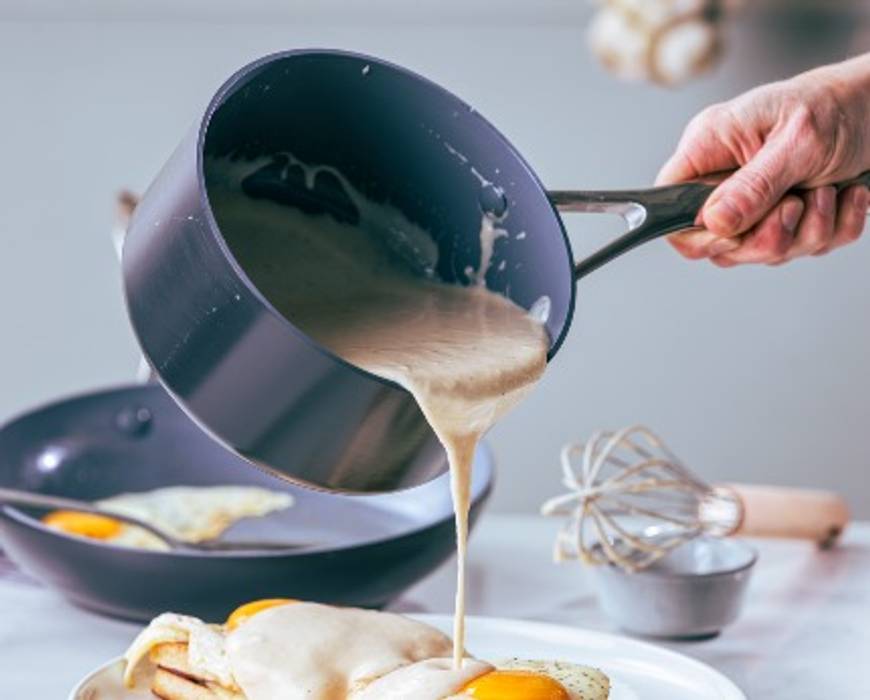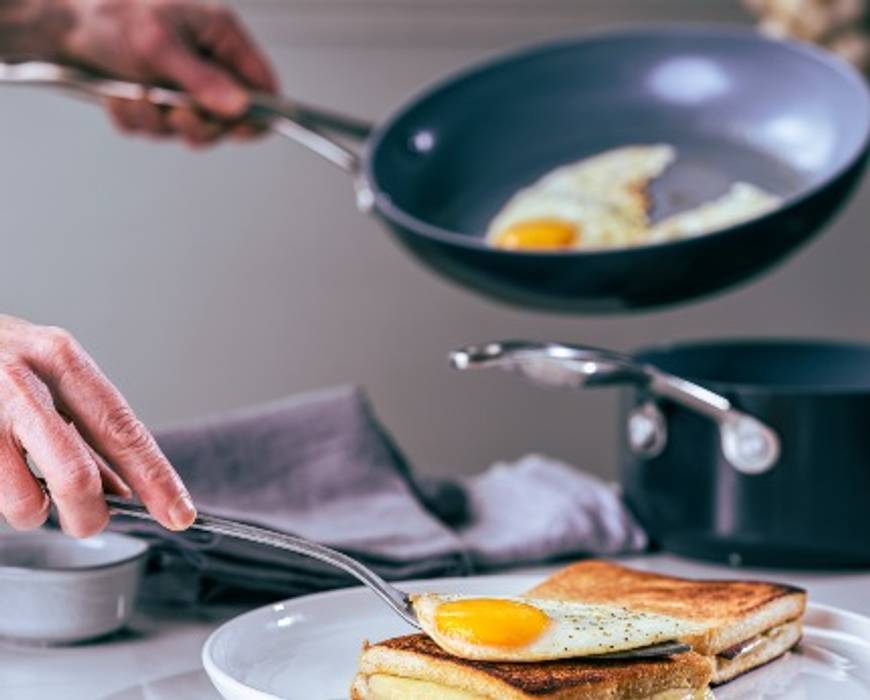 Yields: 4 servings
Time: 5 minutes prep, 25 minutes cooking, 30 minutes total
INGREDIENTS:
6 tablespoons butter, divided
2 tablespoons all-purpose flour
1 cup whole milk
1 bay leaf
1/2 teaspoon kosher salt
1/4 cup grated Parmesan
8 slices thick sourdough bread
12 slices deli ham
12 ounces grated Gruyère cheese, divided
4 large eggs
Salt and freshly ground black pepper to taste
PREPARATION INSTRUCTIONS:
Prepare to cook—Preheat oven to broil.
Make the bechamel sauce—Melt 2 tablespoons butter in a small saucepan over medium heat. Whisk in the flour and cook, stirring constantly, until the mixture has a nutty aroma and hasn't yet browned—about 2 to 3 minutes. Add milk and bay leaf and continue cooking, stirring occasionally, until mixture thickens to a soup consistency—about 10 to 12 minutes. Remove the bay leaf and stir in Parmesan until melted. Transfer to a bowl and set aside.
Assemble the sandwiches—Place 4 slices of bread on a cookie sheet or clean work surface. Top each with 3 slices of ham. In a small bowl, stir together half of the Gruyère cheese with the bechamel sauce. Taste and add additional salt, if needed. Spread a bit of sauce over the ham and top with remaining bread slices.
Grill the sandwiches—Place a large nonstick skillet over medium heat and add half the remaining butter (2 tablespoons). When butter melts, tilt pan to cover evenly and add two sandwiches. Brown on one side for two minutes, then flip and brown on the other for an additional 2 minutes. Transfer to a baking sheet. Repeat with remaining butter and sandwiches. Spread tops of sandwiches with remaining bechamel and sprinkle with remaining Gruyère cheese.
Fry the eggs—Wipe any crumbs from skillet and crack the eggs into it, leaving a bit of room between the eggs. Season tops of eggs with salt and freshly ground black pepper. Cook until whites are just set.
Meanwhile, broil the sandwiches—While eggs fry, place sandwiches under the broiler until cheese is melted and bubbly, about 1 to 2 minutes. Transfer to individual plates and top each sandwich with a fried egg. Serve immediately.
TIPS:
Pardon Moi, Madame! The fried egg transforms a croque from "monsieur" to "madame" thanks to its resemblance to a woman's hat.
Don't Overdo It—Be sure the eggs aren't overcooked because the runny yolk creates a delicious sauce for this sandwich.
Featured Product
Valencia Pro Ceramic Nonstick 11-Piece Cookware Set
Our bestselling collection, Valencia Pro is crafted from hard anodized aluminum for maximum strength and scratch resistance while the Magneto™ base delivers fantastic performance on any stovetop.