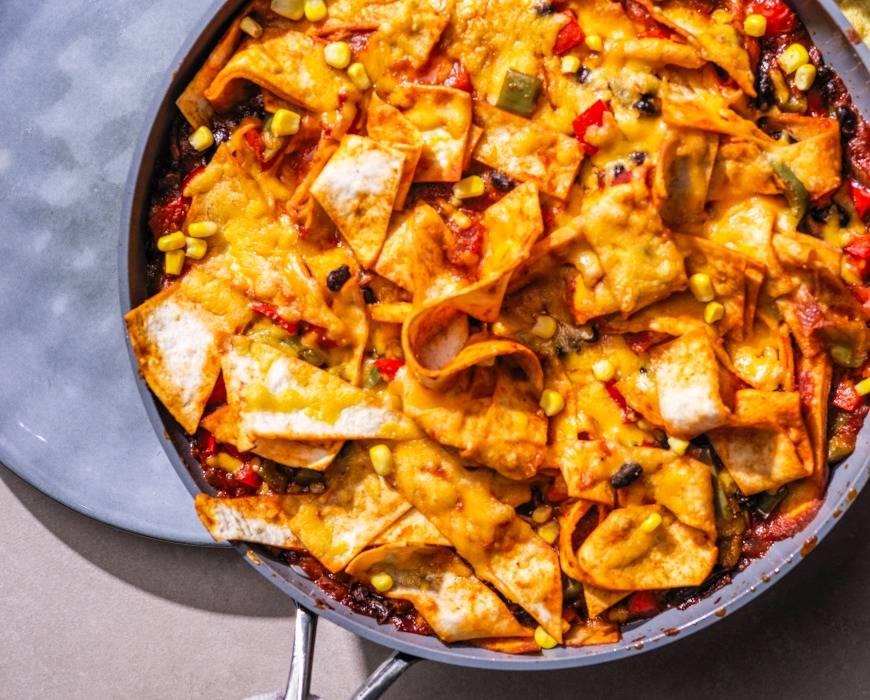 Vegetarian Skillet Enchiladas
Yields: 6 servings
Time: 20 minutes prep, 15 minutes cooking, 35 minutes total

INGREDIENTS:
1 to 2 tablespoons olive oil
1/2 red onion, diced
3 cloves garlic, minced
2 small zucchini, diced
1/2 red bell pepper, diced
1/2 green bell pepper, diced
1 teaspoon dried oregano
1 teaspoon ground cumin
1/4 teaspoon salt
1/4 teaspoon freshly ground black pepper
15 ounces canned black beans, drained
1 1/2 cups corn kernels (frozen or canned—drain if canned)
2 1/2 cups enchilada sauce, homemade or store bought
6 small corn tortillas, cut into 1/2-inch wide strips
1 1/2 cups (6 ounces) shredded sharp or mild cheddar cheese, divided
3 tablespoons chopped fresh cilantro, for garnish
Sour cream, for serving

PREPARATION INSTRUCTIONS:
Prepare to cook—Preheat oven to broil.
Sauté the aromatics—Heat the olive oil in a large, oven-safe skillet over medium heat. Add onions and sauté, stirring frequently, until they're translucent and soft—about 3 to 4 minutes. Add garlic and sauté for 1 minute, stirring constantly to avoid burning the garlic.
Sauté the vegetables—Add zucchini, bell peppers, oregano, cumin, salt, and pepper. Sauté, stirring frequently, until vegetables are slightly softened but not mushy—about 5 minutes.
Mix the enchiladas—Add the black beans, corn, enchilada sauce, and tortilla strips along with about half the cheese and stir to evenly combine. Top with the remaining cheese.
Finish and serve—Transfer skillet to preheated oven and broil until the sauce is bubbly and cheese is fully melted—about 3 to 5 minutes. Sprinkle with fresh cilantro and serve each portion with a dollop of sour cream.

TIPS:
Pick a Pepper—We like the combo of red and green bell peppers, but if you don't cook with them often, just go with 1 whole pepper of either color so you don't have leftovers.
Play it Cool—Why are spicy foods often served with sour cream? They can dissolve capsaicin, the chemical that makes you feel the burn.
Featured Product
Valencia Pro Ceramic Nonstick 10" Frypan
This 10" frypan is ready for searing steaks, sautéing veggies, whipping up omelettes, and so much more. Extra tough and endlessly versatile, this pan is crafted from hard anodized aluminum for maximum strength and scratch resistance.