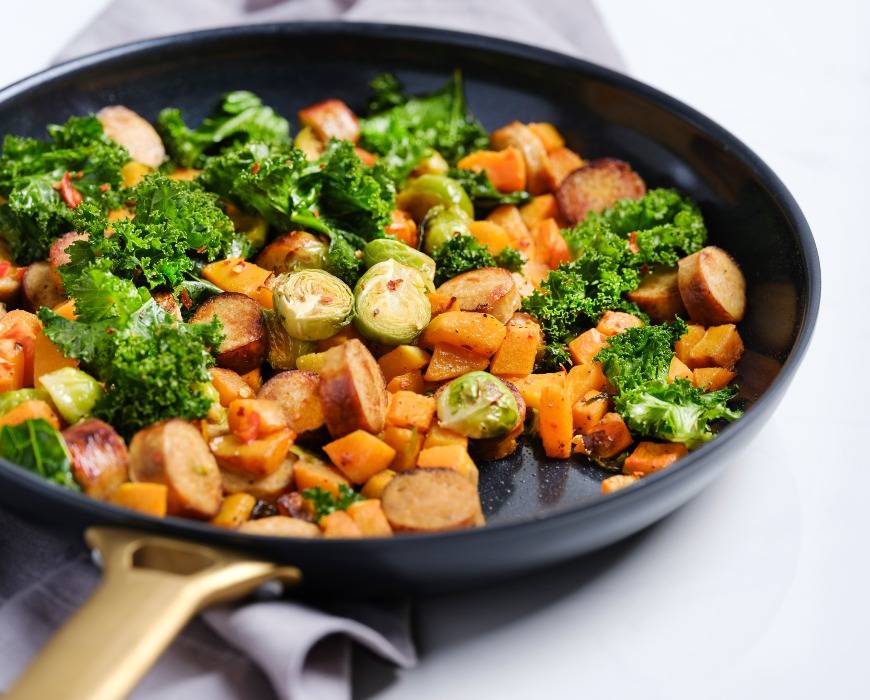 Winter Vegetable Skillet with Sausage
Yields: 4 servings
Time: 15 minutes prep, 25 minutes cooking, 40 minutes total
INGREDIENTS:
1 butternut squash, peeled and cubed
2 cups of Brussels sprouts, halved
10 ounces Italian chicken sausage, sliced
1 to 2 tablespoons olive oil
Salt
2 to 3 cloves garlic, minced
1 pound ground bison
1 bunch kale, chopped
1 tablespoon fresh lemon juice
PREPARATION INSTRUCTIONS:
Prepare to bake—Preheat oven to 375°F.
Roast the sausage and vegetables—Place sausage, butternut squash, and Brussels sprouts on a nonstick baking sheet. Drizzle with a tablespoon or two of olive oil and toss to coat, then arrange in an even layer and sprinkle with salt. Roast until squash is tender when pierced with a fork, about 15 minutes.
Meanwhile, brown the bison—Heat a splash of olive oil in a large skillet over medium heat. Add garlic and sauté for about a minute, stirring constantly so it doesn't burn. Add ground bison, break it into pieces with a spatula, and sprinkle generously with salt. Continue breaking meat into smaller pieces and cook until browned—about 7 to 8 minutes.
Finish and serve—Add roasted vegetables, sausage, and kale to skillet. Drizzle with lemon juice and stir until everything's evenly combined. Add additional salt, if needed and serve warm.
TIPS:
Beef it Up—Go ahead and sub in ground beef and pork sausage, if that's how you roll! With three veggies (including leafy greens!) it'll still be healthy-ish.
Mix & Match! Create your own signature dish by mixing in your favorite winter vegetables—from sweet potatoes, parsnips, and carrots to broccoli or cauliflower.
Featured Product
Reserve Ceramic Nonstick 10" and 12" Frypan Set | Black with Gold-Tone Handles
These sleek black pans are more than good looks: these pans are crafted from hard anodized aluminum for incredible strength and durability. The two versatile sizes are perfect for flavor-packed braises, crispy veggies, and so much more.