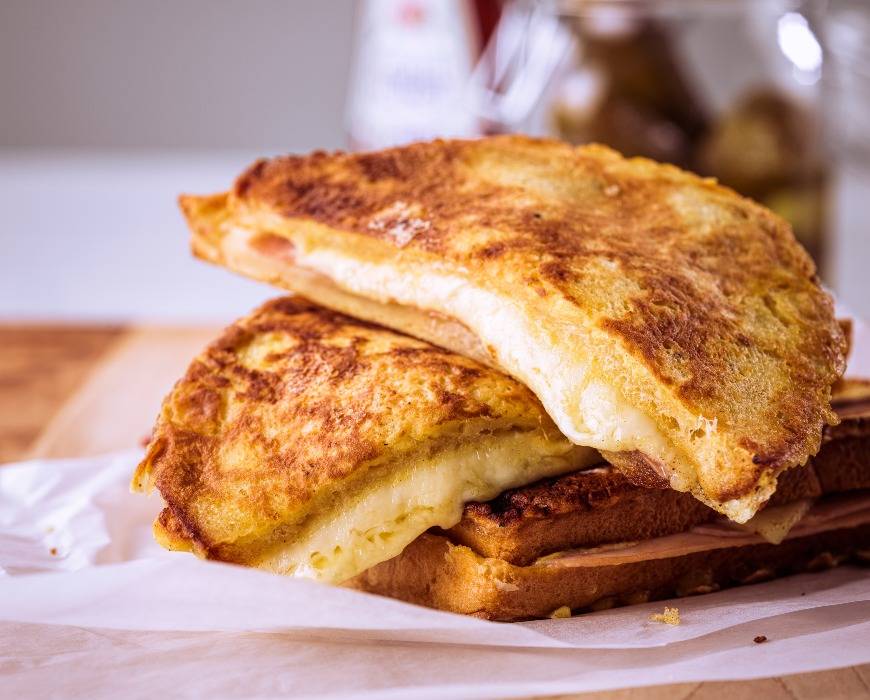 Yields: 3 servings
Time: 15 minutes prep, 5 minutes cooking, 20 minutes total

INGREDIENTS:
2 tablespoons butter, softened
1 tablespoon Dijon mustard
2 tablespoons mayonaise
6 slices country-style French bread or white bread
6 slices Swiss cheese
12 slices deli ham
4 tablespoons all-purpose flour
1/2 teaspoon baking powder
1/4 teaspoon salt
2 large eggs
1/4 cup milk
2 to 3 tablespoons butter for frying

PREPARATION INSTRUCTIONS:
Assemble the sandwiches—On a cookie sheet or clean work surface, spread butter evenly on one side of each bread slice. On three slices, spread Dijon over butter. Flip slices over and top with 4 slices of ham. Flip the other three slices over and spread with mayo, then top with 2 slices of Gruyere. Press ham and cheese sides of sandwiches together.
Make the batter—In a 8" x 8" baking pan or other flat-bottomed dish, whisk together the flour, baking powder, salt, eggs, and milk. Set aside.
Fry the sandwiches—Add butter to a large skillet over medium heat. When butter melts, tilt pan to coat evenly. Dip both sides of each sandwich in the egg mixture and place in skillet. Fry until beautifully browned on both sides—about 2 to 3 minutes per side.
TIPS:
Pardon My French! Croque (pronounced "croak"—like the sound a frog makes) roughly translates to "crunchy bite."
Mix it Up—Our grilled sandwich works great with other cold cuts and cheeses, too. Swap ham for turkey or chicken and trade Swiss for Gruyère, Gouda, cheddar or even Brie.
Featured Product
Valencia Pro Ceramic Nonstick 11" Frypan
Built for daily demands, this 11" frypan is our goldilocks size—not too big, not too small, and perfect for just about any meal. Plus, it's crafted from hard anodized aluminum for maximum strength and scratch resistance.