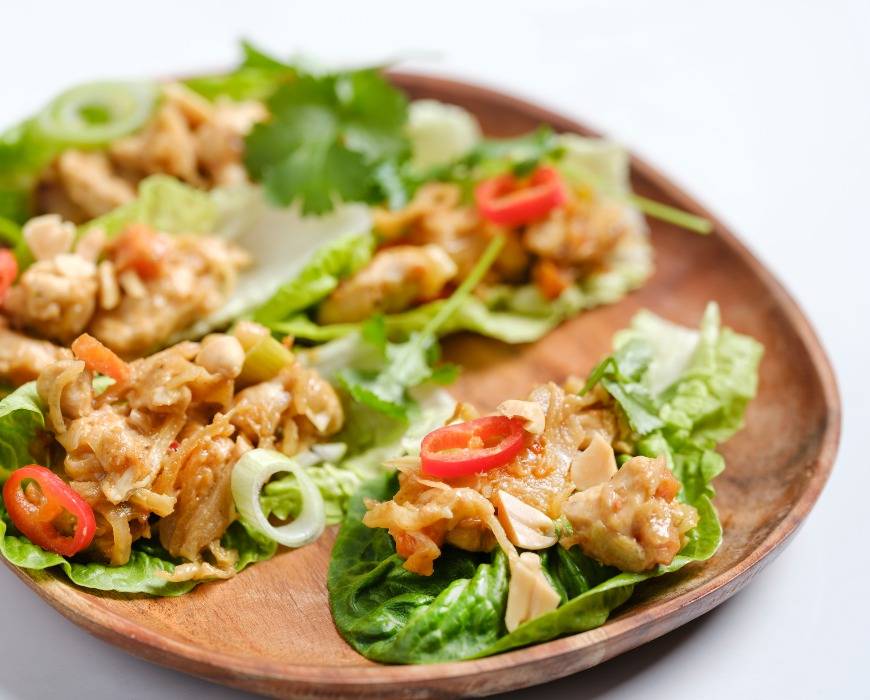 Thai Chicken Lettuce Wraps
Yields: 4 servings
Time: 15 minutes prep, 10 minutes cooking, 25 minutes total
INGREDIENTS:
For the sauce:
1/3 cup sweet chili sauce
1 tablespoon peanut butter
1/2 teaspoon freshly grated ginger
2 teaspoons low-sodium soy sauce
Crushed red pepper flakes to taste
For the wraps:
2 teaspoons olive oil
1/2 pound boneless, skinless chicken breasts, chopped into small pieces
1/2 small yellow onion, chopped
1/2 teaspoon salt
1/4 teaspoon freshly ground black pepper
1 carrot, shredded
1/2 cup finely shredded cabbage
3 green onions, chopped
4 cloves garlic, minced
1/4 cup chopped fresh cilantro
8 to 10 leaves bib or romaine lettuce, rinsed and patted dry
PREPARATION INSTRUCTIONS:
Make the sauce—In a small bowl, stir together the sweet chili sauce, peanut butter, ginger, soy sauce, and crushed red pepper. Mix until smooth and set aside.
Cook the chicken—Add oil to a large skillet over medium heat. When oil begins to shimmer, add chicken, onion, salt, and pepper and sauté, stirring occasionally, until chicken is cooked through—about 4 to 5 minutes. Add the carrots, cabbage, green onions, and garlic and continue cooking for another couple of minutes.
Finish, assemble, and serve—Add sauce to pan along with cilantro and stir until evenly combined. Spoon chicken mixture into individual lettuce cups and serve immediately.
TIPS:
Go Vegan—Swap chicken for equal parts cremini or portobello mushrooms and create an amazing umami flavor everyone can enjoy.
Some Like it Hot—Easily amp up this dish from slightly spicy to 4 (or 5!) stars by adjusting the amount of crushed red pepper flakes.
Featured Product
Venice Pro Ceramic Nonstick 12" Frypan
Designed to stay shiny for years, this 12" frypan is a stunning and spacious addition to any kitchen. Finished with our signature healthy ceramic nonstick coating, it's safe for all cooking surfaces (ovens, too).