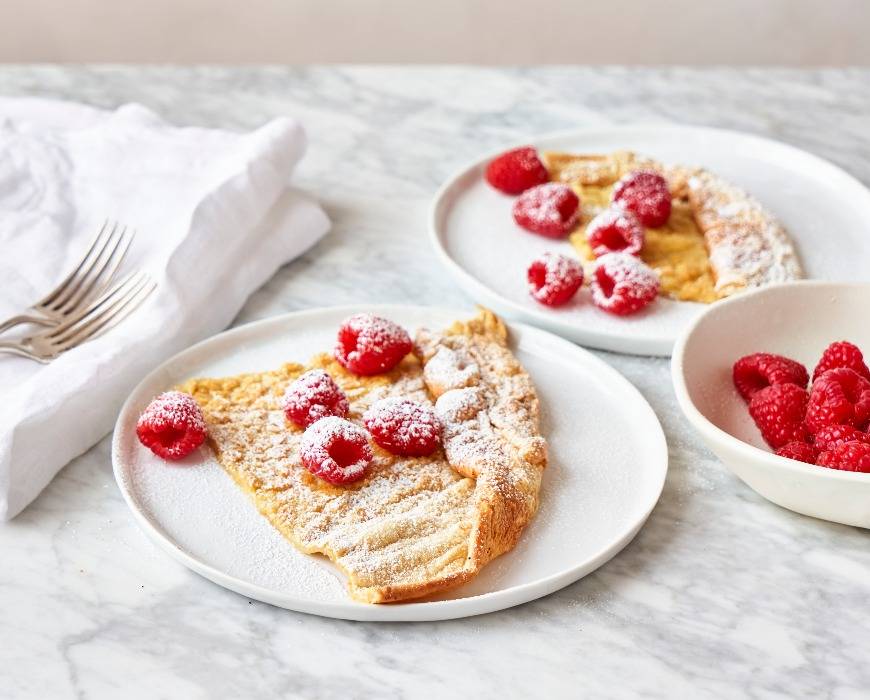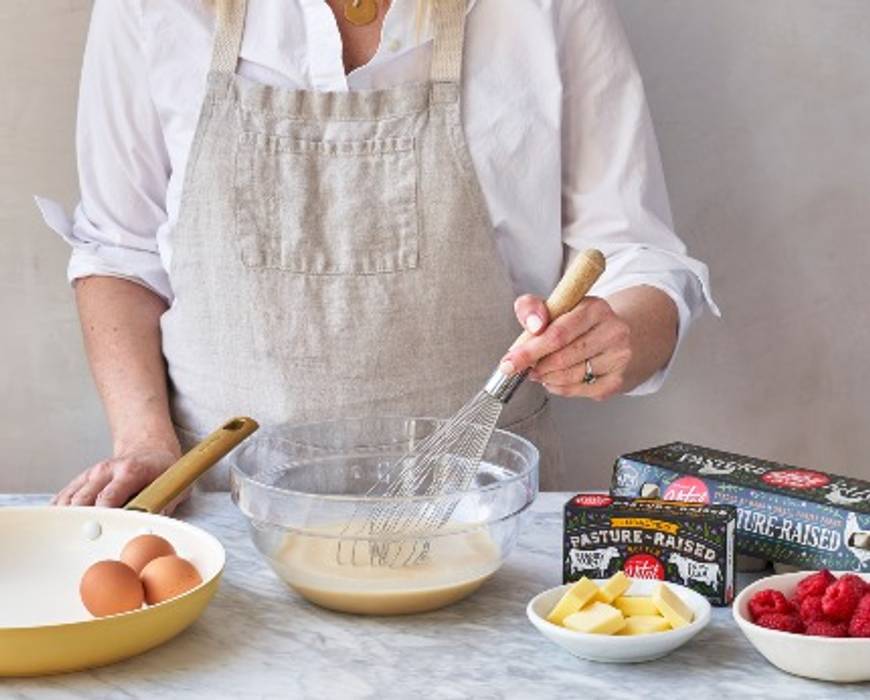 Delectable Dutch Baby Pancake
Yields: 1 pancake
Time: 5 minutes prep, 25 minutes cooking, 30 minutes total
INGREDIENTS:
For the pancake
3 Vital Farms eggs
1/2 cup flour
1/2 cup milk
1 tablespoon granulated sugar
1 teaspoon vanilla extract
Pinch of ground cinnamon or nutmeg
Pinch of salt
4 tablespoons Vital Farms unsalted butter
For serving
Warm maple syrup
Fresh fruit or preserves
Powdered sugar or cinnamon sugar
PREPARATION INSTRUCTIONS:
Prepare to bake—Preheat oven to 425° F.
Mix the batter—In a medium bowl, beat eggs vigorously with a whisk. Add milk and continue beating for about 1 minute. Add in the flour, sugar, vanilla, cinnamon, and salt and continue beating vigorously to remove all lumps. Set aside.
Melt the butter—Add butter to a large ovenproof skillet and place in oven until butter begins to sizzle. Keep an eye on it so it doesn't burn—you don't want that smell lingering in the kitchen for days. (Yes, we learned this lesson the hard way.)
Make the pancake—Remove skillet from oven and swirl to coat evenly with butter. Pour batter in hot pan and bake in preheated oven for about 20 minutes—until pancake puffs in the center and is beautifully browned around the edges. Lower oven temperature to 300°F and bake for another 5 minutes or so to ensure the inside is done. Remove from oven.
Serve and enjoy—Slice pancake into wedges and serve with a drizzle of warm maple syrup, a scoop of fresh berries or preserves, and a generous dusting of powdered sugar or cinnamon sugar (think elephant ears, only way tastier!).
TIPS:
Speedy Does It—Create a silky, smooth pancake batter in seconds by mixing ingredients in a blender. To clean the blender afterwards, just add water and a drop of dishwashing liquid—blend on high, then rinse.
Why We Love Vital Farms—Delicious and ethically produced? Yes, please! When hens and cows are treated with care and respect on American family farms, they naturally deliver better eggs and butter.
Featured Product
Reserve Ceramic Nonstick 10-Piece Cookware Set | Sunrise with Gold-Tone Handles
World-class performance meets eye-catching contrast in GreenPan Reserve. But it's more than good looks: the duoforged hard anodized construction makes this set extra tough. This set makes it simple to find your style at home.