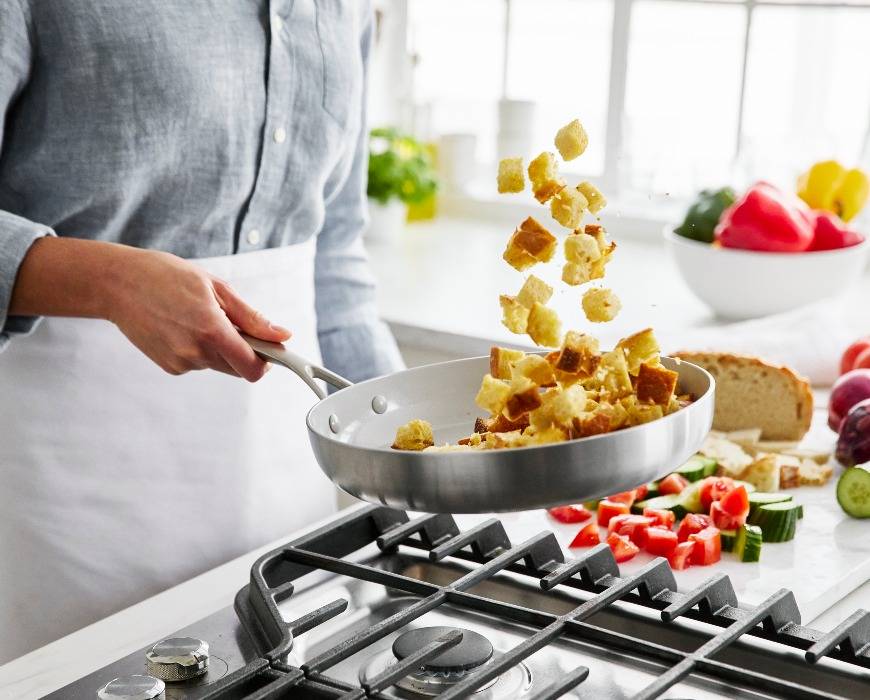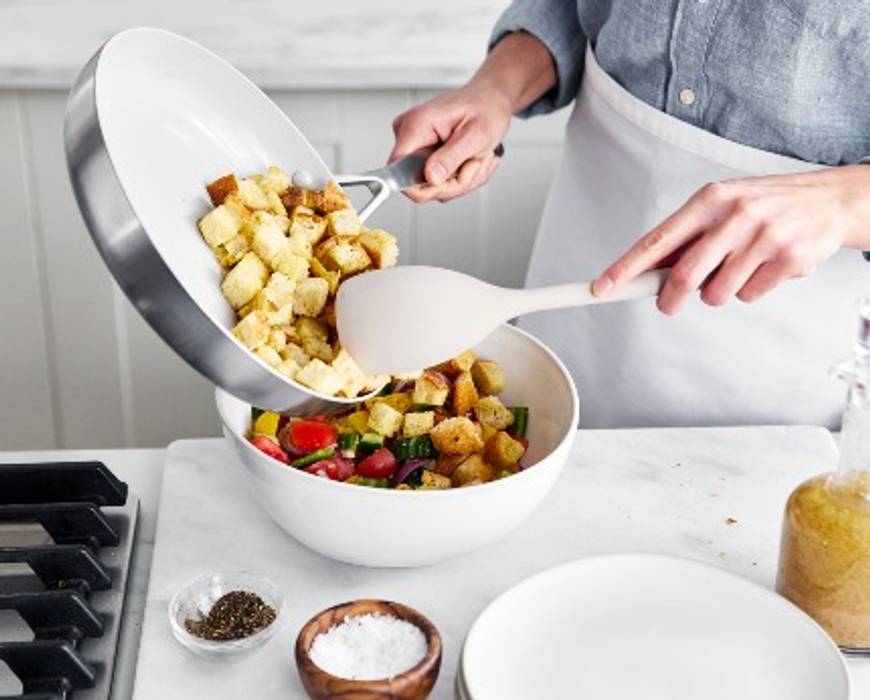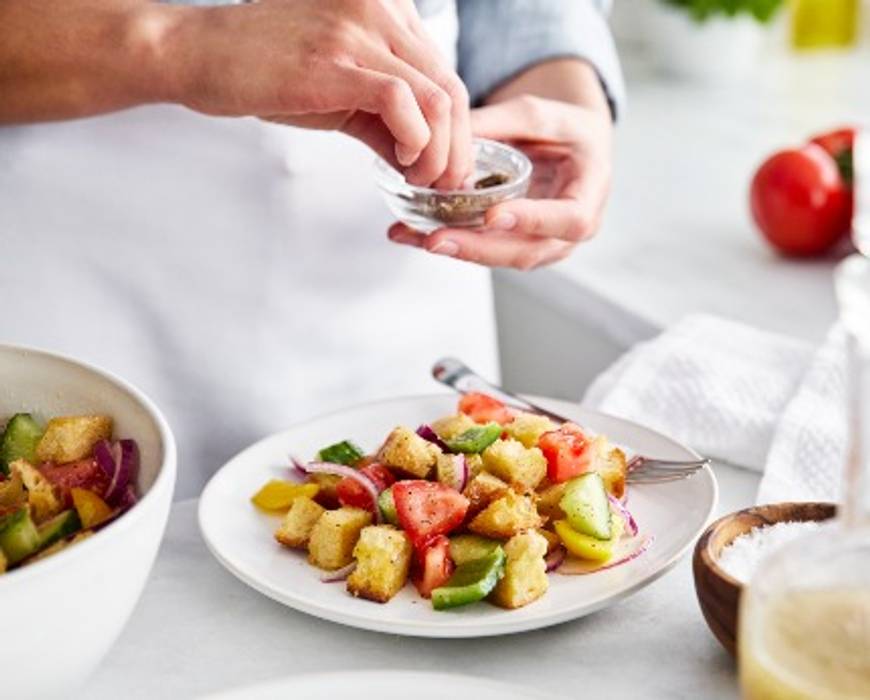 Panzanella Salad with Skillet-Toasted Bread
Yields: 8 to 10 servings
Time: 15 minutes prep, 20 minutes cooking, 35 minutes total
INGREDIENTS:
1/4 cup olive oil, divided
1 loaf ciabatta or French bread, cut into 1-inch cubes (about 12 cups)
1 teaspoon kosher salt, divided
4 ripe tomatoes, coarsely chopped
1 green bell pepper, cut into 1-inch pieces
1 yellow bell pepper, cut into 1-inch pieces
1 English cucumber, coarsely chopped
1 small red onion, halved and sliced thin
1/2 cup coarsely chopped fresh basil
1/4 cup freshly grated Parmesan cheese, plus extra for garnish
3/4 teaspoon kosher salt
1/4 teaspoon freshly ground black pepper, plus extra for garnish
1/2 cup Italian salad dressing
PREPARATION INSTRUCTIONS:
Toast the bread—Heat 2 tablespoons olive oil in a large skillet over medium heat until shimmering. Add half the bread cubes, stirring to coat evenly with oil. Sprinkle with 1/2 teaspoon kosher salt. Cook, stirring or tossing occasionally to ensure even browning, until all cubes are beautifully toasted—about 8 to 10 minutes. Transfer to a large bowl. Repeat with remaining oil, bread cubes, and salt.
Mix the salad—Add tomatoes, bell peppers, cucumber, onion, basil, cheese, salt, and pepper to the bowl with bread cubes. Drizzle on Italian dressing and toss to combine.
Garnish and serve—Transfer salad to individual bowls and top with extra Parmesan and freshly ground black pepper, if desired.

TIPS:
Amp Up the Flavors—Letting the salad sit for about 30 minutes before serving gives the bread time to soak up all the surrounding flavors. But don't let it go too long or you'll lose the crunch.
Don't Toss Day-Old (or Week-Old) Bread—When it's too dry for sandwiches, it's perfect for croutons! Try our toasted bread cubes in all kinds of salads and soups or simply enjoy them as a snack.
Featured Product
Venice Pro Ceramic Nonstick 11" Frypan
Crafted from ultra-tough, multilayer stainless steel, this 11" pan is ideal for a wide variety of tasks—from sautés to bakes and fluffy scrambled eggs to fall-apart tender salmon. Finished with our healthy ceramic nonstick coating, cleanup is effortless.