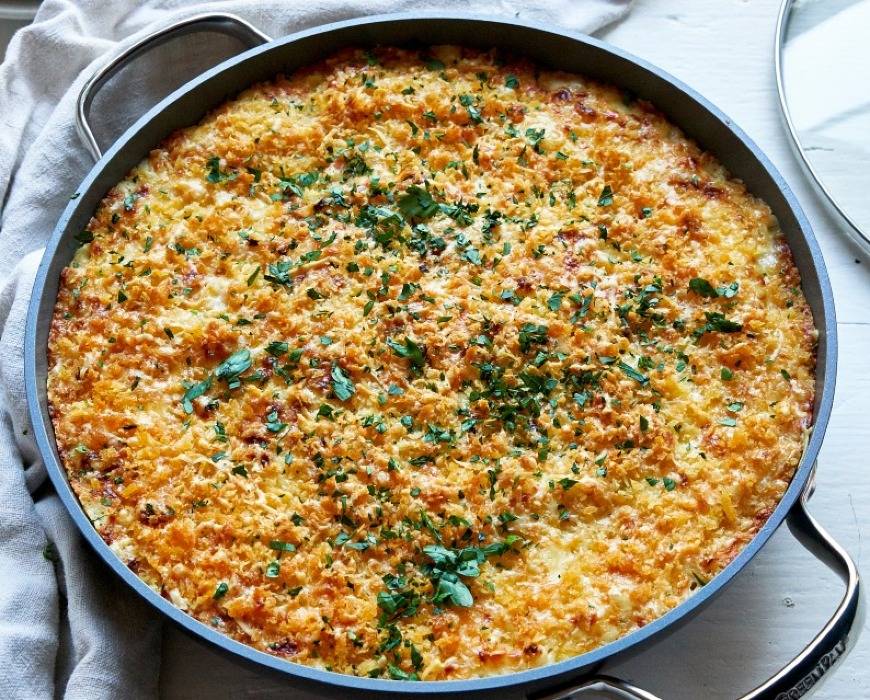 Extra Cheesy Mac & Cheese
Yields: 4 servings 
Time: 5 minutes prep, 55 minutes cooking, 60 minutes total 
INGREDIENTS: 
6 tablespoons unsalted butter

 

5 1/2 cups milk

 

1/2 cup Panko

-style breadcrumbs

 

1/2 cup all-purpose flour

 

2 teaspoons coarse salt, plus more for water

 

1/4 teaspoon ground nutmeg

 

1/4 teaspoon freshly ground black pepper

 

1/4 teaspoon cayenne pepper

 

4 1/2 cups (about 18 ounces) grated sharp white cheddar cheese

 

2 cups (about 8 ounces) grated Gruy

è

re 

 

1 pound elbow macaron

 

Finely chopped parsley for garnish, optional.

 
PREPARATION INSTRUCTIONS: 
Prepare to bake—Preheat oven to 375

°

F. 

 

Make the roux—Heat the milk in a medium saucepan over medium heat. Melt 6 tablespoons butter in a high-sided skillet over medium heat. When the butter bubbles, add the flour. Cook, whisking continually, for 1 minute.

 

Start the sauce—Continue whisking, while slowly pouring hot milk into the flour/butter mixture a little at a time to keep it smooth. Cook, whisking constantly, until the mixture bubbles and becomes thick, 8 to 12 minutes.

 

Finish the sauce— Remove the pan from heat. Stir in salt, nutmeg, black pepper, cayenne pepper, 3 cups cheddar cheese, and 1 1/2 cups Gruy

è

re. Set the cheese sauce aside.

 

Prep the pasta— Cover a large pot of salted water and bring to a boil over high heat. Add the macaroni and boil until the outside of pasta is cooked and the inside is underdone, 2 to 3 minutes. Transfer the macaroni to a colander, rinse under cold running water, and drain well. Stir the macaroni into the reserved cheese sauce.

 

Bake the mac and cheese— Sprinkle the remaining 1 1/2 cups cheddar, 1/2 cup Gruy

è

re, and the breadcrumbs over the top. Bake until sauce is bubbly and breadcrumbs are golden brown, about 30 to 40 minutes. Transfer pan to wire rack and let it cool for 5 minutes before serving. Garnish with chopped parsley, if you're feeling fancy.

 
TIPS: 
A blend of cheeses adds incredible depth of flavor—feel free to swap sharp cheddar for medium and Gruyère for Swiss, if that's how you roll. 
Avoid mushy macaroni—pasta will continue to cook in the sauce, so if you boil it all the way to al dente, you've gone too far. 
Featured Product
Valencia Pro Ceramic Nonstick 11" Everyday Pan with Lid
Crafted from hard anodized aluminum for maximum strength and scratch resistance, this 11" everyday pan is your go-to for one-pan meals, searing steaks, or sautéing veggies. The two side handles make stovetop-to-oven transfers effortless.