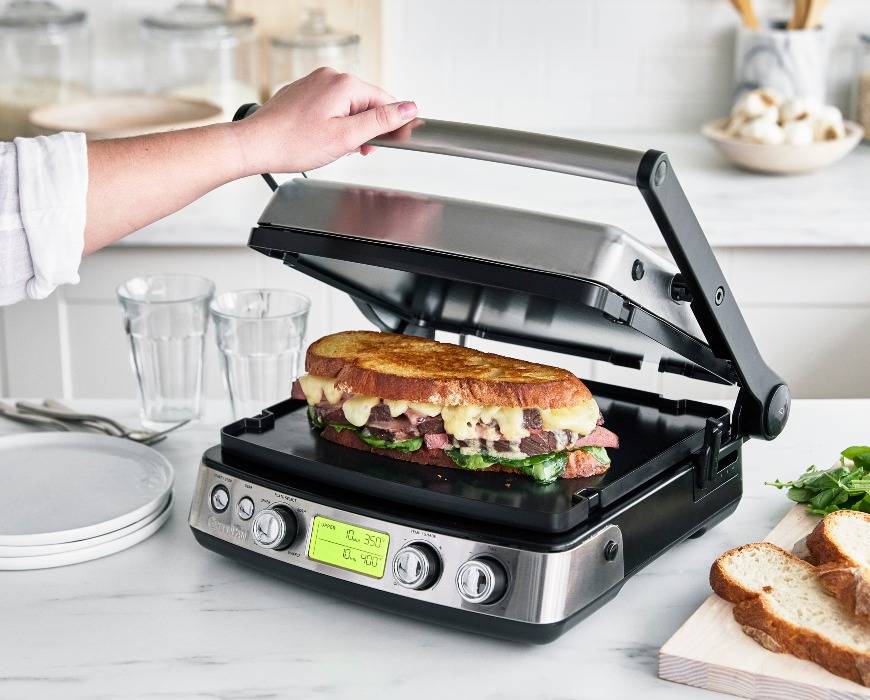 Roast Beef and Swiss Cheese Panini
Yields: 1 serving
Time: 10 minutes prep, 5 minutes cooking, 15 minutes total
INGREDIENTS:
2 slices artisan bread, about 1/2-inch thick
1/2 tablespoon olive oil or melted butter
1 tablespoon mayonnaise
Handful of baby spinach
1/4 pound sliced deli roast beef, more or less to taste
2 slices Swiss cheese
PREPARATION INSTRUCTIONS:
Prepare to cook—Fit your GreenPan Multi Grill, Griddle & Waffle Maker with grill plates. Turn dial to "Both" and preheat to 350°F in the closed position. Set timer for 5 minutes.


Prep the panini—Lightly brush one side of each bread slice with olive oil or butter. Place one slice, oil side down, on a clean work surface. Spread with 1 tablespoon mayo and scatter a handful of spinach across the top. Add sliced roast beef, then cheese, and top with the other piece of bread, oiled side up.


Cook the panini—Place sandwich in on bottom griddle plate. Close lid and press start. Cook sandwich for 5 minutes or until bread is crisp and cheese is melted.


Finish and serve—Carefully remove sandwich with a wooden or silicone spatula and let it rest a couple of minutes before slicing and serving.
TIPS:
Mix it Up—Try swapping roast beef for ham or turkey, trade Swiss for cheddar, and add in your favorite sandwich spread and toppings. Delicious—any way you slice it!
Best Bread for Paninis? You want something sturdy enough to withstand pressure that will hold fillings without falling apart. Our favorites are ciabatta, sourdough, baguette, focaccia, or multigrain.
Featured Product
Elite Multi Grill, Griddle & Waffle Maker | Premiere Stainless Steel
Discover a world of flavor on your counter with the Multi Grill, Griddle & Waffle Maker. The three plate options offer an endless array of possibilities—from classic paninis to perfect Belgian waffles, so you'll always have the right plate ready.