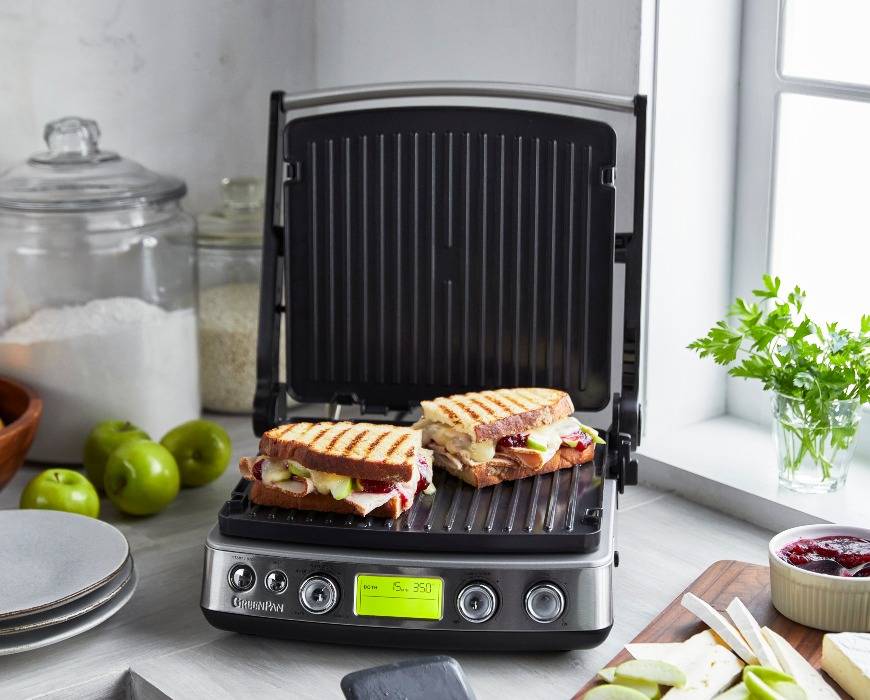 Turkey, Cranberry & Brie Panini
Yields: 4 servings
Time: 15 minutes prep, 20 minutes cooking, 35 minutes total
INGREDIENTS:
For the cranberry sauce
1 cup granulated sugar
1 cup water
12 ounces fresh or frozen cranberries
2 cinnamon sticks
Zest of 1 orange
For the panini
8 (1/2-inch) slices ciabatta
1/2 stick butter, softened
8 slices deli turkey
8 ounces brie, thinly sliced
1 honey crisp or granny smith apple, thinly sliced
1 cup cranberry sauce
PREPARATION INSTRUCTIONS:
Make the cranberry sauce—Bring sugar and water to boil in a small saucepan over high heat. Stir until sugar dissolves. Add cranberries and return to boil. Reduce heat to low and stir in cinnamon sticks and orange zest. Simmer till many of the cranberries have burst and sauce thickens, about 10 minutes. Cool to room temperature and remove cinnamon sticks.
Prepare to cook—Fit your GreenPan Multi Grill, Griddle & Waffle Maker with grill plates. Turn dial to "Both" and preheat to 350°F in the closed position. Set timer for 4 minutes. Preheat oven to 200°F.
Prep the panini—Spread one side of each bread slice with a thin layer of butter. Top the unbuttered side of 4 slices with 2 turkey slices, 2 ounces sliced brie, about 5 slices of apple, and a few generous spoonfuls of cranberry sauce. Top with the remaining bread slices, butter side up.
Cook the panini—Working in batches, as needed, transfer panini to Multi Grill and press down the top plate. Cook until bread is golden brown and cheese is melted, about 4 minutes.
Finish and serve—Carefully remove sandwich with a wooden or silicone spatula. Transfer to a nonstick baking sheet and place in preheated oven to keep warm. Repeat with the remaining sandwiches. Serve warm.
TIPS:
Love your leftovers—Use our recipe as a guide to make the ultimate day-after-Thanksgiving sandwich. A little homemade stuffing, mashed potatoes, or gravy would take this over the top.
Say cheese—We love the ooey gooeyness of brie, but you could sub in Swiss, provolone, gouda, Monterey Jack, or whatever cheese most pleases your palate.
Featured Product
Elite Multi Grill, Griddle & Waffle Maker | Premiere Stainless Steel
Discover a world of flavor on your counter with the Multi Grill, Griddle & Waffle Maker. The three plate options offer an endless array of possibilities—from classic paninis to perfect Belgian waffles, so you'll always have the right plate ready.