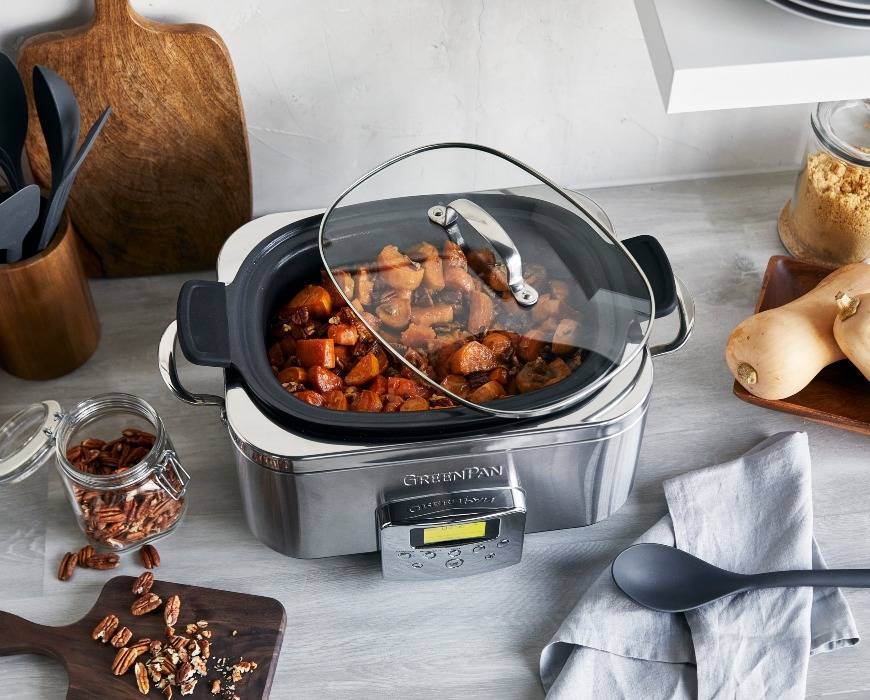 Yields: 8 servings
Time: 10 minutes prep, 4 hours cooking, 4 hours 10 minutes total
INGREDIENTS:
1/4 cup butter, melted
1/4 cup brown sugar
2 1/2 teaspoons pumpkin pie spice
1 teaspoon vanilla extract
4 pounds sweet potatoes, peeled and diced
1 1/2 cups miniature marshmallows
PREPARATION INSTRUCTIONS:
Mix butter and spices—Add butter, brown sugar, pumpkin pie spice, and vanilla extract to a small bowl and whisk to combine.
Prep the slow cooker—Select the High Temperature Slow Cook Mode on the Premiere Slow Cooker and set the timer for 3 hours.
Cook the casserole—Add sweet potatoes to slow cooker and stir in butter/spice mixture. Cover and cook until sweet potatoes are very tender, about 3 to 4 hours.
Finish and serve—Top casserole with mini marshmallows. Cover and continue cooking until marshmallows are melted, about 5 to 10 minutes. Serve warm.
TIPS
No pumpkin spice? Sub in 2 teaspoons of cinnamon and 1/2 teaspoon of your other favorite baking spices—from ground ginger and cloves to ground nutmeg and cardamom.
Low and slow—Got a little extra time? Select the low temperature mode and let the casserole cook for 7 to 8 hours so flavors have more time to meld
Featured Product
Premiere 6-Quart Slow Cooker | Stainless Steel
With our advanced slow cooker, you can sear meat and veggies in the pot, then go low and slow to finish the job. Take your time while cooking, then clean up quickly with Thermolon™ Volt, a healthy, PFAS-free ceramic nonstick...