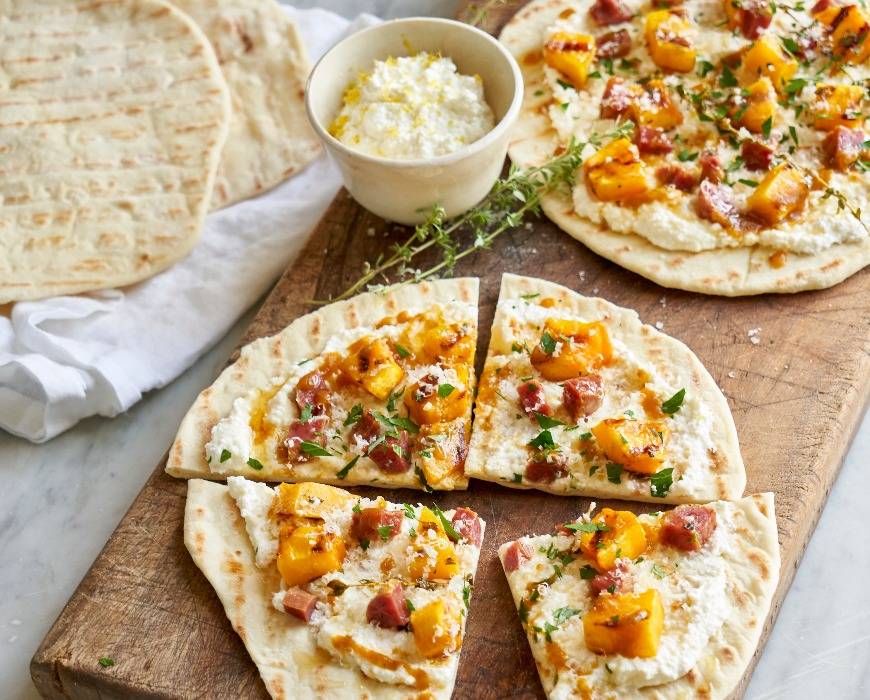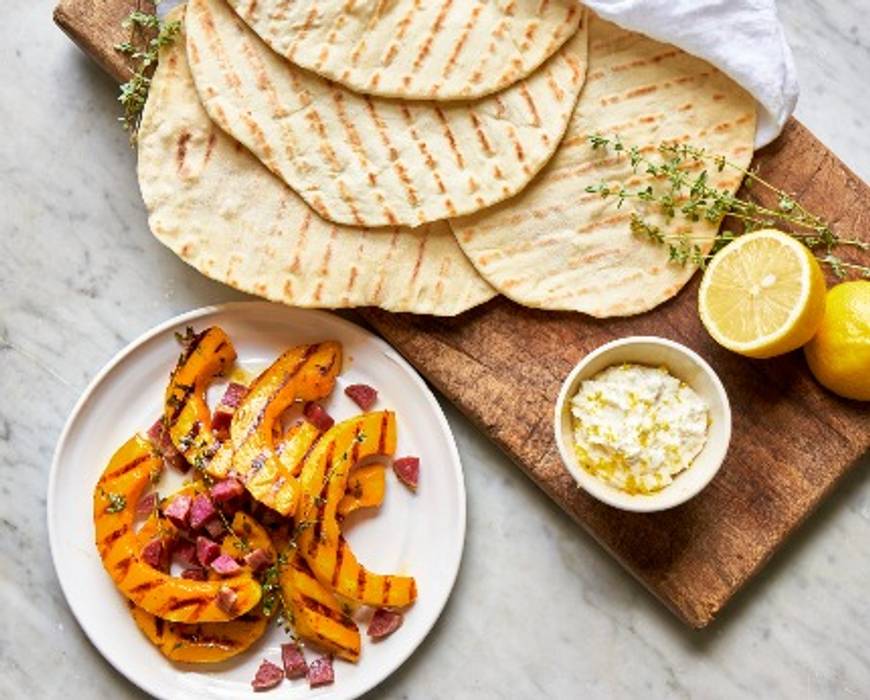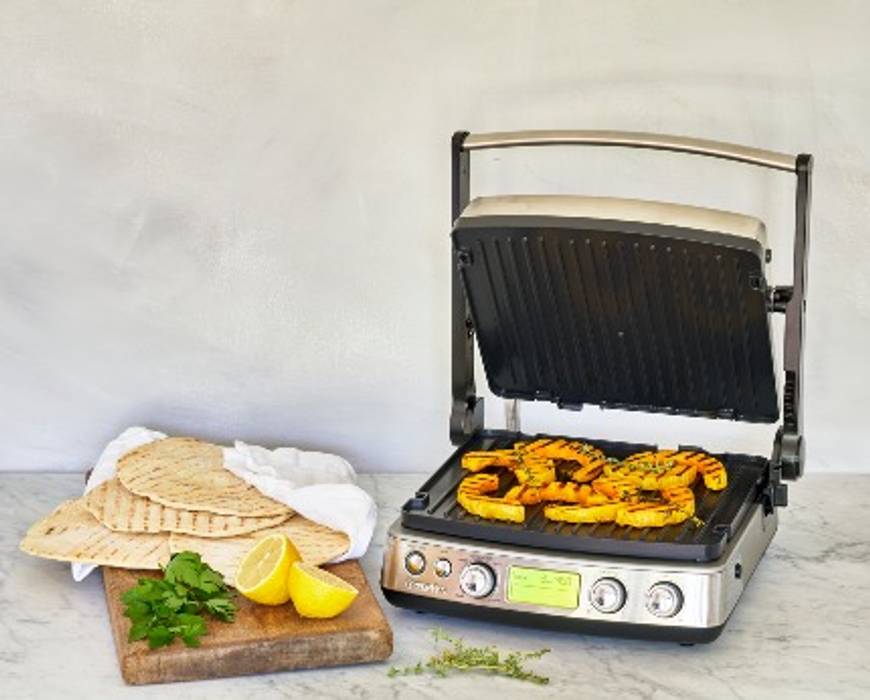 Truffled Spicy Butternut Squash and Salami Flatbread
Yields: 4
Time: 5 minutes prep, 30 minutes cooking, 35 minutes total
INGREDIENTS:
For the Flatbread:
1 1/2 cups all-purpose flour
1 teaspoon baking powder
1 teaspoon granulated sugar
3/4 teaspoon kosher salt
2 tablespoons extra virgin olive oil
½ cup cold water
For the Lemon Ricotta:
1/2 cup whole milk ricotta
2 teaspoons lemon zest
1 teaspoon lemon juice
For the Truffled Topping:
2 ½ ounces (half a package) Truffleist Salami, cut lengthwise into two long pieces
½ of a medium butternut squash, peeled and cut into ½" slices
2 teaspoons Truffleist Hot Sauce, plus more for serving
2 teaspoons avocado oil (or high heat oil of choice)
3 sprigs fresh thyme, destemmed and roughly chopped
1 teaspoon kosher salt
¼ cup finely grated parmesan cheese
Truffleist Hot Honey, for serving
¼ cup fresh flat leaf parsley, for serving
PREPARATION INSTRUCTIONS:
In a large mixing bowl combine the flour, baking powder, sugar and salt and stir until evenly combined. Pour in the olive oil and ice water and mix using your hands or a wooden spoon until a rough dough comes together.  If needed, adjust the consistency of the dough with a bit more water or flour – it should be slightly tacky, but not sticking to your fingers completely. 
Sprinkle a little extra flour onto a clean countertop or work surface and gently knead the dough until it becomes a bit smoother, 2 to 3 minutes, adding more flour as needed if its sticking to the countertop or your fingers. Shape the dough into a tight ball and return it to its bowl, covering with a towel or plastic wrap for 10 to 15 minutes to allow it to rest. 
Set both grill plates on the GreenPan Multi-Grill, Griddle, & Waffle Maker to 450 degrees and set the timer for 30 minutes. Once the grill is at temperature, cook the Truffleist Salami with the grill lid closed for 4 minutes until slightly crisp on the outside. Once cool enough to handle, slice it into ¼" pieces and transfer it to a medium mixing bowl covered with foil to keep warm. 
In a large mixing bowl, toss the butternut squash, Truffleist Hot Sauce, oil, thyme and salt until the squash is evenly coated. Grill the squash for 7 to 8 minutes with the grill lid closed, flipping the squash over halfway through if needed to make sure both sides get even grill marks (in case the slices aren't exactly the same thickness!). Once cooked through, transfer to a cutting board and cut the squash into ½" cubes.  Place the squash in the bowl with the salami and again cover with foil to keep warm. 
While the squash is grilling, in a small bowl combine the ricotta, lemon juice and zest and set aside.
Uncover the flatbread dough and transfer it to a countertop dusted with flour. Divide the dough into four equal pieces and form them into rough circles. Use a rolling pin to roll each piece of dough into large circles or ovals, about 1/8" thick, using more flour as needed so the dough doesn't stick to the counter or rolling pin.  Press the Sear button on the GreenPan Multi-Grill, Griddle, & Waffle Maker to increase the heat to 500 degrees and carefully lay the grill open flat.  Cook two flatbreads at a time (one on each grill plate) for 3 minutes on the first side, then flip and cook an additional 2-3 minutes more on the second side.  Transfer the finished flatbreads to a wire rack and repeat with the remaining two. 
To serve, spread 2 tablespoons of the lemon ricotta evenly on each flatbread, followed by ¼ of the squash and Truffleist Salami mixture (if desired, you can warm the mixture back on the grill, in the oven or on the stovetop in a GreenPan skillet). Sprinkle each flatbread with 1 tablespoon of parmesan cheese and drizzle with Truffleist Honey and Hot Sauce to taste. Garnish with chopped parsley and cut each flatbread into four even pieces. 
TIPS: 
Mixing dough for things like pizza, bread and flatbreads can be a bit different every time!  Depending on how you store your flour, how old it is, and even the weather, you might need more or less water than a recipe calls for!  So don't be afraid to add a bit more flour or water as needed until the dough looks and feels just right. 
If you don't have fresh thyme, you can always use dried.  But any dried herb is concentrated and much more intense – so a good rule of thumb is to only use 1/3 the amount of dried when substituting for the amount of fresh that's called for in a recipe!
Featured Product
Elite Multi Grill, Griddle & Waffle Maker | Premiere Stainless Steel
Discover a world of flavor on your counter with the Multi Grill, Griddle & Waffle Maker. The three plate options offer an endless array of possibilities—from classic paninis to perfect Belgian waffles, so you'll always have the right plate ready.