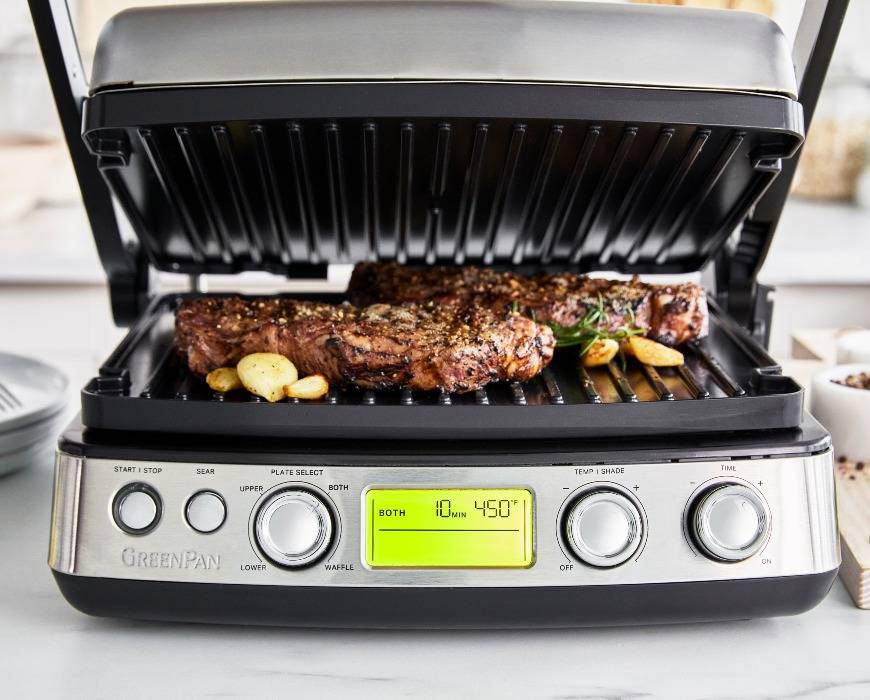 Garlic and Rosemary Strip Steak
Yields: 2 steaks
Time: 10 minutes prep, 5 minutes cooking, 5 minutes resting,  20 minutes total
INGREDIENTS:
2 NY strip steaks, 1 1/2" to 2" thick, set out at room temperature for 30 minutes
1 tablespoon olive oil
1 to 2 garlic cloves, minced
Salt and freshly ground black pepper to taste
6 to 8 garlic cloves, peeled
2 to 3 sprigs fresh rosemary
PREPARATION INSTRUCTIONS:
Prepare to grill—Fit your GreenPan Multi Grill, Griddle & Waffle Maker with grill plates. Turn dial to "Both" and preheat to 450°F in the closed position.
Prep the steak—Combine oil and minced garlic in a small bowl. Brush evenly over all sides of steak. Season steaks generously with salt and freshly ground black pepper.
Grill the steaks—Use tongs to carefully transfer steaks to the grill. Close lid and grill for about 4 minutes. Check internal temperature with a digital thermometer. Aim for 125°F for medium rare and up to 145°F for medium well. (Note: these temps factor in the 5°F temperature increase in steaks while resting—we like to pull them early so they don't overcook.)
Finish and rest steaks—Add garlic cloves and fresh rosemary sprigs to grill, close lid, and continue cooking until desired temperature is reached, another minute or so. Use tongs to transfer steaks to a cutting board or plates and tent loosely with aluminum foil. Allow to rest for 5 minutes before slicing and serving.
TIPS:
Easy Steak Topper—Place 1 stick of softened butter in a small bowl. Mash with a fork, till smooth, then stir in 2 tablespoons finely chopped rosemary and 2 cloves crushed garlic, plus salt and pepper to taste. Refrigerate till ready to use. Leftovers make amazing garlic toast.
Secret to a Great Sear—Let steak sit uncovered in the fridge overnight. This allows the outside to dry out for a beautifully browned crust.
Featured Product
Premiere Multi Grill, Griddle & Waffle Maker | Stainless Steel
Discover a world of flavor on your counter with the Multi Grill, Griddle & Waffle Maker. The three plate options offer an endless array of possibilities—from classic paninis to perfect Belgian waffles, so you'll always have the right plate ready.