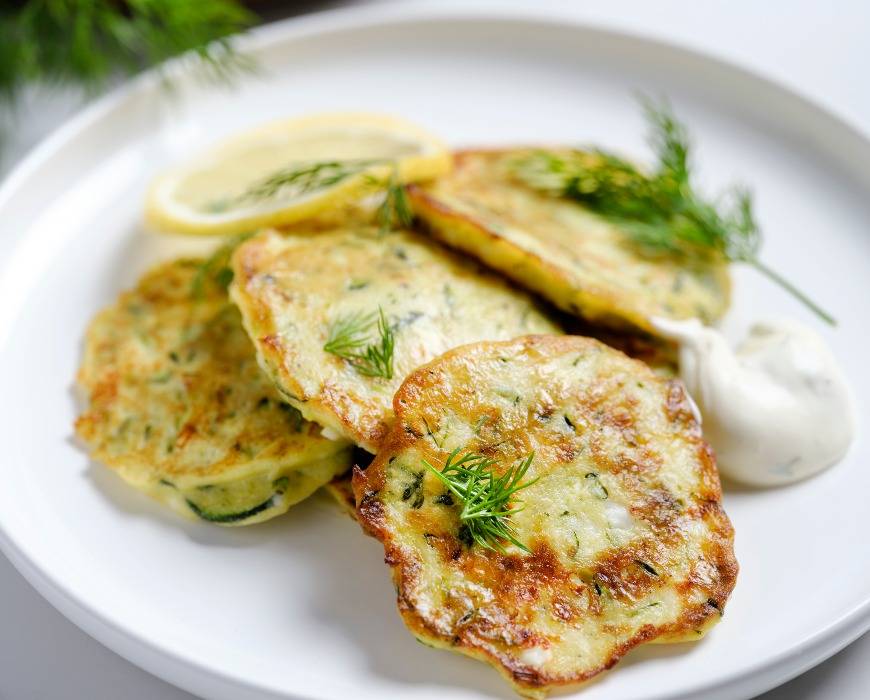 Zucchini Fritters with Feta and Dill
Yields: 12 fritters
Time: 5 minutes prep, 25 minutes cooking, 30 minutes total
INGREDIENTS:
1 pound zucchini (about 2 medium), trimmed
1 teaspoon salt
2 large eggs
2 green onions, minced
2 tablespoons minced fresh dill
1/2 cup crumbled feta cheese
1 clove garlic, minced
1/4 teaspoon black pepper
1/4 cup all-purpose flour or cornstarch
1/2 teaspoon baking powder
3 tablespoons olive oil, plus more if needed
Lemon wedges for serving
PREPARATION INSTRUCTIONS:
Prep the zucchini—Shred zucchini with a food processor or grate on large holes of a box grater. Place zucchini in a fine mesh strainer set over a bowl. Add salt and toss to mix. Set aside for 10 minutes. Wrap zucchini in cheese cloth or a clean towel and squeeze to remove as much moisture as possible.
Mix the fritters—In a large bowl, beat eggs, then mix in zucchini, green onions, dill, feta, garlic, and pepper. Sprinkle with flour and baking powder, then stir until mixture is evenly combined.
Fry the fritters—Add 3 tablespoons olive oil to a large nonstick skillet over medium heat. When oil is shimmering, drop about 2 tablespoons of fritter mix into skillet and press into a 2-inch wide fritter with the back of a spoon. Repeat with remaining batter, leaving a bit of room between fritters. Fry until each side is golden brown, 2 to 3 minutes per side. Transfer fritters to a paper towel-lined plate. Repeat with the rest of the batter, adding more oil to pan, if needed.
Serve and enjoy—Serve warm with lemon wedges for drizzling.
TIPS:
Avoid Soggy Fritters—Squeeze as much moisture out of zucchini as possible and if the mixture still seems too watery, add a bit more flour or cornstarch.
Flip Out—A thin, flexible spatula easily slides between the fritter and skillet for easier flipping.
Featured Product
Valencia Pro Ceramic Nonstick 10 and 12" Frypan Set
Crafted from hard anodized aluminum for maximum strength and scratch resistance, these pans go the distance. In a handy 10" and 12" set, they're ready to sear steaks, braise veggies, or whip up an omelet at a moment's notice.