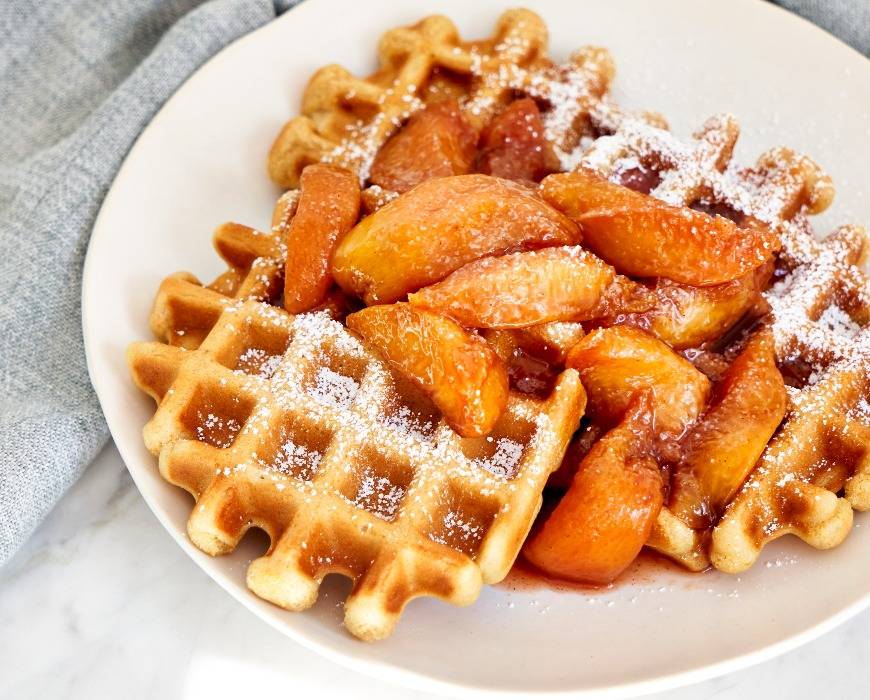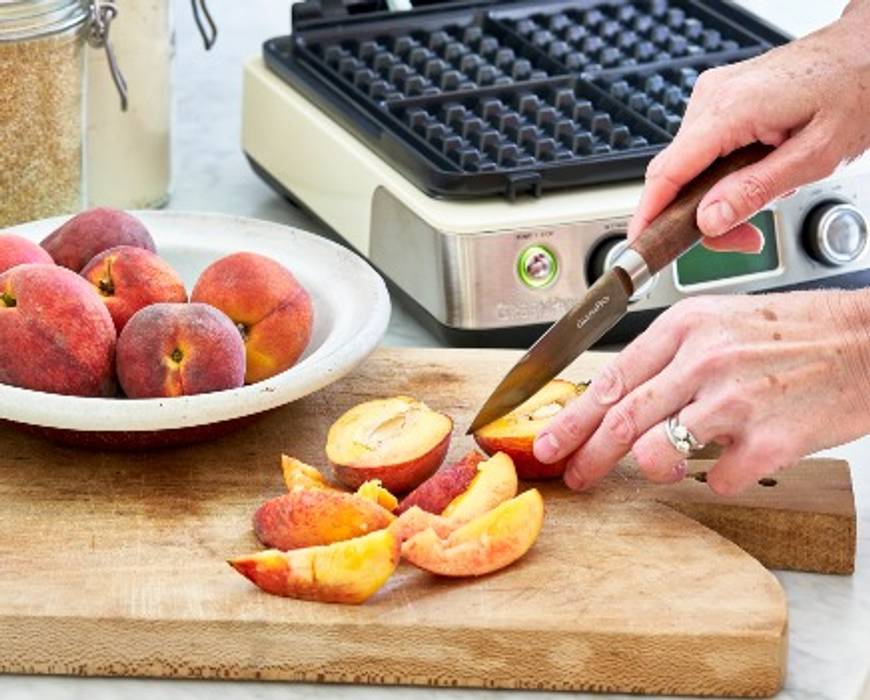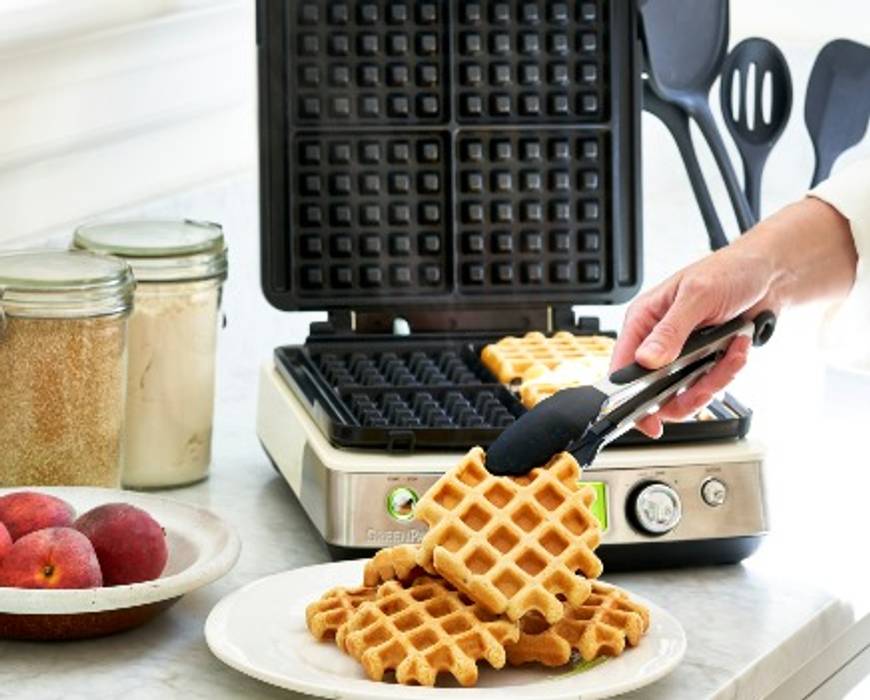 Peaches and Cream Waffles
Yields: 8 large waffles or 16 small waffles
Time: 15 minutes prep, 25 minutes cooking
INGREDIENTS:
For the Waffles:
2 1/2 cups Califia Farms Zero Sugar Oatmilk
2 1/2 tablespoons apple cider vinegar
1/2 cup unsweetened applesauce
2/3 cup avocado oil (or neutral flavored oil of your choice)
2 teaspoons pure vanilla extract
3 cups all-purpose flour
1/2 cup medium or fine ground cornmeal
1/3 cup granulated sugar
1 tablespoon baking powder
1 teaspoon baking soda
1 teaspoon kosher salt

For the Peach Topping:
3 ripe peaches, pitted and sliced in ½" wedges (peeled if desired)
1/2 cup sugar
1/4 cup dark brown sugar
1/3 cup water
1/4 teaspoon cinnamon
1/2 teaspoon kosher salt, more to taste
1 tablespoon fresh lemon juice, more to taste
3 tablespoons Califia Farms Zero Sugar Oatmilk
Warm maple syrup, for serving, if desired
Confectioners' sugar, for serving, if desired
PREPARATION INSTRUCTIONS:
In a medium mixing bowl whisk together the Califia Farms Zero Sugar Oatmilk and vinegar and allow set aside for 5 to 10 minutes. Add the applesauce, avocado oil and vanilla to the bowl and whisk until evenly mixed.


In a large mixing bowl whisk the flour, cornmeal, sugar, baking powder, baking soda and salt until very thoroughly combined. Pour the wet ingredients into the dry ingredients and whisk until the batter has just come together with no large lumps. (Take care not to over mix or it will make the waffles tough.)  Set the batter aside for 10 minutes to allow it to rest. 


While the waffle batter is resting combine the peaches, sugar, brown sugar, water, cinnamon, and salt in a large GreenPan saucepan and place on the stove over medium heat. Cook, stirring occasionally, 8 to 10 minutes or until the peaches are very soft and the sauce has thickened to an almost syrup like consistency. Remove the pan from the heat and taste, adjusting with a bit more sugar if the peaches are quite tart. Allow the topping to cool close to room temperature, then stir in the lemon juice and Califia Farms Zero Sugar Oatmilk until well combined.  Taste again and adjust with salt and lemon juice as desired. 


Place the Belgian Waffle plates on the Premiere 4-Square Waffle Maker. Preheat with the Belgian Waffle setting set for #4 darkness and #3 texture (or adjust these to your liking). Once preheated, pour a heaping 1/4 cup of batter in each square and close the lid, cooking until the timer finishes counting down. Remove the waffles and transfer them to a large plate.  Repeat with the remaining batter until all the waffles are cooked. (To keep the waffles warm, or to reheat, place them on a baking sheet and place in a 200 F oven.)        


Serve the waffles warm with a spoonful of peach topping, along with maple syrup and confectioners' sugar if desired.
TIPS:
While it isn't needed for releasing the waffles, if you'd like a bit more color and crunch to the outside, lightly coat the waffle plates with a bit of oil or vegan butter before adding the batter! 
Any stone fruit would work great with this recipe! Substitute apricots or plums if you'd like, or even a mix of them all!  Simply adjust the amount of sugar and lemon in the topping recipe based on how sweet or tart the fruit is. 
Featured Product
Elite Ceramic Nonstick 4-Square Waffle Maker
This waffle maker features two sets of plates so you can master classic waffles or thicker Belgian-style waffles. And whether you like yours light and fluffy or dark and crunchy, our waffle maker puts the power in your hands.