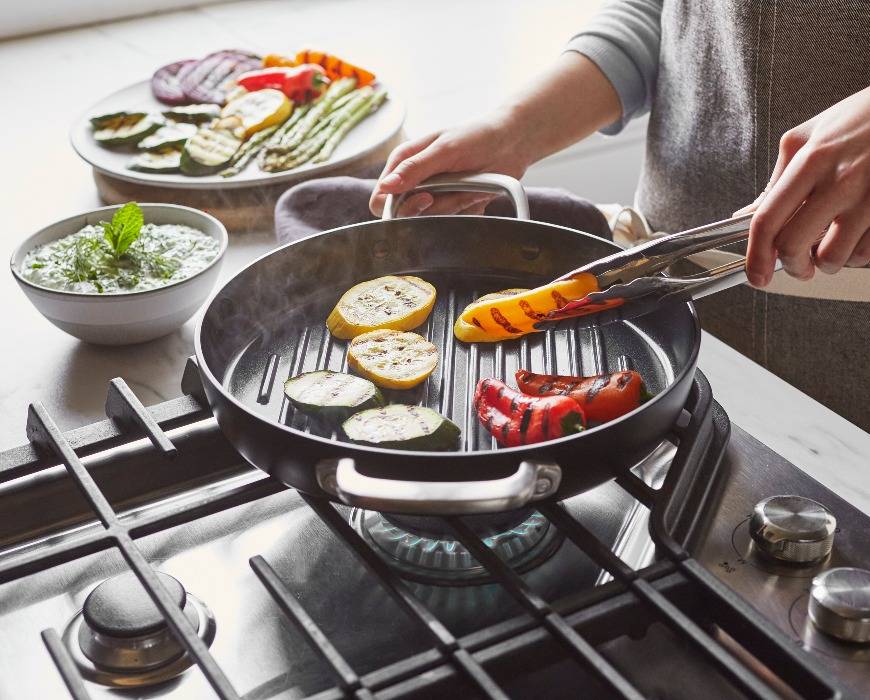 Grilled Vegetables with Tzatziki Dip
Yields: 4 servings
Time: 25 minutes prep, 20 minutes cooking, 45 minutes total
INGREDIENTS:
For the tzatziki dip
2 cups grated cucumber (about 1 medium cucumber)
1 teaspoon salt
1 1/2 cups plain Greek yogurt
2 tablespoons olive oil
2 tablespoons chopped fresh dill
1 tablespoon lemon juice
1 to 2 garlic cloves, minced
Sea salt to taste
Fresh dill and mint for garnish
For the grilled vegetables
6 mini sweet peppers
1 zucchini, sliced into 1/2-inch rounds
1 yellow squash, sliced into 1/2-inch rounds
1 red onion, sliced into 1/2-inch thick rounds
1 bunch asparagus, trimmed
Olive oil
Salt and freshly ground black pepper
PREPARATION INSTRUCTIONS:
Prep the cucumbers—Add shredded cucumber to a colander in sink. Sprinkle with salt and mix to combine. Let sit for 15 minutes, then press out excess liquid.
Make the dip—Transfer cucumber to a medium bowl and stir in yogurt, olive oil, dill, lemon juice, and garlic. Taste and add more dill, lemon juice, or sea salt, if needed. Cover and refrigerate.
Prepare to cook—Place a grill pan over medium-high heat. Brush vegetables with olive oil and sprinkle generously with salt and freshly ground black pepper.
Grill the vegetables—Working in batches, grill vegetables about 3 to 5 minutes per side (2 minutes for asparagus) until tender with beautiful grill marks. Transfer to serving platter and repeat with the rest of the vegetables.
Garnish and serve—Transfer dip to serving bowl and top with sprigs or fresh mint and dill. Serve vegetables warm or at room temperature.
TIPS:
Dress it Up—Skip the dip and drizzle vegetables with a tasty vinaigrette. Whisk together 2 tablespoons olive oil, 3 tablespoons balsamic vinegar, 2 cloves minced garlic, and 2 teaspoons chopped fresh basil, dill, parsley, or other herbs.
Don't Flip Out—The secret to achieving picture-perfect grill marks is simple—leave food alone! Place veggies on grill, let them cook for a few minutes, and flip only once, if possible.
Featured Product
GP5 Infinite8 Ceramic Nonstick 11" Round Grill Pan
Our Most Advanced Collection This 11" pan makes it simple to bring the grill indoors. We're talking cheese-stuffed burgers, veggie skewers, and blackened shrimp without worrying about the weather. The 5mm thick body and Infinite8 coating will deliver every time.