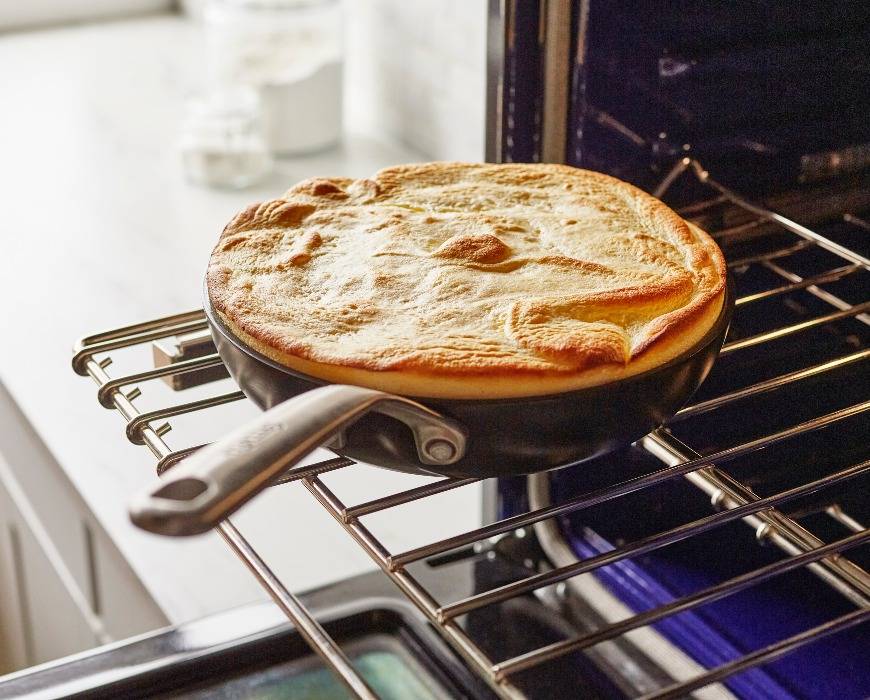 Yields: 6 servings
Time: 15 minutes prep, 10 minutes cooking, 25 minutes total
INGREDIENTS:
5 large eggs, separated
1/4 teaspoon cream of tartar
2/3 cup granulated sugar
Generous pinch of salt
1/3 cup fresh lemon juice (about 2 lemons)
Zest of 1 lemon
2 tablespoons all-purpose flour
1 tablespoon butter
Confectioners' sugar, for dusting
PREPARATION INSTRUCTIONS:
Prepare to bake—Preheat oven to 375°F.
Whip the egg whites—Place egg whites and cream of tartar in a medium bowl and beat with an electric mixer on medium-low speed until foamy, about 1 minute. Continue mixing while slowly pouring in 1/3 cup sugar. Add salt and increase speed to medium high. Continue whipping until whites form stiff peaks but mixture is still glossy—3 to 5 minutes.
Whip the yolks—In a large bowl, whip yolks with remaining 1/3 cup sugar on medium high speed until mixture thickens, about 1 minute. Add in lemon juice, zest, and flour and beat till evenly combined, another 30 seconds or so.
Mix the batter—Add about 1/4 of the whipped egg whites to the yolk mixture and whisk till hardly any white streaks remain. Gently fold in the rest of the egg whites until just combined.
Prep the skillet—Melt butter in a 10-inch ovenproof skillet over medium-low heat. Distribute butter evenly over pan by swirling or using a pastry brush.
Start the soufflé—Gently pour soufflé batter into skillet. Cook over medium-low heat until the edges bubble and start to look set, about 2 minutes.
Bake the soufflé—Transfer skillet to center rack of oven and bake without opening door for at least 7 minutes. Check for doneness by slightly shaking skillet. When soufflé is beautifully puffed and jiggles slightly in center, it's ready.
Garnish and serve—Remove skillet from oven and dust top of soufflé with powdered sugar. Serve immediately.
TIPS:
Get Saucy—Up the flavor factor by pairing your lemon soufflé with our quick and simple raspberry mascarpone compote. Caution: you may not be able to resist an urge to lick the plate.
Be Quick About It—Serve the soufflé as soon as you possibly can, as it will begin to deflate the minute it leaves the oven. Just try not to trip while running to the table!
Featured Product
GP5 Infinite8 Ceramic Nonstick 12" Frypan
Our Most Advanced Collection This 12" frypan makes it effortless to craft one-pan dinners, sear family-sized steaks, and make a full spread of crispy veggies. No matter what you're making, you can use less oil and get more contact with...