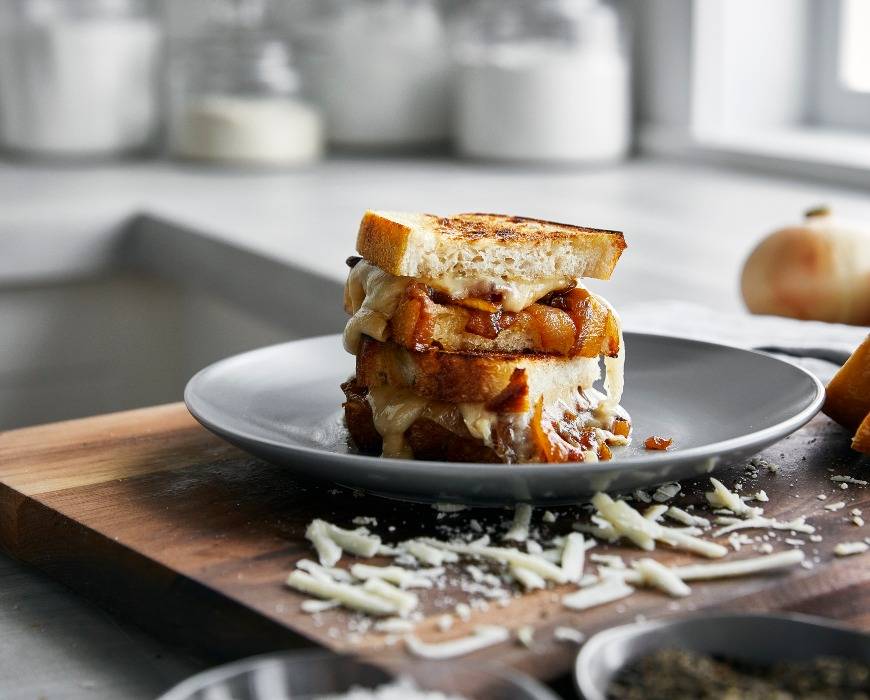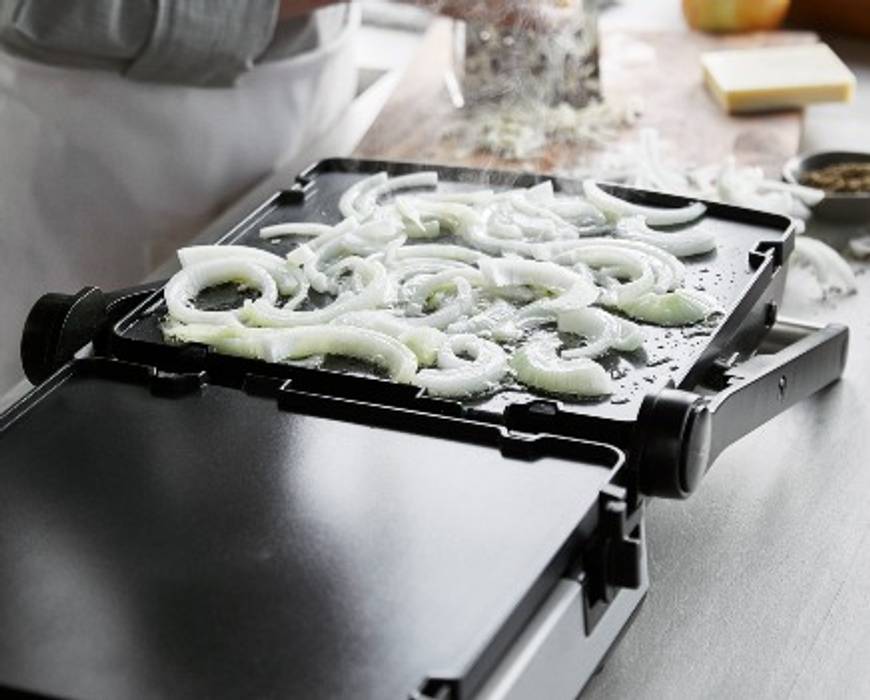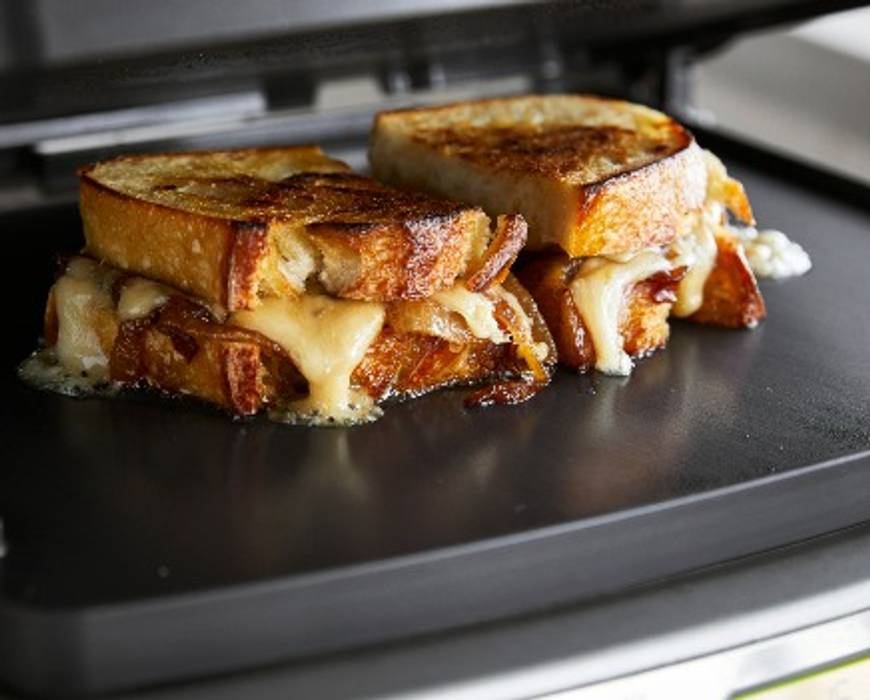 Gruyere and Caramelized Onion Grilled Cheese
Yields: 2 sandwiches
Time: 15 minutes prep, 30 minutes cooking, 45 minutes total
INGREDIENTS:
1 medium onion, halved and sliced thin
1 tablespoon olive oil
3 tablespoons softened butter, divided
Salt and freshly ground black pepper
1 to 2 tablespoons balsamic vinegar
4 1-inch thick slices artisan bread
4 ounces Gruyère cheese, grated
Herbs de Provence, optional
PREPARATION INSTRUCTIONS:
Prepare to cook—Fit your GreenPan Multi Grill, Griddle & Waffle Maker with griddle plates. Turn dial to "Both" and preheat to 350°F in the closed position. Set timer for 20 minutes.


 Caramelize the onions—Place the onions on one side of the griddle (or both, depending on how much onion you have) and drizzle with olive oil. Add 1 of the tablespoons of butter to the griddle. When it melts, stir to cover all the onions and season with salt. Cook, stirring occasionally, until onions are softened and become a deep golden brown—about 20 to 30 minutes. If onions start to look a bit dry, add a a few tablespoons of water to the griddle and stir. When onions have caramelized, add a splash or two of balsamic vinegar and stir to combine. Continue cooking till balsamic is reduced, another 2 to 3 minutes.


 Meanwhile, prep the sandwich—Spread one side of each bread slice with remaining 2 tablespoons softened butter.


 Make the filling—As soon as onions are done, transfer to a small bowl and season with salt, pepper, and herbes de Provence to taste. Top with shredded Gruyère and stir together till cheese is melted.


 Assemble the sandwich—Turn two slices of bread butter side down on a clean work surface (or parchment paper!). Divide filling between sandwiches and top with the remaining bread slices, butter side up.


 Cook the sandwich—Place sandwiches on bottom grill place (depending on size of bread, you may need to cook them separately). Close lid, set timer for 5 minutes and press start. Cook until bread is golden and crisp and cheese is gooey.


 Finish and serve—Carefully remove sandwich with a wooden or silicone spatula and let rest a couple of minutes before slicing and serving.
TIPS:
Pick the Best Bread—Regular sandwich bread runs the risk of falling apart. For this sandwich we love French bread (obviously), sourdough, and ciabatta or go traditional with sliced baguette.
Patience, Grasshopper: Caramelizing onions takes time—at least 20 to 30 minutes—but all that sticky-sweet goodness is so worth it!
Featured Product
Elite Multi Grill, Griddle & Waffle Maker | Premiere Stainless Steel
Discover a world of flavor on your counter with the Multi Grill, Griddle & Waffle Maker. The three plate options offer an endless array of possibilities—from classic paninis to perfect Belgian waffles, so you'll always have the right plate ready.