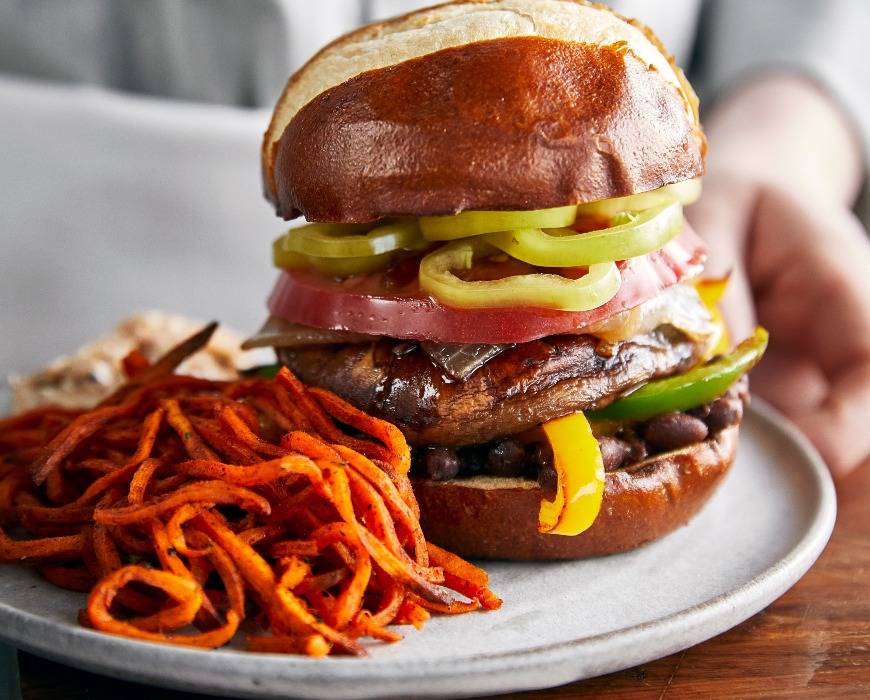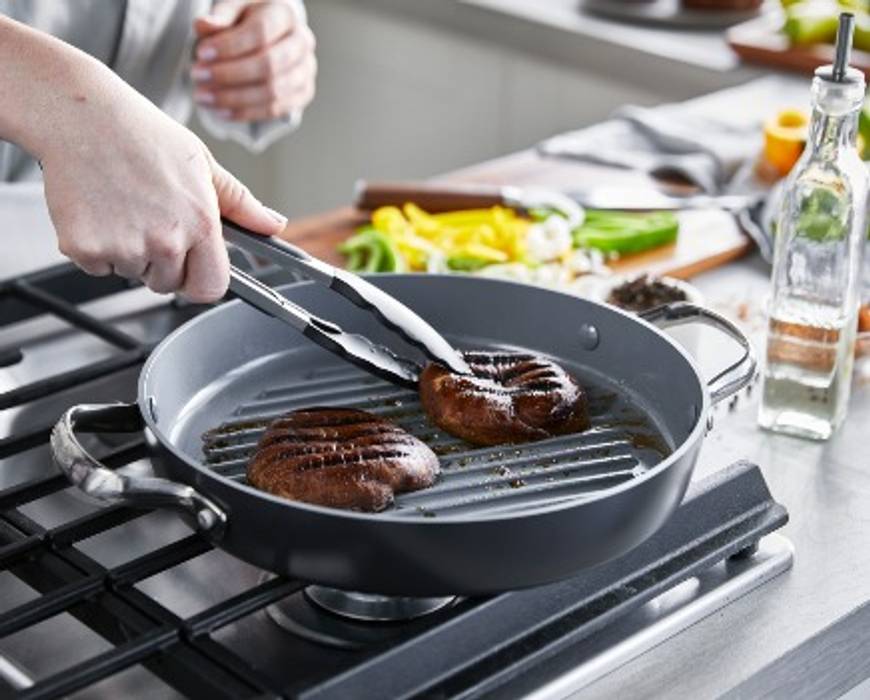 Portobello Mushroom Burger
Yields: 2 servings
Time: 30 minutes prep, 25 minutes cooking, 55 minutes total
INGREDIENTS:
For the marinade:
1/3 cup balsamic vinegar
1 tablespoon fresh lime juice
1 teaspoon chili powder
1/2 teaspoon smoked paprika
1/2 teaspoon garlic powder
1/2 teaspoon salt
1/4 teaspoon freshly ground black pepper
For the burgers:
4 portobello mushroom caps, cleaned with stems and gills removed
1 green bell pepper, seeded with ribs removed and sliced thin
1 yellow or red bell pepper, seeded with ribs removed and sliced thin
1/2 small yellow onion, sliced thin
1 tablespoon olive oil
Salt and freshly ground black pepper to taste
2 brioche burger buns
Olive oil or melted butter, optional
2 to 4 slices pepper Jack or cheddar cheese
1 can (16 ounces) refried black beans, warmed
1 medium heirloom tomato, sliced
1 pepperoncini pepper, sliced into thin rings and seeded, if desired
PREPARATION INSTRUCTIONS:
Marinate the mushrooms—Combine all marinade ingredients in a large zip-top bag. Close it and give it a few good shakes to insure everything's evenly mixed. Add the portobellos, close the bag, and gently swish the marinade around to cover them. Let mushrooms marinate at room temperature for 30 minutes, turning the bag and swishing marinade around mushrooms every 10 minutes or so.
Meanwhile, grill the peppers and onion—Place grill pan over medium-high heat for 4 to 5 minutes. Add green and yellow bell peppers to a medium bowl along with onion. Drizzle with olive oil, season with salt and pepper and toss to coat. Add peppers and onions to grill pan and cook until edges begin to char—about 5 to 7 minutes. Use tongs to turn ingredients occasionally to ensure even cooking. If peppers and onions start to look a bit dry, add a a few tablespoons of water to the griddle and stir. Reduce heat to low and add balsamic vinegar. Cook for a few minutes, then transfer to a bowl and set aside. Taste and adjust seasonings, if needed. Wipe out grill pan.
Toast the buns—Brush cut sides of buns with olive oil or butter, if desired. Working in batches as needed, place buns cut side down in the grill pan over medium-high heat. Toast until golden brown—about 10 seconds. Set aside.
Grill the mushrooms—Place grill pan over medium heat and brush lightly with olive oil. Transfer mushrooms from marinade to pan, shaking off any excess. Keep the remaining marinade for basting. Cook mushrooms, turning and basting every few minutes, until tender—about 10 minutes.
Add the cheese—Turn 2 of the portobellos underside up and top with a slice (or 2!) of cheese. Use the remaining two mushrooms to create a "sandwich" by placing them underside down on the cheesy portobellos. Reduce heat to low and cook till cheese melts.
Assemble the burgers—While cheese is melting on mushrooms, spread bottom buns with a generous amount of refried black beans. Save the rest for another use. Place grilled peppers on top, then portobellos, then heirloom tomato and pepperoncini slices, and top with bun.
TIPS:
Go Italian! Marinate mushrooms in Italian dressing, trade black beans for pesto, and switch cheese from pepper Jack to mozzarella. Buon appetito!
Love Your Leftovers—You'll have extra refried black beans to use for topping everything from tacos and nachos to breakfast burritos or even Tex-Mix pizza.
Featured Product
Valencia Pro Ceramic Nonstick 11" Round Grill Pan
Bring the grill indoors with this 11" pan. Perfect for searing fish, grilling veggies, or whipping up restaurant-worthy burgers without worrying about the weather, it's built for healthy meal making any time of day.