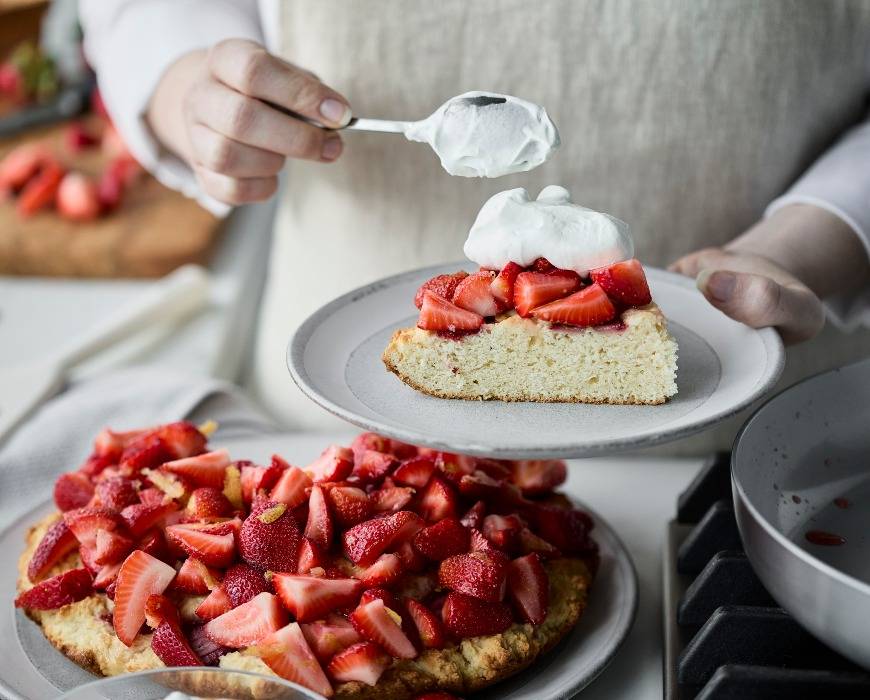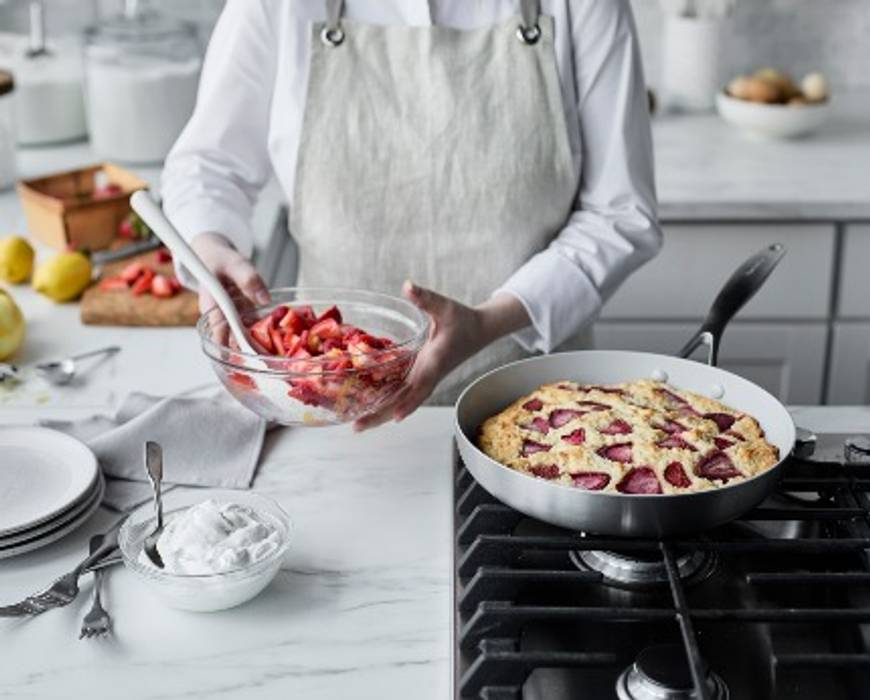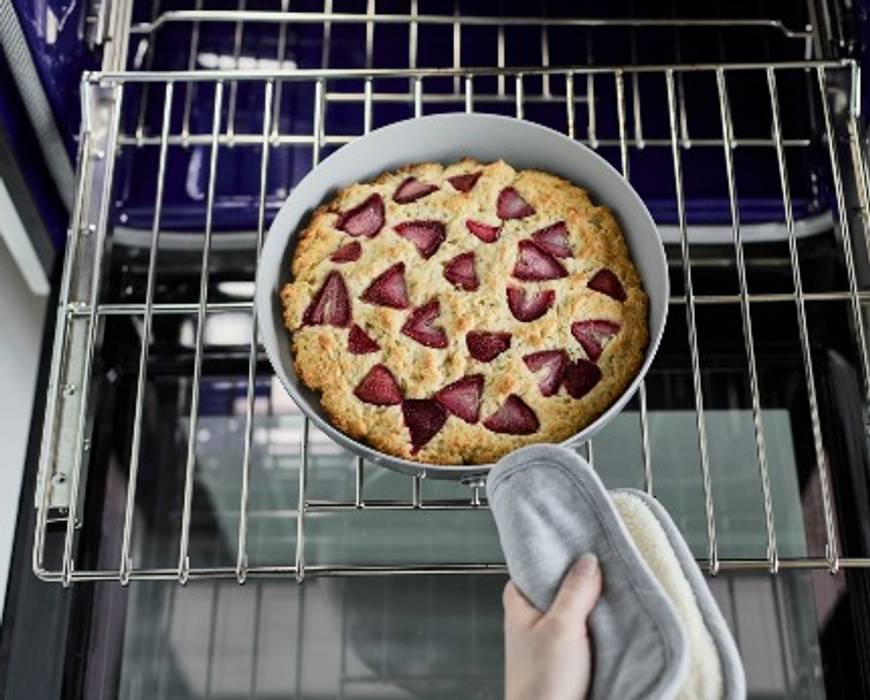 Skillet Strawberry Shortcake
Yields: 8 to 10 servings
Time: 20 minutes prep, 25 minutes cooking, 45 minutes total
INGREDIENTS:
For the shortcake
3 cups all-purpose flour
1/2 cup granulated sugar
1 tablespoon baking powder
1 teaspoon salt
1 cup straight-from-the-fridge buttermilk
1 large egg yolk
1 teaspoon vanilla extract
1 1/2 sticks (12 tablespoons) cold, unsalted butter, cut into about 12 pieces
1/2 cup sliced fresh strawberries
For the strawberry topping
1 pound strawberries, washed, hulled, and quartered
2 tablespoons granulated sugar
Zest of 1 lemon or 1 tablespoon lemon juice

For serving

  PREPARATION INSTRUCTIONS:
Prepare to bake—Preheat oven to 400°F.
Mix the dry ingredients—In a medium bowl, whisk together flour, sugar, baking powder, and salt. Set aside.
Mix the wet ingredients—In a small bowl or measuring cup, beat together the buttermilk, egg yolk, and vanilla till evenly mixed. Set aside.
Cut in the butter—Add butter slices to bowl with dry ingredients and work it in with a pastry cutter or your fingertips until mixture looks like coarse meal with some pea size pieces. Don't worry if some pieces are larger than others—it's not an exact science.
Mix the dough—Make a well in the center of your flour mix and pour in the buttermilk mixture. Mix with a rubber spatula to combine. The dough will be a bit shaggy—no worries if everything's not 100% evenly incorporated.
Prep the shortcake—Transfer the dough to a medium, oven-safe nonstick skillet. Use the spatula to smooth out the top. Gently press strawberries into the top of the shortcake.
Bake the shortcake—Place skillet in center of preheated oven and bake till shortcake is beautifully golden on top and cooked through—about 25 to 30 minutes. Let cool in skillet for about 10 minutes. 
Meanwhile, macerate the berries—Once you put the shortcake in the oven, place sliced strawberries in a medium mixing bowl. Sprinkle on granulated sugar and lemon zest and stir to combine well. Set aside while shortcake bakes, giving the mixture an occasional stir.
Assemble and serve—Turn shortcake out onto a serving plate and top with macerated berries. Cut into individual slices and top with a dollop of whipped cream.
TIPS:
Pick Your Favorite Fruit—Why should strawberries get all the shortcake love? You could easily sub in blackberries, raspberries, blueberries, or a mix of 2 or 3. Yum!
Grate Idea—Skip slicing the butter and shred it into the flour mix using a hand grater. Stir in grated butter a little at a time as you go to make sure it's evenly distributed.
Featured Product
Venice Pro Ceramic Nonstick 11" Frypan
Crafted from ultra-tough, multilayer stainless steel, this 11" pan is ideal for a wide variety of tasks—from sautés to bakes and fluffy scrambled eggs to fall-apart tender salmon. Finished with our healthy ceramic nonstick coating, cleanup is effortless.