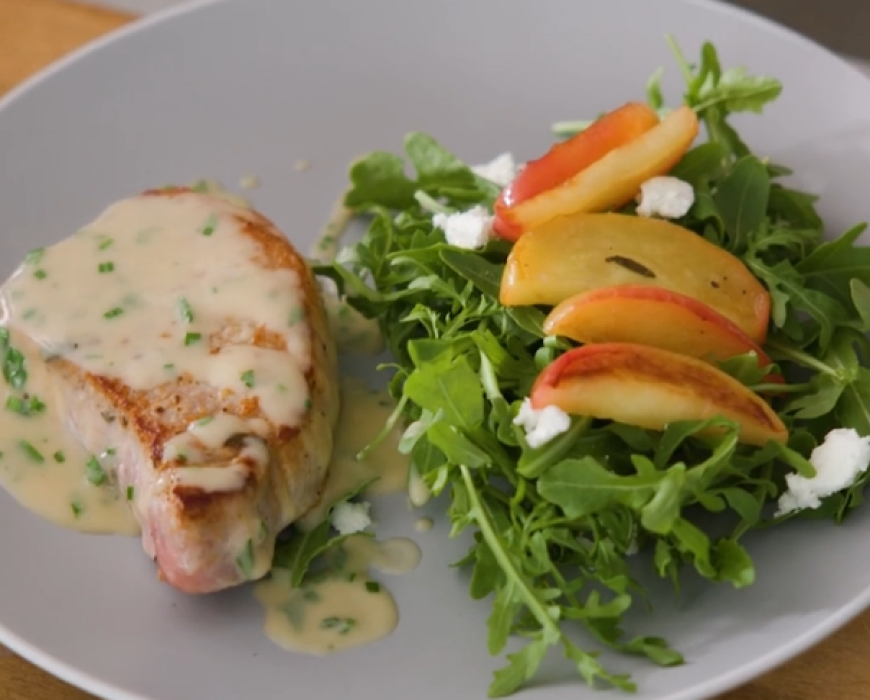 Spiced Pork Chops and Apples
Yields: 4 servings
Time: 20 minutes prep, 30 minutes cooking 
INGREDIENTS:
For the spiced salt:  
3 cloves

 

1/4 stick cinnamon 

 

1⁄4 teaspoon black peppercorns

 

1/8 teaspoon freshly ground nutmeg

 

2 tablespoons finely chopped fresh sage 

 

1 1⁄2 tablespoons kosher salt

 
For the pork chops:  
2 large firm apples, cored and cut into ¼" slices 

 

2 tablespoons unsalted butter, divided

 

4 boneless center cut pork chops, 4 to 6 ounces each, at least 1⁄2- inch thick

 

3⁄4 cup apple cider

 

2 teaspoons Dijon mustard

 

1 1⁄2 cups low sodium chicken stock 

 

2 teaspoons potato starch, dissolved in 2 tablespoons cold water

 

3 tablespoons crème fraîche

 

2 tablespoons fresh chives, thinly sliced

 

2 tablespoons fresh parsley leaves, finely chopped 

 
For the side salad:  
5 cups baby arugula

 

2 tablespoons extra virgin olive oil

 

1 tablespoon lemon juice, more to taste 

 

Kosher salt, to taste 

 

Freshly ground black pepper, to taste

 

4 ounces goat cheese, crumbled 

 
PREPARATION INSTRUCTIONS:
Place the pork chops on a large plate and pat them dry. Let them sit at room temperature for 20 to 30 minutes.  
Put the cloves, cinnamon, peppercorns, and nutmeg in a spice mill or use a mortar and pestle and grind them to a course powder. Transfer the spices to a small bowl and mix in the sage and salt. 
Melt 1 tablespoon of the butter in an 11" GP5 frypan on the stovetop over medium heat. Add the apple slices and cook on one side, about 4 minutes, until lightly golden brown. Season the apples lightly with a pinch of the spiced salt, then flip them and cook on the other side for 4 minutes more, or until apples are just cooked through but still slightly firm. Transfer the apples to a large platter covered by aluminum foil.
Add the remaining 1 tablespoon of butter to the frypan and allow it to melt. Season the pork chops on both sides with the salt mixture – any remaining salt can be used to season the sauce later. Cook the pork chops on one side until well seared and golden brown, about 4 to 5 Flip and repeat on the second side, cooking to your desired doneness. Transfer the pork chops to the same platter as the apples, covered in aluminum foil, to rest and keep warm. 
Add the apple cider to the frypan and adjust the heat as need to reach a light simmer and cook until the cider is reduced by half. Using a silicone whisk add in the mustard and chicken broth, bring to a boil, then reduce to a simmer. Whisk in the potato starch mixture and continue whisking until the sauce thickens. Once thickened, turn off the heat and whisk in the crème fraiche. (If desired, add any accumulated liquid from the rested pork chops and apples back to the sauce.)Season to taste, then stir in the fresh herbs.  

 
To serve, quickly toss the arugula with the olive oil and lemon juice. Season to taste with salt, pepper, and lemon juice.Divide the salad among plates, top with a bit of the goat cheese and some of the apple slices. Place a pork chop beside the salad and top with a generous amount of the sauce.  

 
TIPS:
Firm apples are the key to this recipe, as softer ones will fall apart while searing. We especially enjoy Honeycrisp or Braeburns! And for a fun substitution, try making this recipe with pears instead!  
Mix and match spices to make this recipe your own! Any warming spices would be great, such as star anise, cardamom or allspice!  
Featured Product
GP5 Colors Ceramic Nonstick 9.5" and 11" Frypan Set | Taupe
Our Most Advanced Collection Get all your bases covered with this versatile frypan set from GP5 Colors. Featuring our most advanced coating yet and constructed from hard anodized aluminum, these pans deliver a powerful performance that makes every meal both...